With thoughtful words, inspired movement and music, and enthusiastic applause on Saturday, the Montauk Historical Society, Eastville Community Historical Society, and Southampton African American Museum gathered leaders and community members at Culloden Point Beach to pay tribute to the crew of La Amistad, a group of illegally enslaved Africans who came ashore in Montauk in 1839 following a mutiny aboard the schooner, seeking fresh water, food, and a way back home.
Instead of finding freedom, the crew was captured and their ship was seized and towed to Connecticut, where they were jailed for mutiny. The crew was ultimately freed after a lengthy legal fight that went all the way to the Supreme Court, buoying the abolitionist movement along the way, and 35 freed Africans returned by boat to Sierra Leone in 1842.
Now, a brand-new New York State historical marker, made possible by a grant from the Pomeroy Foundation, stands at Culloden Point to recognize the trials of the Amistad crew as part of the history of enslavement and abolition, and of Montauk itself.
"This is the place where it happened," Georgette Grier-Key, the Eastville society's executive director, said by phone on Monday. "I think it is important to have that marker there. People visit that place all the time and they don't have any idea that such a significant moment in our history happened right here. This marks the spot."
The greater significance, Ms. Grier-Key said, is that in many other parts of the United States, "we have history being erased or changed" as a consequence of a charged political and social climate. "It's significant that we had elected officials, nonprofits, and community members all there to signify that we're not going to forget. We're going to commemorate and celebrate our history. This is American history."
The dedication ceremony on Saturday included a libation offered by Maria DeLongoria, an Eastville board member, resident of Sag Harbor's Azurest community, and associate provost and teacher of history at Queens College. Often included in celebrations such as Juneteenth, a libation is the ceremonial pouring of a liquid such as water or rum onto the earth as an invocation is made to one's ancestors.
"The whole idea of pouring libations . . . is to express a connection to a spiritual being, whether it's your personal ancestors, cultural ancestors, or community ancestors, those who have paved the way to be in the space where you are," Ms. DeLongoria said. "Bringing a libation into this particular ceremony is a way to bring back the former captives on the ship, to acknowledge their African roots are our African roots, and connect our spirits in that sacred place where they landed. It's also an acknowledgment that you can't erase this history. History doesn't change. What happened happened. What changes is our willingness to understand and embrace it. The truth comes out in layers, and it depends on who has access to information and the ability to get information out there, and the receptiveness of the people to it."
"You might not see this marker in Florida," Ms. DeLongoria added, referring to that state's new public-school history curriculum that has teachers and activists protesting its tenet that enslaved people "developed skills which, in some instances, could be applied for their personal benefit," according to a recent CNN report.
On Saturday in Montauk, there was also a ring shout, a traditional expression of praise involving dancing and chanting in a counterclockwise circle. Two male members of the Venettes Cultural Workshop, one dressed in all black and another in all white, performed a moving contemporary dance barefoot in the sand.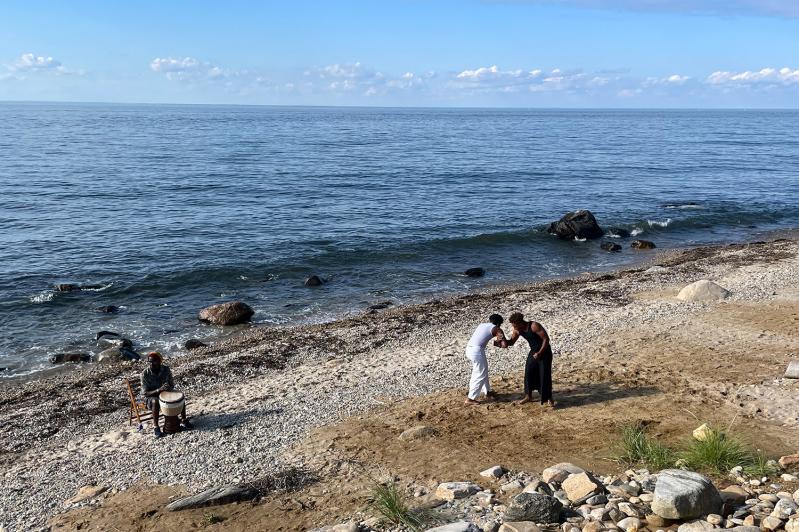 Brenda Simmons, executive director of the Southampton African American Museum, read the poem "Still I Rise" by Maya Angelou and danced with Ms. Grier-Key to drum music. Ms. Simmons said the highlight of the afternoon was "stepping barefoot on the very sands of the shore, spiritually connecting with my ancestors during our traditional ceremonial African dance."
"My hope that the people who attended this historical event on Saturday will never forget it and that something deep changed and awakened within, with a determination to share their experience [with] their family, friends, and co-workers who [weren't] able to attend — especially their children," Ms. Simmons wrote in an email to The Star.
Mia Certic, director of the Montauk Historical Society, said Monday that "most people in Montauk don't realize there is a Montauk connection" to the Amistad.
Growing up as a summer resident of the hamlet less than a mile from Culloden Point, she said, she used to call that spot "the end of the world."
"It must have looked like the end of the world to the Amistad crew, as well," Ms. Certic said. "In doing the research about the Amistad, what happened here, the whole area became freighted with importance and significance. I'm really, really pleased that the Pomeroy Foundation gave us this grant to put up this marker. . . . It seemed to really resonate with people. If you know where it is, it's worth the trip."
She also reflected on the diverse crowd in attendance for the unveiling. "We were all celebrating the same thing together," she said. "We're in such a divisive time right now and it felt so great to have that unity."