To share in Pride Month with the L.G.B.T.Q.+ community is "a loving embrace," the founder of Hamptons Pride, Tom House, told a huge crowd in Herrick Park on Saturday after the conclusion of the second East Hampton Village Pride Parade. It "goes beyond tolerance and acceptance. . . . It says, 'We value you and we're better for your presence; we're so glad you're here.' "
The parade topped last year's inaugural event, with even more groups marching, representing faith communities, schools, arts organizations, political parties, and businesses, and again drawing hundreds of people from all over the East End and farther west.
"Pride can be a great, fun party, but its soul, its reason for being, is the affirmation of life," Mr. House continued, "and I don't think it's too much to say that we're engaging today in a life-saving endeavor. Pride not only enriches lives, it saves lives. You're all heroes today."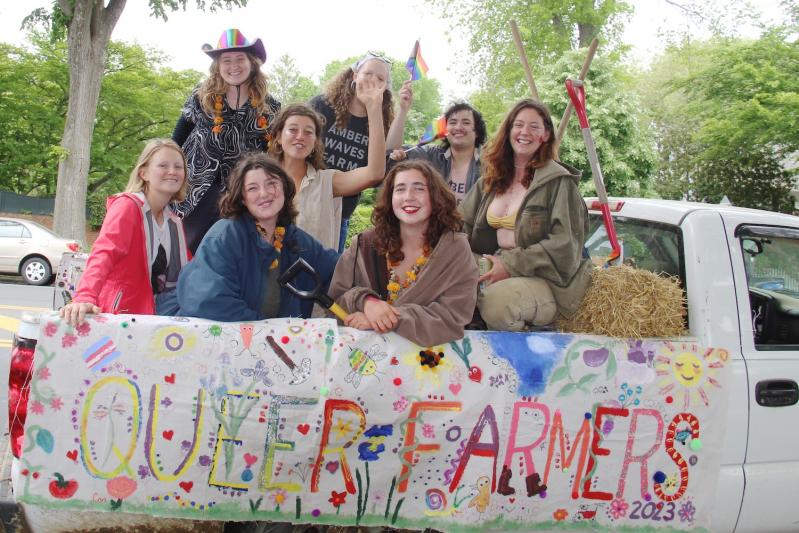 Alexandra King, chief of the Southampton Village Ocean Rescue Squad, riled up the crowd on a stationary Jet Ski atop a pickup truck. A fellow lifeguard, Michael Wootton, also a Republican candidate for an East Hampton Town Board seat this year, dressed as a pink-tailed mermaid and blew soapy bubbles at the crowd from his perch on the truck's tailgate.
Ms. King called it "a sea of vibrant colors and jubilant spirits."
"East Hampton Pride stood as a powerful testament to the beauty of acceptance," she said. "The infectious energy radiated through the crowd and served and a shining example of inclusivity, reminding us of the power of embracing our true selves. Southampton Village Ocean Rescue was proud to be part of the parade."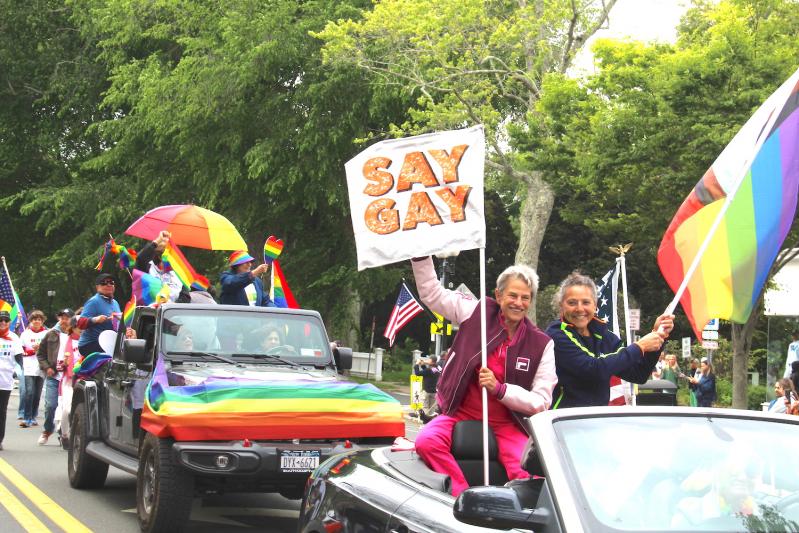 With close to 500 anti-gay or anti-transgender bills making their way through state and local legislative bodies across the country, plenty of political statements were made at the parade. Karen Simon of East Hampton created her own "Say Gay" flag, emblazoned with neon-pink and orange letters, in opposition to the controversial "Don't Say Gay" legislation in Florida that has put strict limitations on the discussion of gender identity and sexual orientation in schools.
"I'm trying to just be in the moment of today and be with the people who support us, and trying to ignore the haters," Ms. Simon said in Herrick Park following the parade. "Luckily, we live in a state where that's not happening."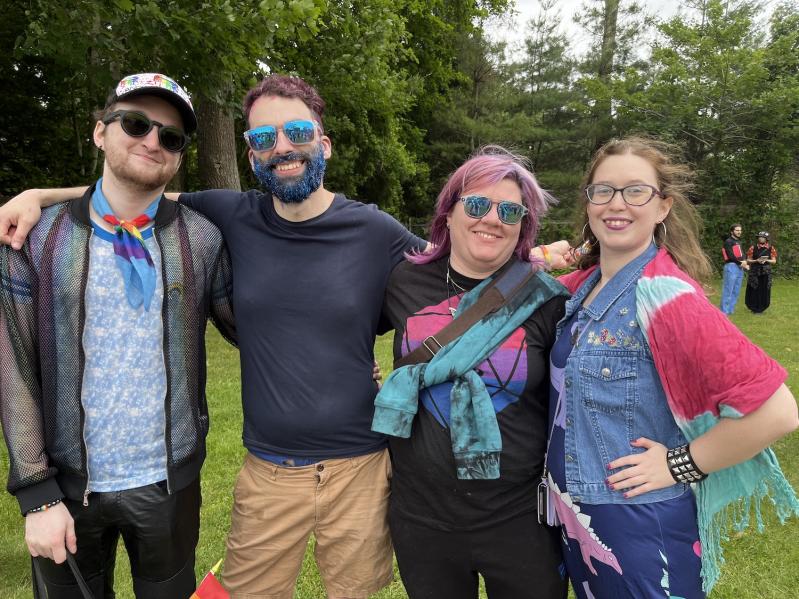 The East End drag queen community was well represented at the parade by Danny Ximo as RaffaShow and others, inspiring Marc Giunta of Coram, who recently started getting into drag culture.
"It's helped me discover parts of myself that I didn't realize before," said Mr. Giunta, whose beard shimmered with blue glitter that he guessed would take a week to completely remove. "My reason for being here is the inclusiveness."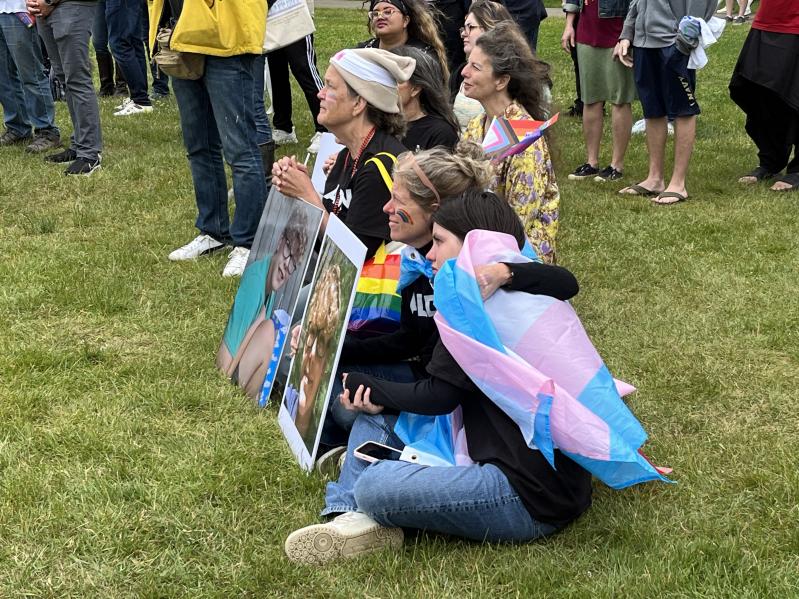 Among those marching were family members and friends of Alden Powers, a teenage boy who took his life about two years ago. In contrast to the rainbows around them, they wore black shirts with "Alden" written in white letters. In Herrick Park after the parade, his mother, Carla Josephson, held a photo of Alden and wiped away tears as Mr. House acknowledged her loss.
"She not only brings the memory and presence of her son to his friends and family again, but she brings herself," he said. "Carla, Hamptons Pride and the Hamptons Pride Parade exist for you — to embrace you, and to lift you up. You lift us up. We're so very glad to have you with us today, and thank you for bringing such special meaning to this second annual parade."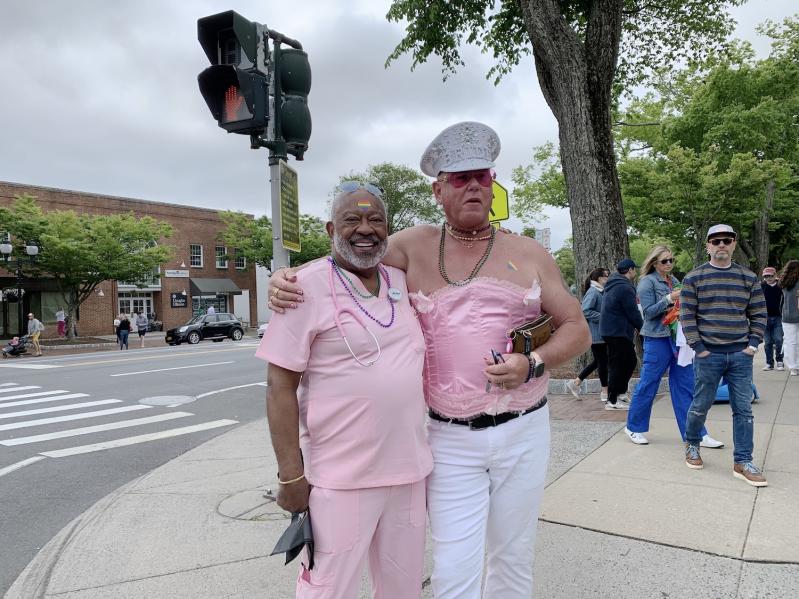 Jim Wright, a Montauk Fire District commissioner, wearing a shimmering pink corset and matching sneakers, and his husband, Dr. Ralph Gibson, dressed in soft pink scrubs, attended as spectators. "I love that instead of one fire truck, there were two fire trucks today. That made me happy," Mr. Wright said. "We're super happy that this happened. We feel accepted, and it's awesome."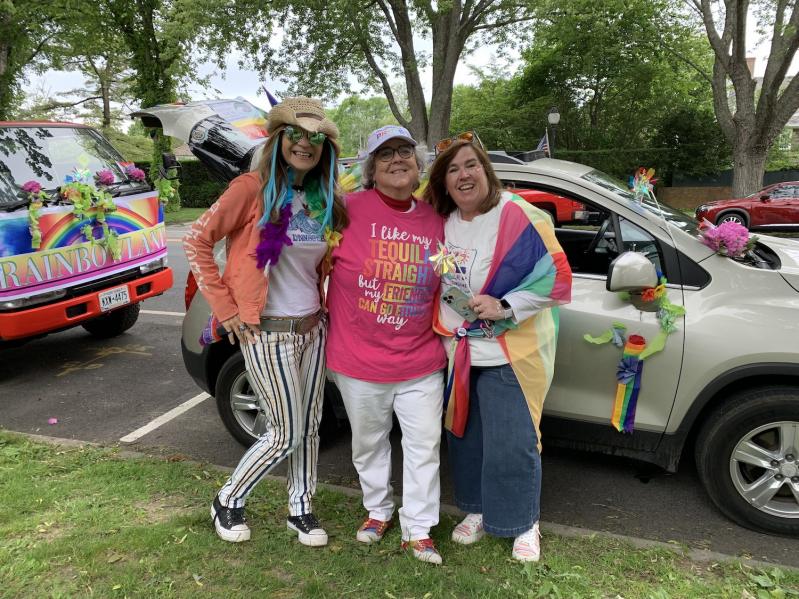 East Hampton Village Mayor Jerry Larsen congratulated Mr. House on a well-organized parade. "I think every year it's going to get better and better," the mayor said.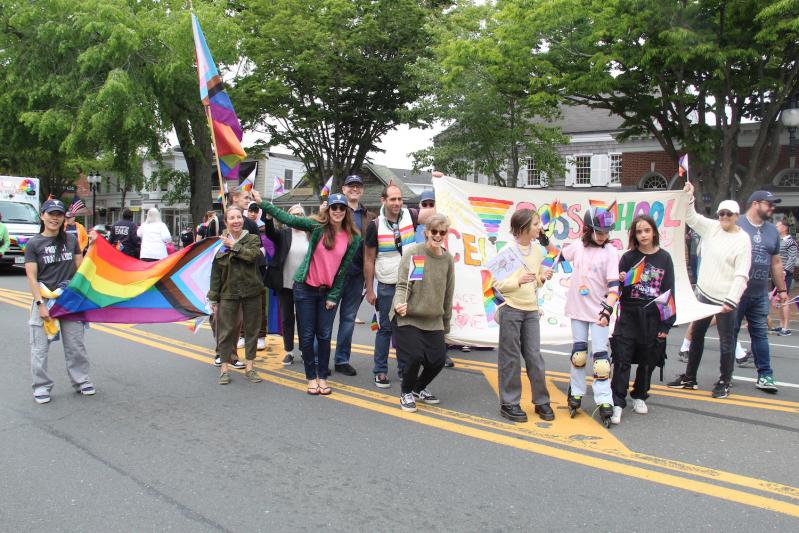 Wearing rainbow sunglasses, socks, and a fluffy tutu, Nelly Arroyo, a member of the East Hampton Town Anti-Bias Task Force, said the mission of the parade lines up with that of the task force. "It's so great. It's amazing" to be here, she said. "Our mission is rights. Gays have all the rights of everyone else. Equal rights for everyone is our main focus."