Several East Hampton Village businesses, including Gubbins, Bonne Nuit, Valentino, and Colm Rowan Fine Art suffered major losses this week when their basements were flooded on Sunday.
The exact cause of the flood that triggered a fire alarm at 8:04 a.m. Sunday morning at two buildings, 53 and 55 Main Street, was still not clear as of Tuesday afternoon. A break in a four-inch fire-sprinkler line that branches off a Suffolk County Water Authority main and then runs between both buildings is suspected.
"We pretty much lost everything," said Geary Gubbins, who has run the Park Place store since 2013. "I was headed in and at 9:45 a.m., I received a call from Bob Rattenni," who owns 55 Main Street. "He told me there was a chance I could have water in the basement. I'm happy he alerted me. Had he not, I could have fallen right in when I opened the basement door. The water was up to the ceiling. It was a dangerous situation."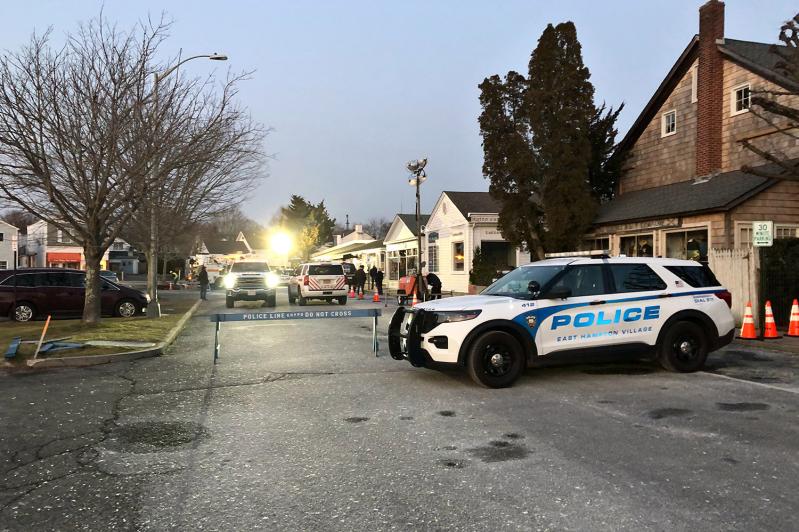 According to Village Police Chief Mike Tracey, basements had eight to nine feet of water in them. "It takes a lot of water to flood stores like that," he said. At least six shops had been flooded, Marcos Baladron, the village administrator, said.
"We were at the scene to assist the village by shutting off the main line so the flooding would stop, but the flooding wasn't coming from our main," Tim Motz, a spokesman for the Suffolk County Water Authority said Tuesday. Originally, a break in a water main was thought to have been the cause of the flood, but it was instead a problem with "a private four-inch fire line, maintained by a business" and not by the water authority, Mr. Motz said.
"Once it enters the building it's a private line," said Tom Preiato, the village building inspector. "We believe the line enters into the building in the vicinity of 53 Main." Mr. Preiato said that as of Tuesday afternoon, the village had not been able to contact the owner of 53 Main Street despite numerous attempts, so it could not ascertain exactly where the rupture occurred.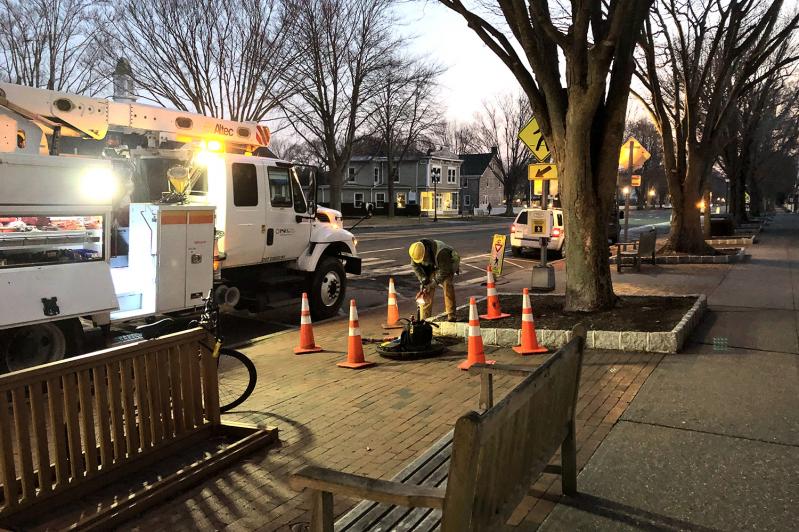 Even though the water authority had shut off the water by 9:15 a.m. Sunday morning, the basements of the buildings could not be pumped out safely until late in the day, because of delays in shutting off electricity to the affected businesses.
"There can't be any live wires," said Chief Tracey, "or someone can get electrocuted."
"It's alarming, but PSEG had no idea how to shut us down," said Mr. Baladron. "They have electrical maps from the 1940s and they were just going through it, one breaker at a time. They were just seeing what shuts down what. We waited all day for them."
"PSEG Long Island responded at 8:51 a.m. on Sunday," Elizabeth Flagler, a spokesperson, said in a statement. "Due to the complexity of the job and the location of the water main break there was a significant need to follow strict safety precautions to properly isolate and de-energize services to the affected buildings. Our crews worked diligently to properly identify the underground electric cable feeding into the buildings and it was determined that the quickest way to ensure the safety of everyone involved was to de-energize the transformer that fed the buildings affecting 40 customers. Thirteen of those were directly affected by the water main break. This occurred at 5:33 p.m. Sunday evening."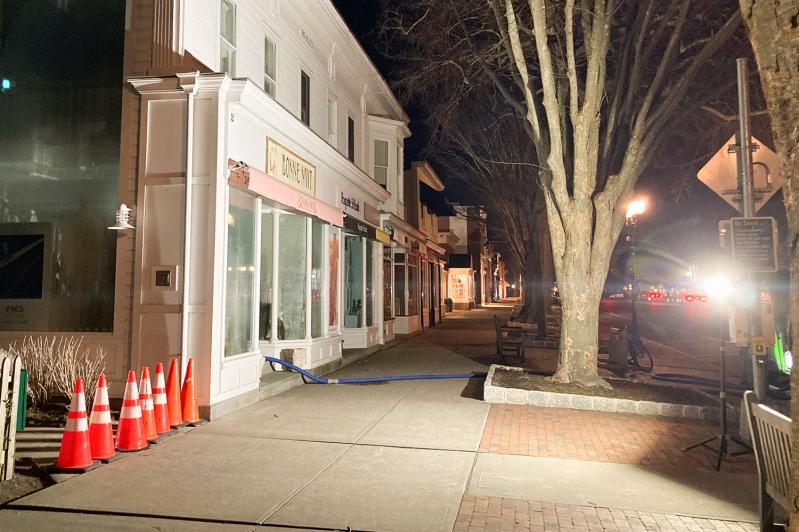 Pump-outs finally began at 7 p.m. on Sunday night.
"While the water company began to address the water main," said Ms. Flagler, "crews continued to work to trace and isolate the proper services and re-energize those customers not directly affected, as safely and as quickly as possible. The danger of energizing the wrong service feed could have caused electrocution to the workers. We appreciate our customers' understanding of the gravity of the situation and thank them for their patience."
Even some businesses that did not flood were without electricity and closed through the day on Monday.
And those that did flood now face the task of determining just how great their losses were and what to do next.
"My psychology is such that the damage has been done," said Colm Rowan, owner of Colm Rowan Fine Art at 55 Main Street.
"I'm trying to mobilize my strength, my spirit, my intuition, and ability to navigate out of this with the least amount of fallout," he said.
Mr. Rowan said that all his inventory — approximately 200 works of art — was stored in the basement. "I had raised the pictures off the ground, but I couldn't have imagined six feet of water entering the basement. The problem is that I have 40 years of art dealing under my belt and many of the pictures that were submerged were treasures that I've had along the way. There's insurance up to a point, but it's just up to a point," he said.
"Even if a picture can be salvaged and restored, they come with the moniker that they are 'wet paintings.' As such, that is something that is racing through my mind all the time. Even if a restoration takes place, there is always that history to the painting. That is one of the difficult aspects for me."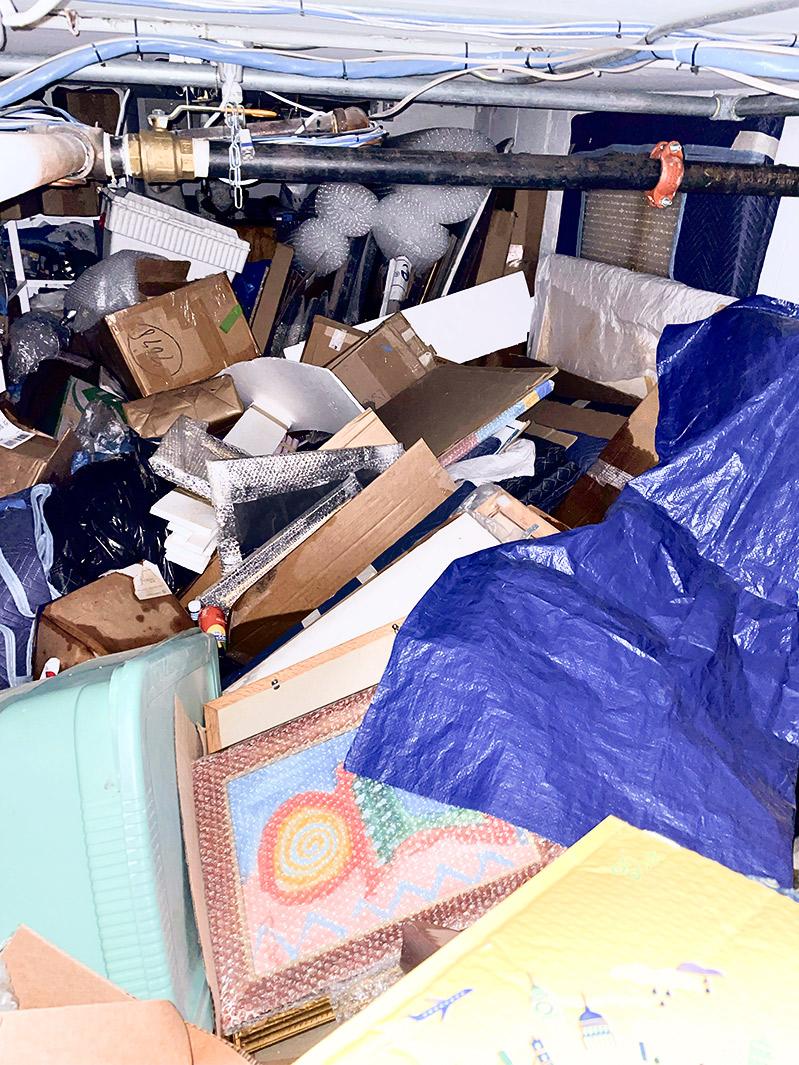 His basement was pumped out by 11 p.m. Sunday. He went down with a headlamp to collect the paintings and spread them out on the floor of his gallery. "Right now, my next move is to get them to a storage area where they can be dried out completely. Mold is the next danger facing the paintings," he said.
"The entire basement needs remedial work because of mold. The entire electrical system has to be changed because it was under water. The gallery will be a work site for the foreseeable future," he said. "But I'm hoping to have a great show when I can reopen again."
"If there's a silver lining," said Mr. Gubbins, "it's that we're all in this together as a community and as business owners. It softens the blow to know we're not the only ones hurting. I've been bouncing a ball in this shop since I was just a little kid. I love this town and this community. Shoes can be replaced, but the love that this community has shown is irreplaceable."