"To me, one of the more beautiful things about the experience was feeling the Springs community come together," said Lindsay Grodzki of Fort Pond Boulevard, who had an unexpected home birth about a month ago.
In early April, she and her husband, Chris, went out to dinner, came home, and retired early, at 9:30. In two weeks, she was scheduled to be induced to give birth to their second child. During the day, she'd been having minor contractions, but she didn't think much of it. Nonetheless, the couple packed hospital bags, just to be safe.
A half-hour after going to bed, Ms. Grodzki was up again, and in the bathroom. The contractions were stronger now. "My husband slept through most of it," she said by phone this week. "I kept thinking, I need to get Chris, but my body wouldn't let me leave the bathroom." Also, she said, she didn't want to wake him. "I was in a nice, calm, state." She thought she might be in labor, but was focused on the fact that she was weeks early and scheduled to be induced. "This can't be it," she remembers thinking.
"Eventually I felt the head coming out, and I got in the bathtub, though there was no water in there." She yelled to her husband to call for help. "The baby is coming now!"
Mr. Grodzki called 911 and was in the bathroom on the phone with a dispatcher, when, two pushes later, he "caught the baby," said his wife. It took paramedics less than 10 minutes to arrive, but even as he was calling, it was already too late. The E.M.T.s were in time to cut the cord, however, and to transport Ms. Grodzki and her new baby, Rhodes, to Stony Brook Southampton Hospital.
She had been in active labor for only about two hours.
Linda DeZubira, the nurse manager at Hamptons Gynecology and Obstetrics in Southampton, said they always prompt their patients to recognize the signs of labor and to act quickly. "We are the birthing hospital on the East End," she said. Accidental home births happen "here and there," she said, but women should call their doctors as soon as they feel labor pains.
Rhodes had been measuring on the small side from the very beginning, Ms. Grodzki said, and she wanted to be at the hospital for safety's sake. "A lot of my friends have had home births, but because of Rhodes's size, I was nervous to plan one," she said.
As it turned out, she had a smooth delivery. The Grodzkis' second son was "bright red and screaming and crying right away," she said. She held him in the bathtub and called to her 4-year-old, Eddy, "Your baby brother is here."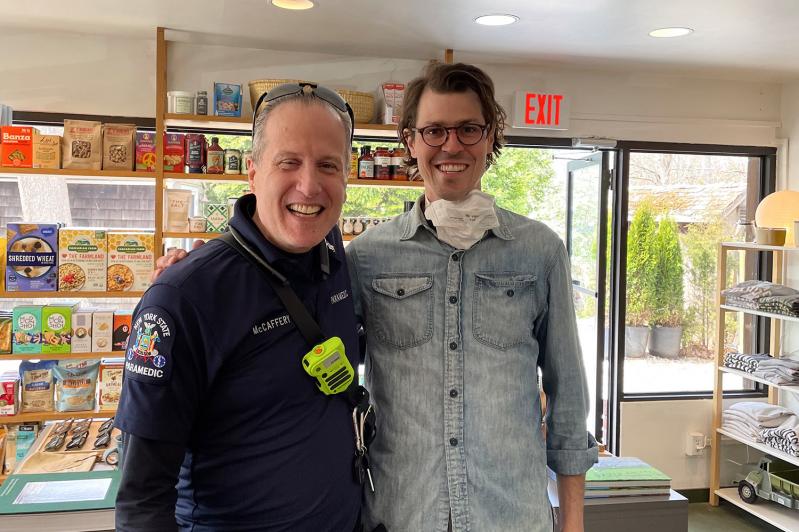 Rhodes, who weighed five pounds even, was transferred to the newborn intensive care unit at Stony Brook. She was able to join him the next day, and they remained there together for five days. Both mother and son are doing well. "He's almost seven pounds now," Ms. Grodzki said.
Several of the paramedics who helped with the delivery are regulars at her store, the S and S Corner Shop in Springs. At the fire department's monthly meeting, everyone who was there for the birth was awarded the Stork Pin. "It's the first one in Springs history to be given out," said the proud new mother.