"You have to rely on God a little bit for these things," said Rabbi Aizik Baumgarten of Chabad of the Hamptons, speaking about the humanitarian crisis in Ukraine.
The war in Ukraine officially started on Feb. 24, when Vladimir Putin began a "special military operation" and missiles began screaming over the country. The United Nations announced Tuesday that the war has already created two million refugees, half of them children. People are literally running for their lives. East End communities have mobilized in support of Ukraine, with rallies, volunteer work, and donation drives.
Mr. Baumgarten, during his preparations for the rabbinate, spent a year in Kharkiv, Ukraine, and some time in an orphanage in southern Ukraine, closer to Crimea. "Whenever we're in time of need, we have three things that we can always fall back on," he said. "Torah, which is divine wisdom; prayer, and acts of kindness. I encouraged everyone to take on acts of kindness. We're showing positive acts to push away the negativity" caused by Putin and the war.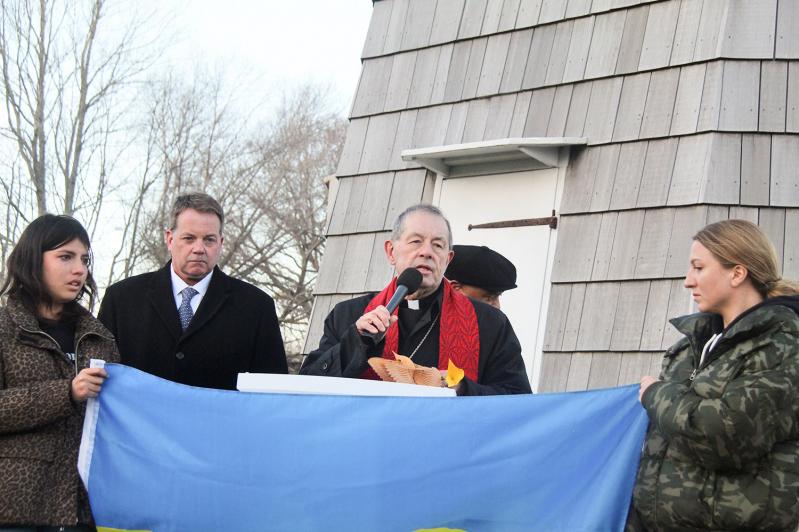 "What affects one, affects us all as human beings, which demands that we stand in support of the freedom and rights of every nation," said the Rev. Walter Thompson Jr. of Calvary Baptist Church in an email. "It is always the darkest before the dawn of a new day. Even in the face of hopelessness, we believe in hope."
"We're all supporting Ukraine," said Debra Stein, rabbi-cantor of the Jewish Center of the Hamptons, in a phone interview. "I had no idea there was such a large Ukrainian population out here."
Ms. Stein had read a prayer of hope at a vigil with about 100 people in attendance last Thursday at Hook Mill in East Hampton Village in a show of support for Ukrainians. The event, organized by Village Mayor Jerry Larsen, featured several speakers from local religious congregations.
"Let us be strong and strengthen one another," Ms. Stein said. "Let us do whatever we can to help the people in Ukraine."
Congregants from the Jewish Center have donated to the Ukrainian Church in Riverhead. The Jewish Center is transporting items to the Riverhead church, crossing lines of faith. In fact, if there is a positive aspect to the war in Ukraine, it's the blurring of lines.
"We are one family," said Ms. Stein. "We have a responsibility to take care of the most vulnerable."
The Very Rev. Denis C. Brunelle of St. Luke's Episcopal Church echoed some of her sentiments. "I prayed for us as people to start looking beyond 'otherness' and look at each other as children of God," he said. "We are called to treat each other as brothers and sisters. That's the challenge for us today. Even in our country, as we look at what's happening in Ukraine . . . it is happening here in a different way. Where we see people as 'other.' They are not like us. That's not of Judaism and that's not of Christianity."
"And I prayed for peace," Mr. Brunelle added. "What in the Jewish tradition is known as shalom, that we Christian folk call pax. Paul calls it 'the peace which is beyond all understanding.' That's the peace that we're calling for."
People are mobilizing. Olga Trigubovich is originally from Belarus, and her husband, Andrey, is from Russia. Both were unable to attend the Hook Mill vigil because they were busy collecting donations at Most Holy Trinity Catholic Church in East Hampton. "We received a huge response from the community here," said Ms. Trigubovich. "One hundred seventy boxes already packed — amazing."
Many worry that their donations may never make it into Ukraine. "Information changes every day," explained Ms. Trigubovich. Whether or not donations get all the way to eastern Ukraine, where there's the heaviest fighting, is beside the point right now. The fact is, when people were forced to flee, "they just ran out of their homes," said Mr. Trigubovich.
The truck that the couple organized and packed is now off to Manhattan for shipment. "Most likely it's going to go to Poland, and some stuff will stay with the refugees in Poland," he said. "Hopefully, some will be able to cross the border into Ukraine. Lviv is still in the green zone," meaning that foreign support could still reach there.
Lviv is the largest city in western Ukraine and close to Poland. There have been talks recently of its becoming the potential seat of a displaced Ukrainian government. The United States moved its embassy there from Kyiv in the early days of the war.
Natalie Massa is originally from Khmelnytskyi, Ukraine. She moved to the East End a couple of years ago. She has begun work on setting up a not-for-profit that will have zero administrative fees and send all donations directly to Ukraine. "Setting up my own company is a priority," she said. "I need a facility where I can receive donations and I need to start fund-raising so I can pay for shipping." She wants to get 501(c)(3) status so that donations will be tax deductible. "I know firsthand what is needed right now and who needs it," she said.
Ms. Massa has drop boxes set up at Southampton Elementary school, Our Lady of the Hamptons, the Ross School, Sag Harbor Elementary, and the Hayground School. "Special thanks to the Epley family for donating a van with a driver," she said. At Hook Mill last Thursday, she "met many Ukrainians that I didn't know before . . . we are all able to support each other."
"It's heartbreaking to wake up each morning and understand that it wasn't a nightmare you had," Ms. Massa said. "It's real." At Southampton Elementary, she has "talked to children about Ukraine and how lucky we are to live here."
Ameriprise has donated 1,000 boxes of personal kits to her. "The quantities are becoming very large," she said. "They reached out to me because I know people on a personal level, know the churches in Ukraine who will be receiving the packages. I can donate 100 percent of my time to something I truly believe in. I can be quite useful with my connections here and my connections in Ukraine. Hopefully, I will be able to help somebody."