An enduring presence on Newtown Lane, a street that has seen more change than not, the flower shop and greenhouse now known as Wittendale's is celebrating its 100th anniversary this summer. A sentinel of East Hampton Village, it has witnessed the passing of history and has created its own.
Don Horowitz, a graduate of Cornell University's horticulture school and co-owner of Wittendale's with Bob Dale, is a font of knowledge not only about plants of all sorts but about the site on which the business now stands. According to Mr. Horowitz, Louis Vetault, a local nurseryman, grew nursery stock trees and shrubs there, and at some point he and his family transitioned to selling flowers from a shed. The Vetaults then hired a local architect, James Thorpe, to design the shop that still stands on the site today.
Vetault Flowers opened in 1921. Three generations of Vetaults ran the flower shop until the 1970s, when it was leased to an employee who ran the business until its closure in 1982. When the lease ended, the Vetaults searched for someone to purchase the shop to no avail, until their attorney, Douglas Dayton, a former village mayor, bought it himself. Mr. Dayton, citing the fact that the shop had been an integral part of the community since his formative years, bought the store in an act of preservation, Mr. Horowitz said.
"The place was always there. I remember looking out of the window when I was in high school. It was always there," Mr. Horowitz recalled the former mayor saying.
Mr. Dayton did not have extensive knowledge of flowers when he bought the business, so he began to take classes at the Cornell Cooperative Extension in Riverhead. He asked the instructors if they knew of any Cornell horticulture students who would be willing to run his newly purchased shop, and they in turn asked around among colleagues in Ithaca, N.Y. A name came up — Don Horowitz.
"I met with Doug. He told me how he had just recently purchased the property and his goal was to preserve it. He said we needed to keep it the way it was. Doug always said it was for the community and it needed to remain that way," said Mr. Horowitz.
He and Mr. Dale took over and eventually became co-owners of the old Vetault's spot. Although they agreed to preserve most of what made the shop tick, one alteration was important to them — the name. They messed around with their names, mixing versions until Mr. Dale's mother came up with the perfect combination: Witz and Dale's, or, put together, Wittendale's.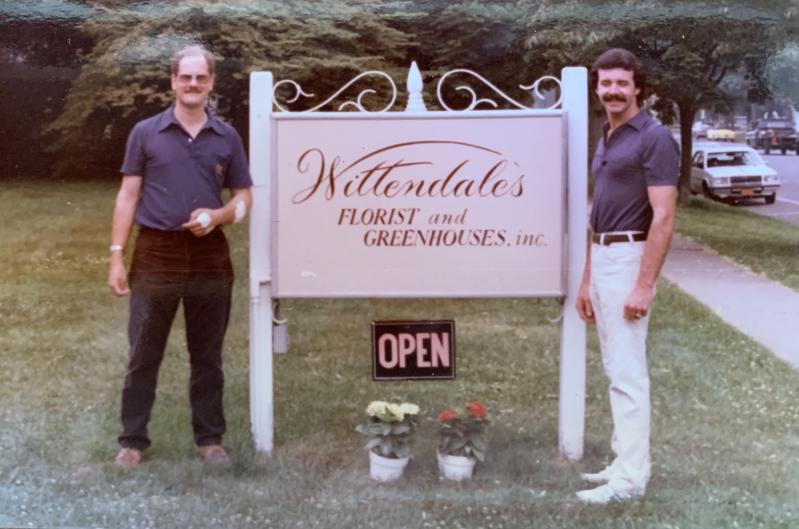 In his 39th year running Wittendale's, Mr. Horowitz attributes the store's survival to a few key factors: long-serving loyal staff, the morals and dedication of the Dayton family, and the way in which their selection of products caters to a diverse array of customers. With his knowledge of plants and Mr. Dale's talent in floral arrangement, Mr. Horowitz believes that the pair's combination of skills has been key to the shop's success.
The shop's reputation has extended even beyond Long Island. In 1964, Robert E. Vetault, the third generation to run it, participated in the World's Fair of Flowers in Queens, as one of four designers who simultaneously created floral arrangements in sessions throughout the day. "I feel honored to carry on the Vetault tradition of those three generations," Mr. Horowitz said.
Wittendale's has always chosen to be open year-round, even in the off-season when business can get scarce. "You never know when somebody is going to need flowers," Mr. Horowitz said.