The establishment of Juneteenth as a national holiday late last week was long overdue, if you ask William Pickens III of Sag Harbor.
"I'm so delighted that it's come to fruition. This is the celebration and commemoration that America needs," said Mr. Pickens, whose grandfather was one of the founders of the N.A.A.C.P. in 1909. "We're going through some very difficult times now as a country, and this renews your faith. . . . I love the music — the children hear this and understand that this country is for everyone, and that we've been shortchanged, historically."
He was among a diverse crowd of hundreds of people who came together to mark the holiday at Agawam Park in Southampton Village on Saturday, the second such celebration in the village. Juneteenth recalls the day in 1865 that federal troops arrived in Galveston, Tex., to enforce the Emancipation Proclamation and ensure that the last of the enslaved people there were liberated.
The energy on Saturday was fresh and palpable as just three days earlier, President Joe Biden declared that "Juneteenth marks both the long, hard night of slavery and subjugation and the promise of a greater morning to come" while putting his signature on the bill that established "National Independence Day" each year on June 19, which was opposed in Congress by only 14 Republican members of the House of Representatives (it passed the Senate unanimously). It was the first time since 1983, when Martin Luther King Jr. Day was designated, that a new federal holiday was created.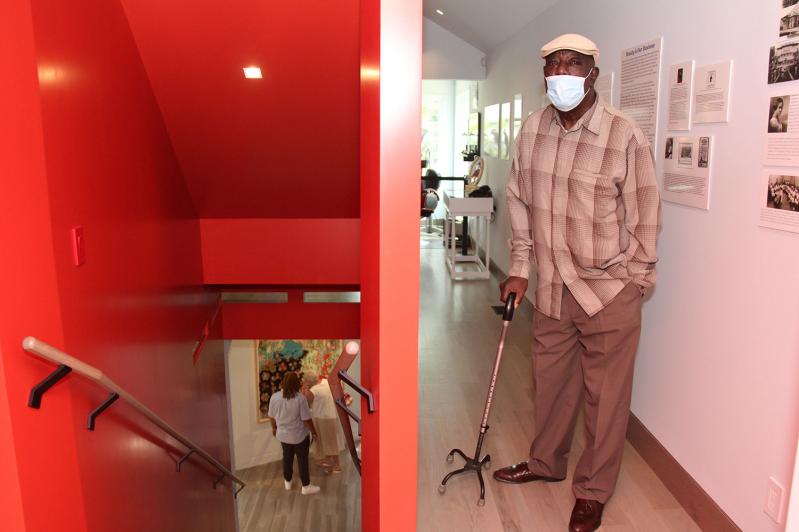 ---
For this year's celebration, Denise Smith, the organizer, invited Black entrepreneurs and Shinnecock Nation members to set up tables promoting their businesses and projects. Nick Epley, a teacher at the Southampton Elementary School, set up a display of his students' Community Heroes project, which was created during Black History Month to celebrate local leaders and activists. There was also a celebration of the "Divine Nine" fraternities and sororities of the historically Black colleges and universities, of which several members were present.
Six Black veterans of the Vietnam War, Odell Ferebee, Grant A. Gee, Samuel Seymore Jr., Richard Frank Lee Hite Sr., Robert A. Saunders, and Richard (Juni) Wingfield, were honored for their bravery and service to the nation. Brenda Simmons, the executive director of the newly opened Southampton African American Museum, and Detective Sgt. Herman Lamison Jr. of the Southampton Village Police Department were recognized for their many achievements.
The Rev. Leslie Duroseau, who for 10 years led the Southampton United Methodist Church before departing last year for two churches, St. Paul's in Hartsdale and Tremont United Methodist Church in the Bronx, delivered a moving speech that asked everyone to "come together, living out the change that we so greatly need, the changing of our hearts and minds that brings transformation and action to all people, and to all situations, that continue to try and keep us oppressed."
"Let us not get too comfortable and forget the work that must continue to be done. . . . We know you are gathered here to have a celebration, we know you are gathered here to have a good time, but [if] all you do is just gather here and you don't leave from this space with a transformed mind to go forth and do something more than just showing up in a space to have a good time, then you are doing nothing at all," she said.
Bryan Polite, the chairman of the Shinnecock Tribal Council, compared the struggles, injustices, and oppression experienced by Black people to those that were experienced by Indigenous peoples, with histories that have often been intertwined.
"The horrors of slavery may be gone, but the . . . imprint of the pain and suffering will last for generations. Bondage is a horrid practice that is one of America's original sins; the other is the theft of land and genocide of the indigenous peoples of America," Mr. Polite said. "These truths go unspoken far too often, and when the truth is disregarded and we as a country have revisionist history, it adds insult to centuries-old injury."
Denise Merchant, the third vice president and education committee chairwoman of the N.A.A.C.P.'s Eastern Long Island branch, called for equity and fairness in education of young people of color. "If they are doing better, we are all doing better," said Ms. Merchant, who started an organization called Seeds of Advocacy.
"Please, every opportunity that you have, show up and just ask the questions" of superintendents, teachers, and school board members, she said.
Trevon Jenkins, a co-founder of Long Island United Youth, which was formed last summer, reported that there will soon be a course at Southampton High School specifically to teach Black history — "how it actually went down," he said.
"We have all taken a stance to make sure our history will be taught the exact way that it should be, and that our children will walk out into this world with their heads on right," Mr. Jenkins said. "All I can really ask . . . is to keep your promise to stand strong and make a change."