Single moms, who are among those hit hard by the pandemic, have a lot on their plates. To help them out, the organization There's Some Good News is providing individualized support to mothers under stress and has partnered with Honest Plate, which is donating wholesome meals to the mothers. 
Tanish Lindsay of Montauk, the founder and director of There's Some Good News, started it this winter after a summer of attending Black Lives Matter protests, and with the help of Alex Hu, writer and right-hand of the initiative. With the intent to spread "the simple message of positivity," she began her work to promote optimism and equality by asking local businesses to pledge their best efforts to hire more diverse employees.
"Every time I say that there's not a single Black-owned business in East Hampton to a white person, they say, 'Oh, one Black lady had a store in Sag Harbor, but she died.' They're proving my point!"
Ms. Lindsay continues this work, despite pushback, which she said she encountered overwhelmingly in Montauk when she made suggestions such as hiring local and promoting from within so those washing dishes have pathways to leadership positions. 
To see even more direct change, she honed in on the idea of making a huge difference for just a few people. The $600 stimulus check pointed her in the direction of those people: struggling single mothers for whom the $600 was "such a slap in the face. There's no way these women are going to survive on this," Ms. Lindsay said.
Recalling her own single mother especially motivated her push to support local women. Ms. Lindsay remembered how her mom had "a very hard time taking care of us. She cried every day, she struggled, she really did."
The goal is making a lasting difference in the lives of the five mothers whom There's Some Good News is now helping. Ms. Lindsay did not want temporary fixes, she said. Rather, she wanted the result of her organization's help to be felt six months down the road for these families. 
A partnership between There's Some Good News, East End Cares, and Clamshell Foundation made this objective more straightforward, said Valerie Hoffmann, a volunteer working with the mothers to assess their needs and help coordinate resources and goods. 
"When needs arise, what I have found is all I have to say is 'We've got a mom whose son is in need of new shoes,' " said Ms. Hoffmann, and that was enough for Melissa Berman, a co-founder of East End Cares, to put out word to her established network of volunteers and get a response. 
"Immediately, I had people contacting me through Facebook, saying, 'I want to buy a brand-new pair of shoes,' " said Ms. Hoffmann, who would pick up the shoes once they were purchased and coordinate the delivery with another volunteer who would drive the shoes to one of the mothers. 
"Oh, my goodness," she said with regard to the responses. "It's very moving when you see the effect of something that seems so small and insignificant when you have all your material needs met. I think it takes a lot of humility on their part to accept that, too. They are grateful, but they aren't women looking for a handout and often have to swallow their pride as [they're] very independent hard workers who never wanted to ask for help."
Everyone needs a hand up sometimes, she said, recalling a time when she and her husband, Bill Hoffmann, the minister at the Montauk Community Church, were living in Kentucky for a church internship of his. "We had no health insurance, we qualified for free lunch, and it was a really frightening time. I remember how much it meant that people cared and wanted to reach out to us, so I just wanted to pay it forward."
Ms. Hoffmann, who also assisted a lot of single mothers in a previous job as a social worker, draws on her experience in understanding how to meet people where they are. There's Some Good News goes beyond clothes and foodbank work, for example, helping one mother support her child with cystic fibrosis and another pay two semesters of tuition for nursing school, the outcome of which will allow her to support her family better in the long run.
Ms. Berman explained that as a partner with the Clamshell Foundation in its Community Love Project, which aims to help those disadvantaged by the pandemic, she saw Ms. Lindsay's initiative as critical. "On a good day, it's really hard for single moms to get by. There's so much value in just showing up for people and showing them that they're not alone and to just see by action that the community has their back -- the value is just that."
"We are hoping to increase awareness surrounding those in need in order to help these moms as they work tirelessly to raise their children on their own," said Kori Peters, president of the Clamshell Foundation.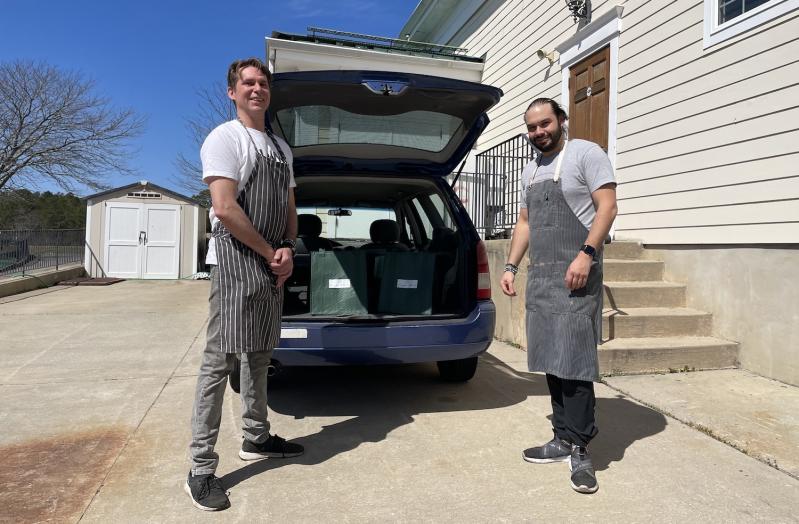 The hope, said Ms. Berman, is to partner with more local businesses like Honest Plate, which "jumped at the chance" to be part of the effort, said Nick Reisini, a chef and partner of the wholesome food delivery service. Jon Albrecht, also chef and partner, explained that the once-a-week meal delivery contains vegan and vegetarian foods with organic and locally sourced items and grass-fed meat in dinners for both the moms and the kids. 
More spontaneous partnerships have arisen, too, Ms. Berman said. "Another beautiful thing that happened was the Montauk Food Pantry found out about this and they've been helping a mom-to-be," who is about to take an unpaid maternity leave and has uncertain housing. Of course, Ms. Lindsay, Ms. Berman, and Ms. Hoffmann took the reins. 
"Like Tanish, I grew up with a single mom," said Ms. Berman, "and she did everything that she could to make sure we never knew we were going without anything, but it was really hard for her.
Those who wish to donate to this project can visit bit.ly/GoodNewsMoms.
---
This story has been updated since it was first published to include the Clamshell Foundation and Alex Hu, update Honest Plate information, and share a donation link.