East Enders gathered this weekend to remember and celebrate Ruth Bader Ginsburg, the trailblazing United States Supreme Court Justice and feminist icon, who died on Friday of metastatic pancreatic cancer at the age of 87.
"Thank you, Ruth Bader Ginsburg, for the person you were, for the work that you did, for the legacy you have passed on to us," Melissa Berman said through a megaphone on Sunday afternoon at Hook Mill in East Hampton. A founder of the group East End Cares, she had galvanized a gathering of dozens of people to remember Justice Ginsburg. "We are feeling so much at the occasion of your passing. It's overwhelming, isn't it? We are so sad. We are so grateful. Inspired, scared, angry, hopeful, exhausted, energized. Your life was in service to our lives — your history is our history -- and so with you, a piece of all of our lives goes."
Hundreds of people on the East End mourned Justice Ginsburg on Saturday and Sunday at Hook Mill and on Saturday at the Bridgehampton Community House, and at courthouses in Riverhead and on Shelter Island.
"Just in my lifetime," Justice Ginsburg "has kept moving the boundaries . . . but we have so much more work to do," Susan Meiselas, a part-time resident of Wainscott, said at Saturday's candlelight vigil in Bridgehampton.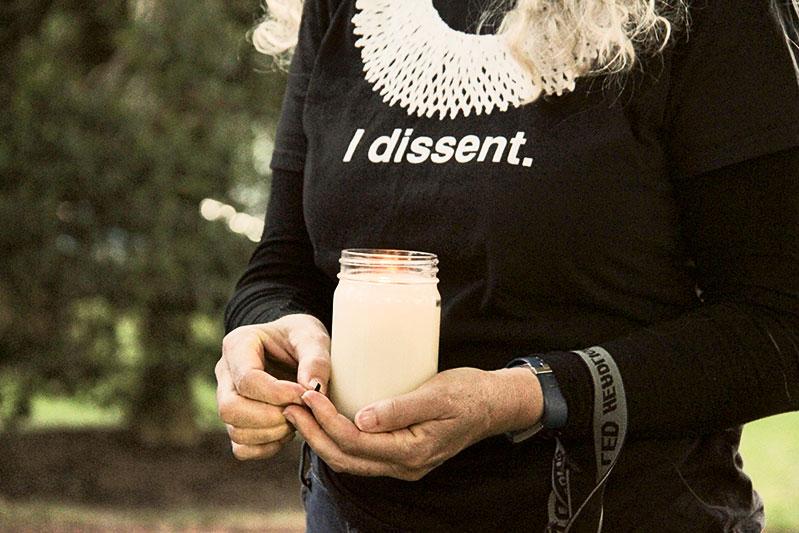 At the vigil, some carried signs with hashtags, or wore them on their shirts, to encourage activism on social media: #FeministForever, #RiseUp, #CarryOn. Others held signs and wore shirts that included the hashtags #VoteHimOut and #BlackLivesMatter. There was only one Trump shirt to be seen, and even that one referred to the sitting U.S. president with an expletive.
Nia Dawson, a 2017 graduate of the Bridgehampton School, said the death of Justice Ginsburg left her "feeling naked."
"We don't know what's to come," Ms. Dawson said. "If we continue to rally together in situations like this . . . not only to mourn, but to empower each other and lift each other up, we will continue to go through these hard times and we will fuel my generation and the generation after to come out to vote."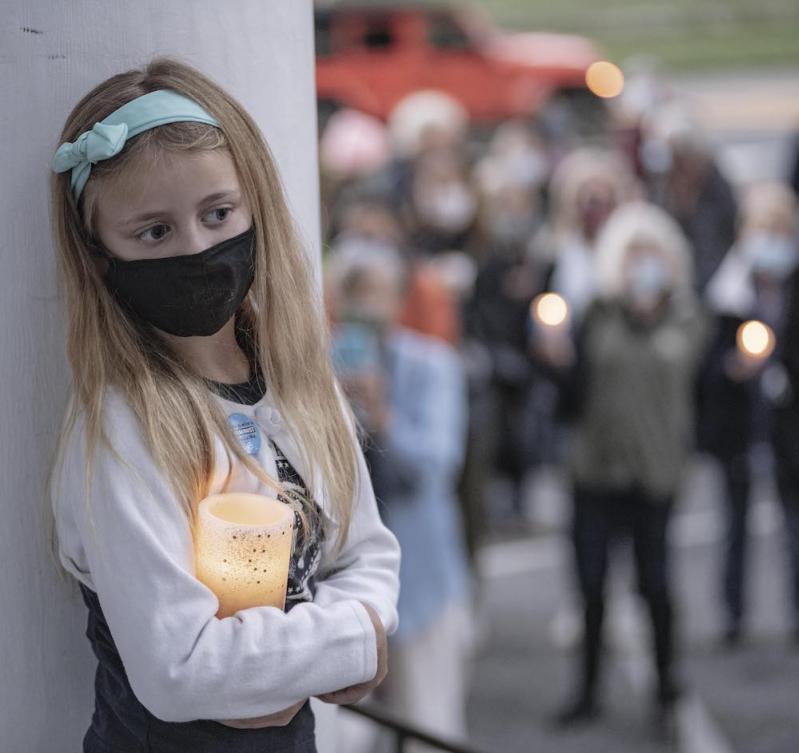 At the time of her death, Justice Ginsburg was a senior member of the Supreme Court whose landmark decisions paved the way for opportunities and equality for women, but who often led a minority bloc on the increasingly right-leaning bench. On Aug. 10, 1993, she became only the second woman appointed to the Supreme Court. Before she began serving, though, she was a litigator who had won five of the six gender discrimination cases she presented to the all-male Supreme Court in the 1970s, according to The New York Times. She had also been on the faculty of the Columbia Law School and was the founder of the Women's Rights Project with the American Civil Liberties Union.
"Ruth is the American hero of our time," said Jon Snow of Sagaponack, who attended Saturday's vigil with his mother-in-law, Tinka Topping, well known here as a founder of the Hayground and Hampton Day Schools. Ms. Topping added, "The loss we face today is immeasurable."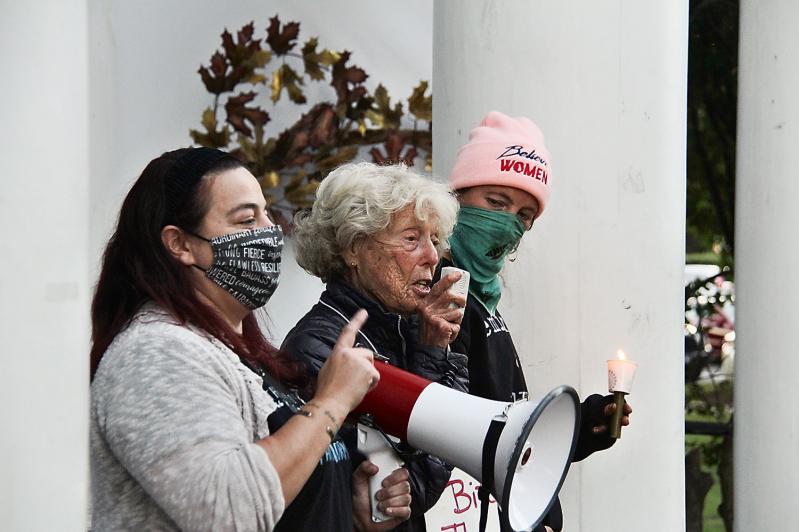 Marcia Greenberger just happened to be in town for a visit on Saturday. Ms. Greenberger is an attorney who in 1972, inspired by Justice Ginsburg's early work, co-founded the National Women's Law Center.
"She inspired a whole cadre of lawyers who could watch and learn from her, and I was one of those," Ms. Greenberger said. "She had incredible standards and she really was meticulous in her work, in her editing, and she understood that the fight for legal rights happens in the courthouse but it also happens in Congress and in statehouses and in city governments. It happens in the press. And she tried to use all of those strategies to change people's ideas and to get them to see equality in a way that they didn't before, and to have lasting change."
Ms. Greenberger called for people to "make sure we do anything and everything we can to vote for people who care about the same principles, who will look for somebody to sit in her seat on the Supreme Court who will further those principles and not work to undermine them. Don't kid yourself — these principles can be undermined in an instant and all of our gains can be taken away."
The New York Times wrote on Friday that Justice Ginsburg had beaten colon cancer in 1999 and early-stage pancreatic cancer in 2009. She had heart surgery in 2014.
NPR reported Friday that she had made one final request, reportedly dictated to her granddaughter Clara Spera several days ago: "My most fervent wish is that I will not be replaced until a new president is installed."
Thus came the title of Sunday's gathering at Hook Mill: Our Fervent Wish. There, Carol Ientile of East Hampton said Justice Ginsburg must be remembered for "everything she stood for, and we must continue her work, not just for this election . . . so that people, no matter what their political choices are, realize we have a democracy here."
Pennina Oren of New York City carried a sign on Sunday that said, in Hebrew, "May her righteous memory be a blessing."
Kate Mueth, founder of the Neo-Political Cowgirls performing arts group, called for people to "practice your bravery now, because what we're going through is not comfortable."
Prompted by Ms. Mueth on Sunday, people — mostly women — took turns shouting words or phrases that came to mind when reflecting on Justice Ginsburg.
"Trailblazer!"
"Powerful!"
"Relentless!"
"Don't give up!"
On Saturday night, Christine Sciulli, an Amagansett artist whose medium is light, set up a projector on the grass at Hook Mill. Images of Justice Ginsburg lit up the night, along with a message: "Vote early."
"I had a projector, extension cords, and a ton of grief-energy that I wanted to use productively," Ms. Sciulli said in an email on Monday. She wasn't able to plug in at the Bridgehampton vigil, but had a different idea as she passed the windmill on her way home.
"I thought that the Hook Mill windmill, which has become a powerful community gathering place, would be a fitting spot for a tribute to R.B.G. in light," Ms. Sciulli said. "Many people walked by and stood silently. The majority approached me to say how meaningful it was, and how much they needed something like it at this time. It was a quiet space to give people a moment to reflect on how important R.B.G.'s work is to our society, especially for women, but her work benefits us all."
It has been said that Justice Ginsburg's favorite constitutional amendment — if you can imagine a justice having one — was the 14th amendment, which, in 1868, was a landmark change that granted citizenship and guaranteed "equal protection" to all those who were born or naturalized in the U.S., including the formerly enslaved. Much of Justice Ginsburg's work centered around making sure that the "equal protection" clause included women.
"There is reason to believe that the dream of women's equality under the law will not die with her," Moira Donegan, a columnist for The Guardian, opined on Friday night. "She is survived by her daughter, Jane, herself a law professor, and by the generation of female law students and clerks whom she mentored, younger legal minds who will carry on her legacy. She is survived, too, by the women whose lives and careers she made possible through her legal work."
This story has been updated since it was first published.