Jeremy Dennis can still remember the smell of his grandmother's succotash. The aroma from the traditional Native American stew, made of squash, corn, and beans, crops known as the "three sisters," wafted through her home where his family once lived.
"Her food was why so many people came to our house," Mr. Dennis said of the Shinnecock Tribe in Southampton, adding that his grandmother would cook portions large enough to feed nearly a hundred tribe members.
It has been more than 20 years since his grandmother's death, and Mr. Dennis, a photographer who is now 30, hopes to use the money he is raising on GoFundMe.com to restore his grandmother's former home, which is a vacant shell of what it once was, into an artists' studio and museum honoring the Black, Indigenous, and/or persons of color, or BIPOC, community.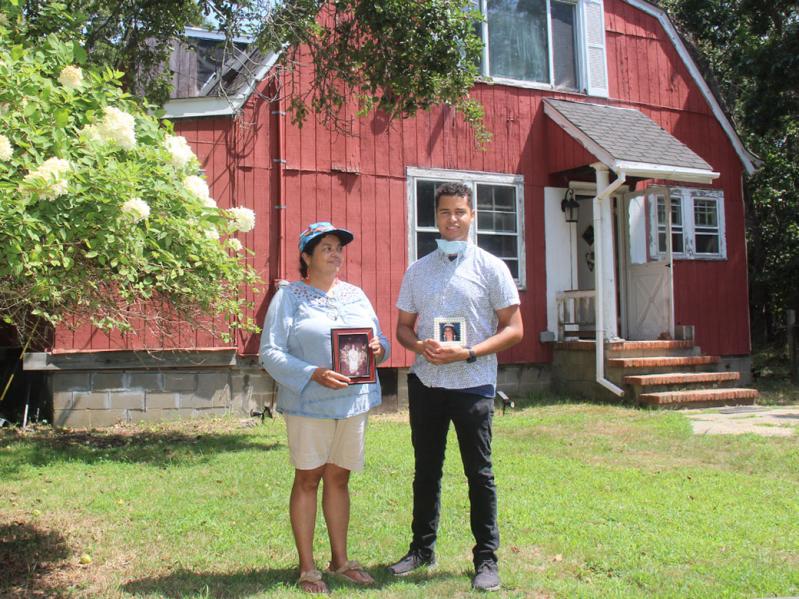 Loretta Hunter-Silva, otherwise known as simply "Ma," and her husband built the house on the Shinnecock Reservation using materials from an old church in Riverhead.
"With very limited resources, my grandfather Peter Silva Sr., traditional chief of the Hassanamisco Band of Indians, of Grafton, Massachusetts, scraped together what he could to build this unique house for Ma and their six children about 65 years ago," Mr. Dennis wrote on the website.
Family and tribal members refer to the home as Ma's House, which is the anticipated name of the museum and studio.
Every year Ma would host a mini powwow in their backyard, which is surrounded by apple trees and woods. Since then, Shinnecock festivities have earned enough notice to be regarded as one of the most recommended Native American celebrations in the country, according to USA Today.
As the years went on, Ma and Peter brought up their six children at the house, which looks like an old red farmhouse. Near the mouth of Shinnecock Bay, it became a shelter for transients of all walks of life, and even horses and deer that were taken in as pets. 
For the last three years, Ma's House has been vacant. Now all that's left is peeling wallpaper, ripped-out floorboards, and the damage left by raccoons.
So far, Mr. Dennis has raised $21,150 of his $50,000 goal. With that money, he has already done a lot, including fixing leaky plumbing, pouring a new cement floor, and replacing the outdated furnace.
"I've already exhausted most of my own funds cleaning out the house and debris around the allotment. I have a modest income that has been severely impacted during the Covid-19 pandemic, and I'm unable to apply for a mortgage living on an Indian reservation, nor can I afford the upfront down payments on utilities," he wrote on the GoFundMe page.
According to the Census Bureau, the Shinnecock Reservation, appproximately 800 acres situated between Southampton Village and Shinnecock Hills, is estimated to be home to 662 people in 256 households. 
The renovation project is projected to be completed in a year. Mr. Dennis hopes that Ma's House will focus on art and building a sense of community, and that it can become a space to host BIPOC artists during their residencies. But it does not have to be for artists only. 
"I want it to be as open as possible," he said, adding that he wants to inspire an interest in art. "I want for there to be a space where there aren't political factions. With the pandemic, we're seeing so much violence."
Mr. Dennis, an alumnus of the Ross School in East Hampton, holds a Master of Fine Arts degree from Pennsylvania State University. His artwork, from photography to installations, pays close attention to indigenous identity and assimilation.
Looking back on growing up as one of the few students of Native American descent, he said, "There was one other kid from the reservation who went to school with me. We always took the bus together." One fellow student complained that people outside of the reservation "never heard of any Indians left around here," he said. "People actually say they have never heard of the Shinnecock Indians. Many people think we're a vanished race."
He is determined to change that.
"The land is so special. Even though we've been forcefully converted to religion, to citizenship, nothing about our relationship with the land can change."
For Mr. Dennis, creating a safe space to celebrate art and his ancestors' culture has quickly become a reality.
"This is important because we have a story that hasn't been told," Denise Silva-Dennis, his mother, a former art teacher at the Southampton Elementary School, said. "If our community can't help financially, they offer their help in other ways." 
"My mother wanted to live forever. And through this, she will."