At least one Shinnecock Indian Nation family is pinning its hopes on hemp.
Hemp, of course, is widely regarded as a kind of wonder plant, a traditional yet once-again-modern crop with many possibilities. It has therapeutic qualities, depending on how it is processed, and can be used to create rope, clothing, paper, food, biofuels, and more.
Inspired by similar operations across the country, and empowered by rules that say Native American communities can grow hemp, Shinnecock Hemp has begun cultivating the plant. Rainbow Chavis, with her mother, Becky Genia, and her niece Nasha Hill are using their own allotments of land to start the business.
"We want to create a roadmap for other people in the tribe to do the same thing," Ms. Chavis said in an interview. "Grow a few plants and harvest -- it's a good community activity, a good way to spend time, and also, it will sustain a family."
The Shinnecock Hemp business is separate from a larger plan being developed by the Shinnecock Council of Trustees to grow medical marijuana and build a dispensary on its land. The Star reported in January that those plans are part of a multifaceted approach to the tribe's economic development. The much litigated electronic billboards on Sunrise Highway are another part, as is a potential gas station.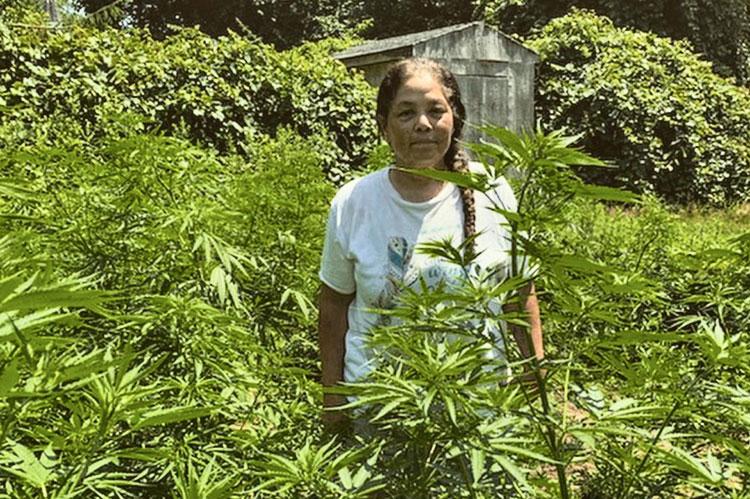 ---
"The Nation is working on a hemp program that will include a regulated system in line with the Shinnecock Nation's medical cannabis ordinance," Bryan Polite, chairman of the Council of Trustees, said in a statement on Monday. "This program is one of many regarding our overall cannabis endeavors, which also include a medical cannabis program [that] is in the building phase currently. The Covid crisis delayed, but did not derail, our medical cannabis project and we are proceeding forward in July."
Mr. Polite also said the tribe has "made great progress" working with Southampton Town officials on a "gas station travel center" on Sunrise Highway. "The project will provide much-needed affordable gas and jobs to the East End community," he said. "The gas station project should be in the building phase by August."
But hemp is the focus for Ms. Chavis, Ms. Hill, and Ms. Genia. Yes, it is part of the cannabis plant family, which also includes many varieties that have high levels of THC, the psychoactive component that creates the high for which marijuana is known. But hemp isn't known for highs — it's more widely known as a source of CBD oil, which has received an increasing amount of attention in recent years.
"People are really now realizing the medicinal value of hemp, and how many ailments and conditions it can help with," Ms. Chavis said. "It's just amazing."
She said they have consulted with experts who have tested their plants, soils, and products, and that their contents are clearly labeled. "We are following label requirements as if we were following U.S.D.A. guidelines, so that consumers feel comfortable buying and trying our hemp products," Ms. Chavis said.
Shinnecock Hemp is part of a collective called SIGNL, which stands for Sovereign Indigenous Growers on Native Land.
They make therapeutic liniments and oil blends, sleep aids, bath products, and edible, fruity drops for various purposes. Some are mixed with things like grapeseed oil, which is a good source of vitamin E, and California white sage mango butter. The Hamptons Blend has lavender and rose. They use glass and tin, not plastic, as packaging. The details are online at shinnecockhemp.com.
The family can grow approximately 50 plants per allotment, and between family members, there are two to four allotments involved. A whole year of research, planning, and trial and error went into the business, Ms. Chavis said.
The plants "are beautiful. They thrive in this area, for some great reason," she said. "We had no idea it was going to take off so wonderfully."