"There is only one race, and that race is the human race," Georgette Grier-Key said during celebration of the Rev. Dr. Martin Luther King Jr.'s life at Calvary Baptist Church in East Hampton on Monday.     
"You are put on this earth not for your own freedom, but the freedom of others," Dr. Grier-Key, the keynote speaker, exhorted the congregation and its guests in the crowded pews in a talk that ranged from the civil rights leader to Abraham Lincoln, and the political writer Noam Chomsky, slavery, and the ongoing mass jailing of black Americans.     She said that Dr. King was arguably the most influential person in the 20th century. "You've got to keep looking forward; that's what he did."     
Calvary Baptist Church honors the slain civil rights icon each year with a service and celebration of unity on the national holiday. The annual program at the church is also a fund-raiser for its scholarship fund.     
Dr. Grier-Key is perhaps best known on the South Fork as the director of the Eastville Community Historical Society in Sag Harbor. She is also the president of the Association of Suffolk County Historical Societies and teaches history and African studies at Nassau Community College.     
Her remarks were prefaced by musical performances by members of her family, five generations of whom came for the tribute to Dr. King. She was at turns amusing and stern, waving a finger of remonstrance at times, poking fun at some of the elected officials in the audience and others.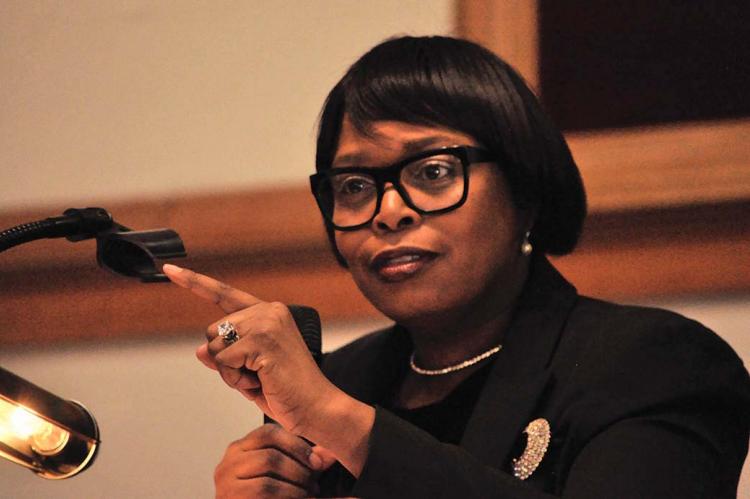 To parents she cautioned that children do what they see their parents do, not what their parents tell them to do. "The youth are right now; training them up right is up to you."     
Circling back to the theme of the day, Dr. Grier-Key had provided instructions. "You have to look at how you do service and what service really means." And, in a word of advice to young and old, she cautioned them to pay no mind to detractors.     
"Somebody is always going to say something but when you are standing on the side of right, that's all that matters," she said. "You've got to keep looking forward, that's what he did."     
Dr. King fought for all people because, she said, "It takes all of us to get where we need to go."     
"Think about struggle from second-class citizenship to first-class citizenship, and no, this didn't happen down south, it happened up south, that's where we are."     
Reflecting both on the Bible and current scholarship, she observed, "Slavery couldn't survive with the middle states to help it. So we go from slavery to share cropping to servitude to the chain gang to Jim Crow. It was a long history of justice being denied and now, delayed. And now, being turned back." Many in the pews murmured or spoke out in agreement.     
"So when you think of the life of Dr. Martin Luther King, how far have we really come?" She spoke of a widely shared sense that children are not adequately protected in schools and in some places, subjected to racism in the classroom and racist lesson plans.     
She rejected the Obama-era idea of a post-racist society. "Words are great, but we need action," she said. "What have you done? What's your plan? What service have you rendered to others?"     
"Your cause has to be greater than you, it has to be greater than your family."     
Fifty-two years after King's death, Americans face the same issues: "black boys being killed in the street, segregation, poor housing, school failing, youth anger — how far have we come?"     
Following Dr. Grier-Key's talk, the church scholarship committee dedicated a plaque to the late Deacon Henry Haney, who died in October. Mr. Haney was a longtime member of Calvary Baptist and active in the community, serving on the town Police Department's minority relations committee. His local affairs programs, "Tell It to Henry" and "Henry on Location," appeared for many years on public access television in East Hampton.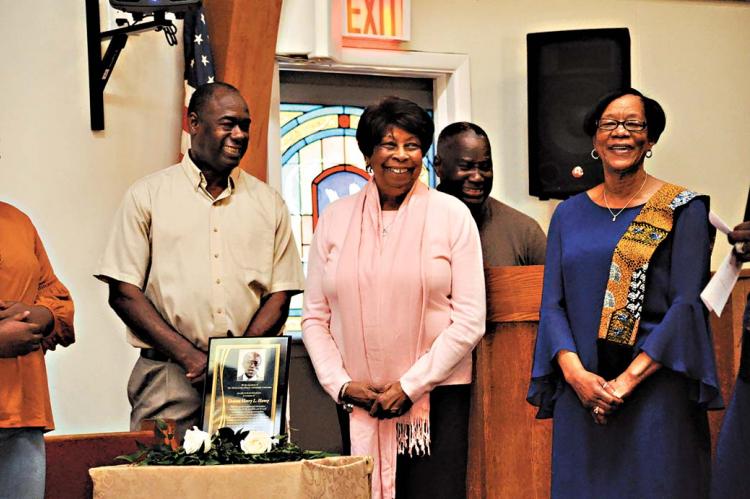 Connie Wallace-Mabry, one of Mr. Haney's children, read the text, which in part, said, "Through his love and compassion for all people, Deacon Haney has been a shining example for each of us to follow."     
Also taking part in the service were the church choir, the Rev. Walter Silva Thompson, and DeBoyce Robinson of the Heaven Sent gospel group, who with his daughter Destiny and son Deshawn performed a song. It was Deshawn's first public appearance as a singer, Mr. Robinson said.     
Suffolk County Legislator Bridget Fleming, who is seeking the Democratic nomination to challenge Representative Lee Zeldin in the November election, attended. Other officials there included East Hampton Town Supervisor Peter Van Scoyoc, Councilman Jeff Bragman, East Hampton Village Mayor Richard Lawler and deputy mayor, Barbara Borsack, and Richard Burns, the East Hampton School District superintendent.