A MAGA-Gras parade for Donald Trump from Seaford to Montauk on Sunday drew thousands of vehicles to the South Fork -- dividing the community into distinctly partisan sides as it rolled through town.
Trucks and cars bedecked with American flags, Trump 2020 banners and signs, and Blue Lives Matter flags cruised along the South Fork's main artery throughout the afternoon as bystanders honked and cheered in support or booed in protest.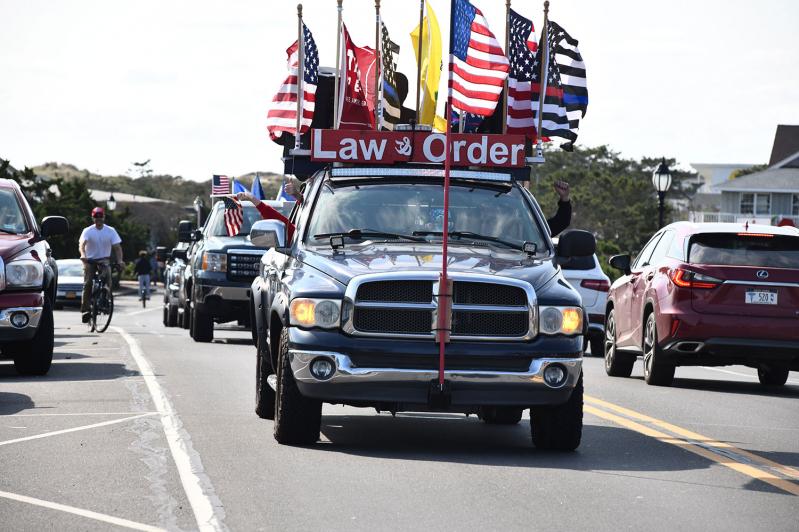 A video posted on Facebook shows enthusiastic spectators lining the route and overpasses draped with flags. Participants' vehicles filled the lot at the Montauk Lighthouse by early afternoon, as more headed east. The organizer of the parade was Shawn Farash, an UpIsland resident who has organized other events in support of President Trump. Mr. Farash did not respond to a Facebook message seeking comment this week, but in his posts about the parade, he said there were 9,000 cars and one airplane taking part. The airplane towed a banner that read "L.I. Loud Majority Trump 2020."
On the event's Facebook page, Mr. Farash wrote, "As always, we will remain peaceful and respectful even when faced with potential counter protesters." His advice was followed by many, who brought a celebratory spirit to the outing. 
However, some of the signs and exchanges between spectators and participants were less than savory, and it happened at both ends of the political spectrum. In one instance in Montauk, an onlooker threw eggs at vehicles that were part of the parade, East Hampton Town Police Capt. Chris Anderson said. In another, a woman holding a rainbow flag that said "Resist" had it pulled from her hands by a participant in the parade after she stepped out into the street to block traffic in East Hampton Village.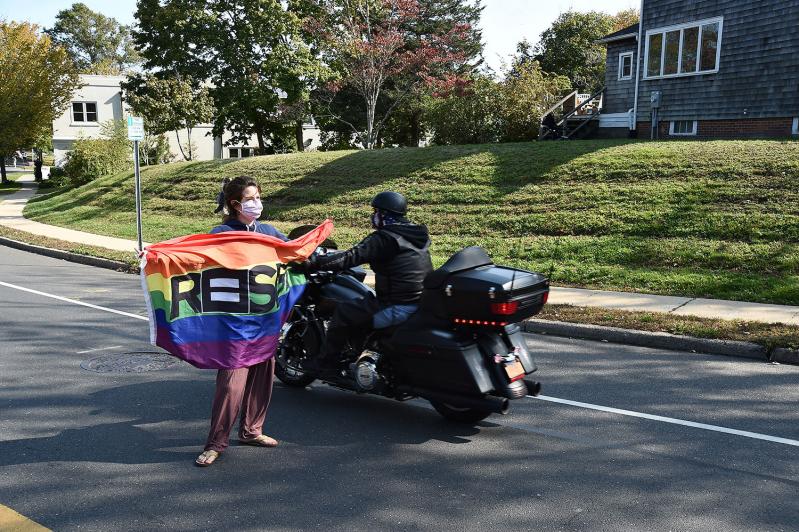 In a video shared on Facebook by Manny Vilar, the East Hampton Town Republican Committee chairman, Stephen Field, who went to East Hampton Village with a Trump flag and sign to cheer on the parade, described a woman "trying to rip the sign out of my hands, and cursing at me, calling me a racist, a bigot, and everything else in the book. I said, 'Listen, please just leave me alone.' . . . A guy goes by, giving us the finger. So he stops his car and rushes me like he's going to kick my ass. Is this what we've become? People can't even stand to look at a Trump sign or a Trump flag and they get that triggered?"
Mr. Vilar said this week that the Republican committee had posted about the parade ahead of time on Facebook so that President Trump's supporters would know about it. He described the conduct President Trump's opponents displayed as "embarrassing."
"Campaign issues should be thoroughly discussed," he said, "but when it reaches a point where one side is trying to prevent another side from exercising their free speech and promoting their candidates and position, then that's crossed the line."
Many of the vehicles' license plates were obscured by duct tape, an issue raised by a number of bystanders from the anti-Trump camp. 
"I understand why they do that," Mr. Vilar said. "They're fearful that people will identify their vehicles and in the off hours will damage their vehicles," he said. "I understand why they're doing it, but that's indicative of the politically charged time."
Captain Anderson acknowledged that the practice is not legal, but said officers did not strictly enforce it in order to maintain a larger focus on safety. "We're continuously monitoring these actions, the individuals from both sides, and our objective is safety, preventing acts of violence, preventing criminal acts, anything that rises to that level. In order for us to effectively carry out those objectives we give our officers a great deal of latitude in utilizing their discretion," he said.
"Our approach in dealing with these public political events, whether it's marching, protests, vigils, rallies, parades, has pretty much been, without exception, consistent and clear," Captain Anderson said by phone this week. "Our objective has been to allow for whoever is participating in this to express their views, their opinions, without interference and infringement."
Some people also questioned the apparent participation of a Sag Harbor Fire Department vehicle in the parade. In fact, the vehicle was not an active truck, but rather an out-of-commission one that had been bought "a number of years back by a Sag Harbor resident," Sag Harbor Mayor Kathleen Mulcahy clarified on Monday. "The Village of Sag Harbor government and its emergency response groups are nonpartisan and strive to publicly be party neutral," Ms. Mulcahy said. "We were disappointed to learn that an out-of-commission and retired fire truck, that is now owned personally, was used in a political fashion on Sunday on the East End."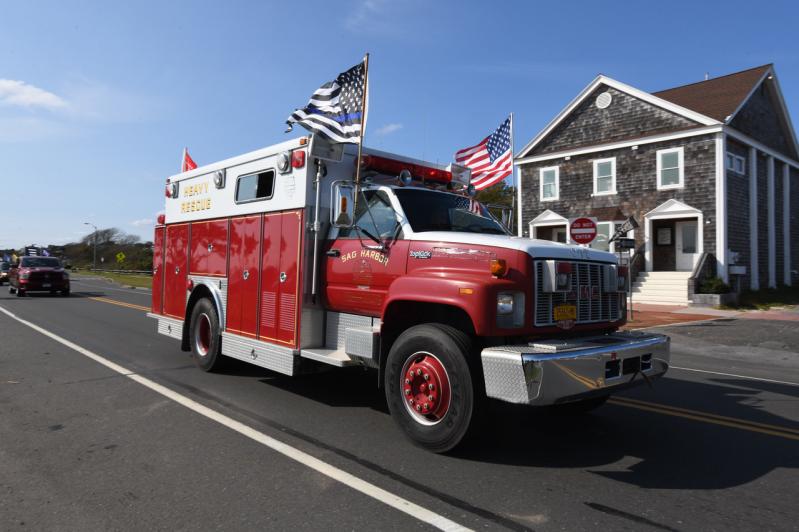 She said the truck "should have had all official decals taken off" and added, "we hope the current owner can remedy this before using it to show political preferences in the future." The truck is owned by Brian Gilbride, a former mayor of Sag Harbor. He did not respond to The Star's requests for comment this week.
Trump supporters participating in the parade who had also hoped to support a local food bank were disappointed when the Montauk Food Pantry declined the donation because it appeared to be politically aligned. It also would not have been able to accept a donation if it had been from a group supporting Joe Biden, President Trump's opponent in the race, because "the Montauk Food pantry is a 501(c)(3) nonprofit organization, which cannot endorse or criticize candidates or a political party, and [it] is simply following the Internal Revenue Service rules," the food pantry said in a statement. Nevertheless, the refusal did not sit well with many people.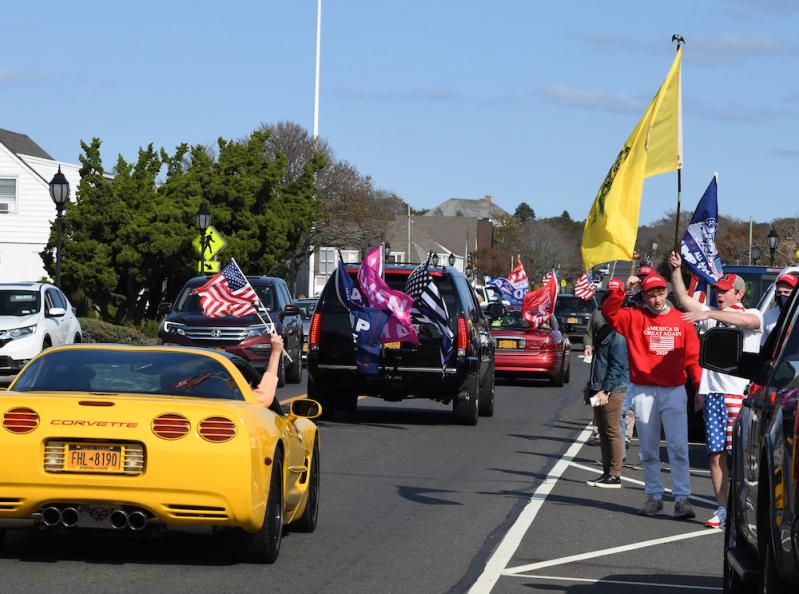 Instead, the food donation was accepted by a faith-based community service group called the Lighthouse Mission, which said on Facebook: "Because it was 'Trump food,' they refused it! . . . Pastor Jim [Ryan] and his team prayed for the drivers, the parade, and as the Bible teaches us, for our president."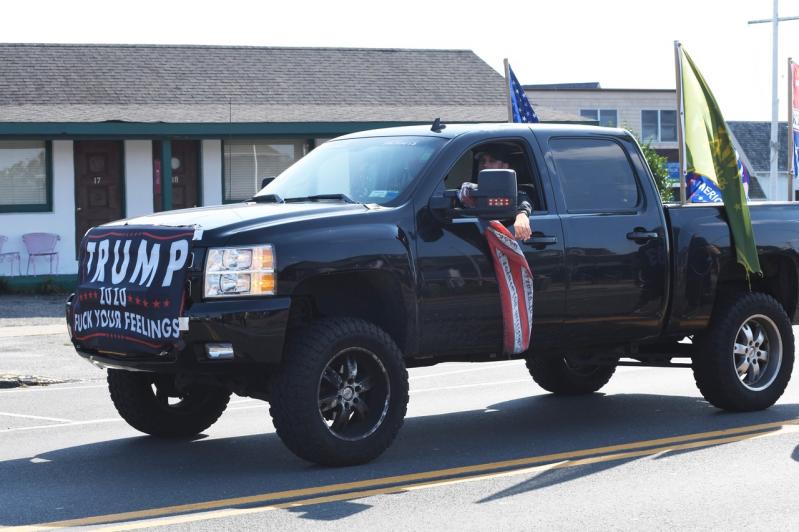 While the parade was rolling through town, Cate Rogers, the chairwoman of the East Hampton Town Democratic Committee, was taking part in a phone bank supporting Mr. Biden's campaign. 
"That's what Biden supporters were doing," she said, "but again, it's unfortunate that some people think they have to treat Americans, people living in the community and visiting here, as if they were an enemy. I don't understand the sign I saw in your newspaper with one sign that said 'f--- your feelings.' I don't understand what that even means."
"The vulgarity is completely out of character for what America represents," Ms. Rogers said. "We need to let our better angels guide us."
--
Note: This story has been updated since it originally appeared online.