Two brown pelicans that were likely borne from points south on a strong southeast gale in October were rescued in Montauk this week and taken to the Evelyn Alexander Wildlife Rescue Center in Hampton Bays.
The first was captured on Tuesday morning, the second yesterday morning. Both were taken first to Jonathan Turetsky at the Veterinary Clinic and Hospital of East Hampton for evaluation. A third pelican seen with the other two remains at large near Lake Montauk.
It is not uncommon for the large birds, which are normally found in warmer climates, to be blown north on strong winds. "They have a huge wingspan and they're super-light birds for their size," explained Mike Martinsen, a volunteer who helped with Tuesday's rescue.
Mr. Martinsen had been watching the three pelicans since they showed up here in October. When they first arrived, temperatures were mild and they had plenty of fish to feed on. "I was reluctant to grab them right away, but now they're starting to get weak from the cold and lack of food." The fish they feed on have migrated southward and temperatures are dropping. "Pelicans are not designed for our climate," said Mr. Martinsen, the owner of the Montauk Shellfish Company oyster farm.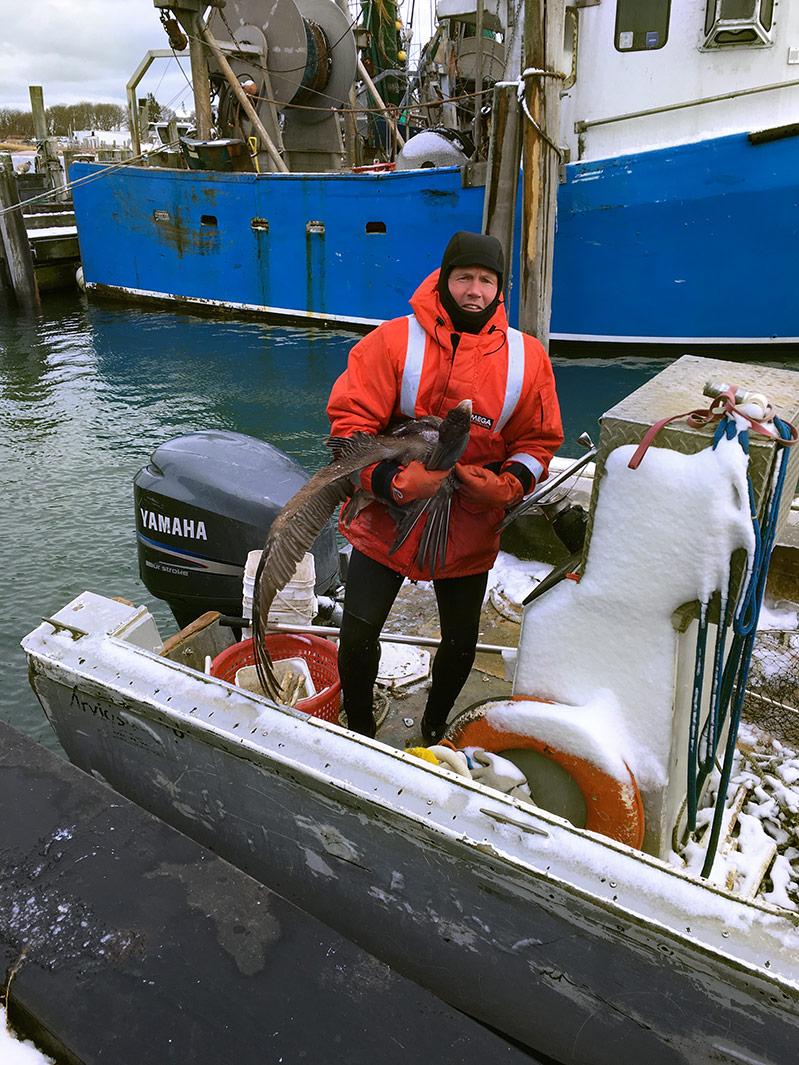 When two other volunteers, Rob and Pauline Rosen, called him for help on Tuesday, he got in his boat to lend a hand.
Handling even a weak pelican is no easy task. "They're huge, and the bill looks like it will go straight through you," Mr. Martinsen said.
Mr. Martinsen is one of a cadre of volunteers who work with the rescue center to help all sorts of animals in distress, from deer to swans to seagulls and even squirrels, but this was his first pelican. "Training is key," he said. One of the things you learn about bird rescues is "how to manipulate their bodies without hurting them." Another, he said, is "wear goggles."
The pelican rescued on Tuesday was an immature bird and despite being slightly weakened was in good health and had no sign of injuries, Dr. Turetsky said yesterday. A member of the rescue center's board, he has seen all sorts of furred and feathered creatures, but these were the first pelicans to pass through his office.
Chucky Morici and Shawn Hewitt captured the second pelican early yesterday morning.
Both rescued pelicans — siblings — were banded on Beacon Island in North Carolina's Ocracoke Inlet in July, before they could fly, as part of the North American Bird Banding Program, a joint effort of the United States Geological Survey and the Canadian Wildlife Service.
"Information from bands subsequently found and reported . . . provides data on the distribution and movements of species, their relative numbers, annual production, lifespan, and causes of death," the U.S. Fish and Wildlife Service explains on its website. "Such information increases our knowledge and understanding of birds and their habits and assists us in their management and conservation."
The Evelyn Alexander center plans to transport the pelicans to warmer territory for release, probably by plane. "We have to do a little research first," said Kyra Leonardi, a member of the center's hospital staff. Generally, another rehab organization will collect the birds at the other end and oversee their release.
With Reporting by Doug Kuntz
--
Correction: The photo caption in the print edition of this article contained two errors. The photo of a pelican being examined by Dr. Jonathan Turetsky was incorrectly credited, and the caption incorrectly identified the woman helping Dr. Turetsky. She is Malin Elg, a licensed veterinary technician. Doug Kuntz took the picture.