The energetic turtle looked like it was ready to return to nature as it moved about in a square cardboard box on the Wobensmith family's Sag Harbor lawn late Tuesday morning.
It wouldn't be long now. Lilly, a diamondback terrapin turtle, had been found, injured on a Noyac Bay beach by young Ella and Gracie Wobensmith, who were playing with friends near their house.
That was in the summer of 2018. After four years' recovery and convalescence at the Turtle Rescue of the Hamptons in Jamesport, Lilly was set to be released back into the wild. Her rescuers, now ages 12 and 9, had picked the spot: Wetlands at Clam Island, not far away.
When the girls found Lilly, the turtle had two serious wounds to its shell and, as the family would later find out, a punctured lung. "I thought it was fake blood," said the elder daughter, Ella, remembering. 
The children took the injured animal to their father, John, who did a quick Google search and discovered a turtle-rescue facility nearby. "We think a boat ran her over," said Mr. Wobensmith as he and the family packed up their car with the turtle and headed from their waterfront house on Bay Street to the dead end at nearby Cedar Point Lane.
Juvenile ospreys wheeled above as the family removed the turtle from its box and placed it on the rocky sand. After a moment of apparent confusion, Lilly seemed to figure out what was going on and glided into the cool, clear bay, with the girls splashing closely behind in their flip-flops and summer dresses. Their parents, John and Andrea, beamed and took photos. The turtle's head was visible for several yards as it made its way into the placid waters. Then it disappeared.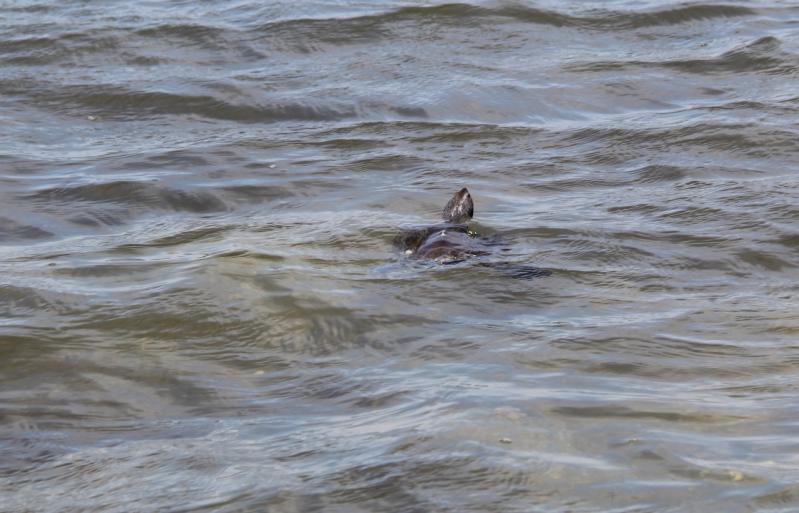 Lilly, estimated to be about 25 years old, had nasty but all-too-common common injuries. It's a truism among turtle cognoscenti that "slow and steady wins the race," and that applies to turtles on the mend. "Turtles heal and die very slowly," said the Turtle Rescue founder, Karen Testa. Her organization is donor-supported and "constantly full" of injured turtles, she said.
"It's not a revolving door here — when turtles come here, they stay at least a year. Plus, we can only release them six months out of the year, from April through October."
The rescue center had been in operation for 10 years as of this spring, and has heard a lot of stories. One turtle, injured by a boat propeller, has been healing at the refuge for six years. (A scan of recent turtle-related headlines turned up quite a number of them that were injured or maimed in Sag Harbor. Not long ago, one was found with a big nail driven through its shell. It survived.)
When Lilly arrived with the broken shell and punctured lung, Ms. Testa said the first thing they did was give the turtle pain medication, put it on oxygen, give it a couple of rounds of antibiotics, and install a "shell bracket" while it healed. "Lilly was ready to go last year," she said, "but she had a soft spot on her shell, so we wanted to make sure she was 100 percent healed."
Mr. Wobensmith got a call recently from the rescue center and picked up the turtle over the holiday weekend. The kids were ecstatic, hr said. Ms. Testa was amazed at their intuitive questions, she said, and sincere concern. "I'm shocked she survived," said Ella.
Most people who find injured turtles don't bother to do anything about it, Ms. Testa said. Drivers, for example, see injured box turtles on the road, but "a lot of people don't even call — they just put the turtle on the side of the road to die, and it takes four days for a turtle to die. They cannot heal their shells without getting help. It's like breaking your back."
She encouraged boaters to use protective gates around their propellers to avoid injuries such as what befell Lilly.
Back on the beach, as Lilly paddled off to parts unknown, Mr. Wobensmith, who heads Genco Shipping and Trading, which operates drybulk ships, was asked whether the story of the tenacious turtle might offer a metaphorical lesson in the face of, say chronic supply-line shortages plaguing his industry, stemming from the pandemic.
He responded by pivoting to Genco's record of environmental consciousness, which includes the number of times its ships have collided with marine life, whale-ship encounters in particular. Genco, he said with pardonable pride, ranked highest among dozens of similar businesses in 2020 and 2021.
The company also sponsors annual beach cleanups in New York City, he noted, where the family lives and the girls attend school in the off-season. Ella reported that those are lots of fun, too.