Thanksgiving wasn't just a one-day holiday, in the eyes of New York State Gov. Andrew M. Cuomo. It marked the start of 37 days of dangerous revelry — 37 days in which state and local officials are predicting Covid-19 infection rates will surge as people shop, gather, travel, and celebrate.
"Covid is shifting the battlefield dramatically, and we have entered a new phase. It came with the colder weather," Governor Cuomo said during a press briefing on Monday. "All the experts talked about what was going to happen when we reached the fall, right? Cold weather, more people indoors, more people traveling. . . . And then we are coming into the holiday season and the holiday season is going to have a profound effect -- it already has. When people start to travel for the holiday season, when students start to go home, when people start to shop, when they start to move around: increased mobility, increased social activity, increased viral infection rate. It is directly proportionate."
The governor said Wednesday that 70 percent of new Covid-19 cases are coming from small gatherings rather than community transmission. He urged people to be continually vigilant about wearing masks and social distancing.
With the region officially experiencing the second wave of Covid-19 — daily infection rates and hospitalization numbers are soaring to levels not seen since the spring — the theme in local hospitals and schools lately is ramped-up preparation.
---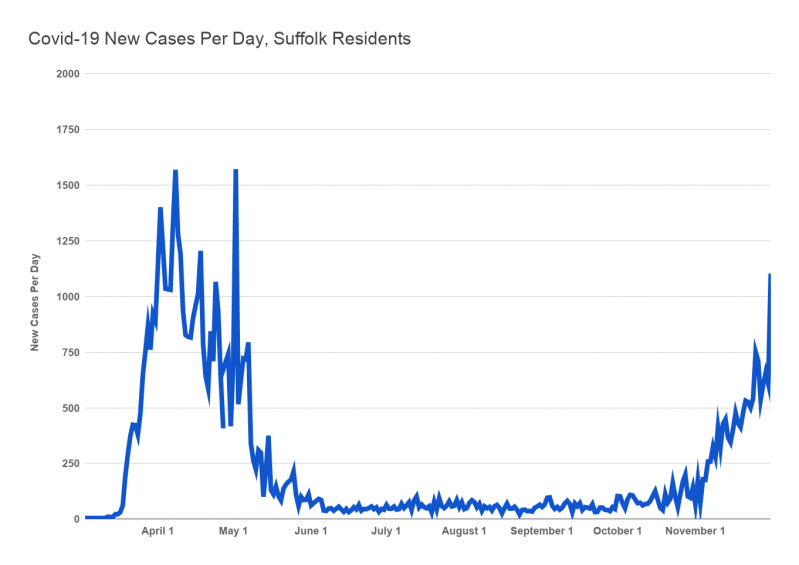 ---
The East Hampton and Sag Harbor School Districts are looking to Suffolk County to provide them with rapid tests that will be used to test at least 20 percent of students and staff in the coming weeks — a requirement of schools that are in yellow micro-cluster focus zones, as outlined by the governor in October. This week, both districts sent out letters requesting that parents and guardians give consent for their children to be tested for Covid-19 so that the districts can meet those 20-percent requirements. But as of press time this week, no yellow zone east of Hampton Bays and Riverhead had been declared.
"A lot of people in our community have had to adapt and do things that they didn't anticipate they were going to do," said Jeff Nichols, the Sag Harbor superintendent, in a phone interview on Tuesday. "Am I excited about the testing process? I would say no. But am I committed to doing everything I can do, and the district can do, to keep schools open and safe? Yes."
"We put together a plan on Monday to begin moving ahead with anticipation of being designated a yellow zone," Adam Fine, East Hampton's assistant superintendent, said during a school board meeting on Tuesday. "We'll be doing, hopefully, this Friday upwards of 200 tests. We believe the number to meet the requirements is around 350. The hospital can meet the other end of this, but we're also going to push the county to meet all of our needs."
He said the schools will be using the less-invasive rapid tests whenever possible, particularly for young children, for whom the deep nasal cavity diagnostic test can be scary. Testing begins Friday at the John M. Marshall Elementary School.
"We are not officially in a yellow zone yet," Karen Kuneth, the elementary school principal, said Wednesday. "Suffolk County reached out to us because it seems pretty imminent."
Officials at all levels are working hard to keep schools open, in particular for children in kindergarten through the eighth grade — state, county, and school district officials say there there has been little to no evidence that Covid-19 is spreading within the school buildings themselves.
---
---
"Our kids are compliant, almost 100 percent," said Ron Masera, president of the Suffolk County School Superintendents Association, during a county press briefing on Tuesday. "I think the schools can be a model for what we need to be doing in society. What we know is that those things are working. Kids learn best when they are in our schools and they are safest when they are in school."
This week, approximately 130 children and adults are in quarantine after a handful of new cases emerged over the past two weeks at the Montauk School, according to Jack Perna, the superintendent. The School Covid Report Card, a state database that gets updated daily, indicates that the East Hampton School District had so far had 46 cases across its three schools as of Wednesday. The Amagansett School recorded its first Covid-19 diagnosis in a student, and the Springs School has now had six student cases and one staff member case. Sag Harbor's Covid-19 total is four students and four staff members. Two Bridgehampton School students and one teacher have tested positive so far this school year, according to the state database.
In an effort to target restrictions and avoid a more drastic shutdown like the one imposed earlier this year, Governor Cuomo this week added more criteria to the micro-cluster strategy. Focus zones will be triggered not only by a community's seven-day average infection rate and number of cases per 100,000 residents, but now, hospitalization rates, hospital capacity, and staffing levels at these facilities will also play a part. The governor has once again mandated, as he did in the spring, that hospitals increase their bed capacity by at least 50 percent. The governor has also mandated that they balance their patient populations among the different facilities in the hospitals' overall networks.
"We will adhere to the governor's directive," Stony Brook Southampton Hospital said in a statement on Tuesday. "A core benefit of being part of the integrated Stony Brook healthcare system is that we have daily communication about bed management and will continue, as we have always done, to redistribute patients based upon clinical needs and resource availability." Also in that system is Stony Brook University Hospital and Stony Brook Eastern Long Island Hospital in Greenport.
As of Wednesday afternoon, Stony Brook Southampton had 15 Covid-19 patients, according to Barbara Jo Howard, a hospital spokeswoman.
---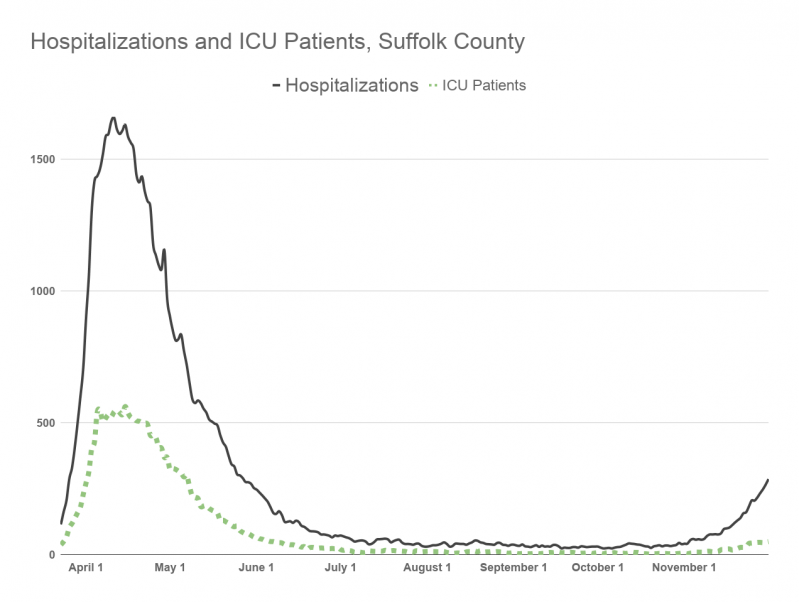 ---
The two existing focus zones on the East End, Riverhead and Hampton Bays, are showing signs of improvement in the last several days, according to Suffolk County Executive Steve Bellone. In Riverhead, the seven-day average positive-test rate was as low as 2.87 percent on Monday before shifting slightly upward again on Tuesday to 2.95 percent. School-based testing sites were set up in those two areas, along with additional testing centers in the community.
"These community-based testing sites are important both because they provide another way for people who need the tests, free tests, but they also raise awareness in the community about these rising numbers and . . . the need to isolate and quarantine," Mr. Bellone said during a press briefing on Tuesday. "You can shut down the whole economy, do a lockdown that has a number of devastating impacts, or we do this in a targeted way where case investigators are able to identify the positive cases, close contacts, and they quarantine for a period of time. That's the right approach."
First responders, including volunteer emergency medical service providers and paid technicians, are also on high alert again. On Tuesday, Thomas Fealey, deputy chief of county E.M.S. operations, said the county had initiated a "pandemic level one" state. Less than 24 hours later, though, the county E.M.S. operations resumed its previous "surveillance" status, stepping back from the pandemic level one designation.
Elsewhere in Suffolk County, police are investigating a large house party with at least 300 guests at a house in Brookhaven Town. The 5,000-square-foot Tudor-style house, on a 10-acre property off a cul-de-sac, had been rented via Airbnb by an individual from New Jersey. Calls to 911 began rolling in around 12:25 a.m. on Monday, according to Suffolk County Police Chief Stuart Cameron.
"There's no question that an event like this is a public health issue," Chief Cameron said Tuesday. "You cannot come into New York State and not be bound by the restrictions. The attendees were very cooperative. We were not given a hard time. . . . It's an ongoing investigation. We do intend to press charges if we can identify the responsible party."
County contact tracers also seem to be having some difficulties reaching all those who test positive for full investigations. Dr. Gregson Pigott, the commissioner of the Suffolk County Department of Health Services, said Tuesday that there had been 7,948 new, positive cases in the last seven days, and that contact tracers had reached 6,114 of those people to request information about close contacts. Of that number, 3,801 identified their close contacts. Dr. Shahida Iftikhar, the deputy health commissioner, noted that some of those 7,948 people did not actually have any close contacts, which are defined as individuals who are within six feet of an infected person for at least 10 minutes.
In Suffolk County, of the 16,615 test results reported on Tuesday, 966 — or 5.8 percent — were positive. The county has not seen that many new cases in a single day since April 23. Suffolk's seven-day average rate of newly confirmed Covid-19 cases was 4.5 percent on Tuesday.
On Monday afternoon, Mr. Bellone said there were 248 people hospitalized in Suffolk County, including 46 in intensive care units. "These numbers are alarming to say the least. . . . Today we have more people in our I.C.U.s than we had in all of our hospitals just a month ago."
In Nassau and Suffolk combined, there were 538 people hospitalized with Covid-19 on Wednesday, a 212-percent increase from the number hospitalized three weeks ago.
---
This story has been updated to reflect a change in the county's E.M.S. operations that occurred after press time this week.