Anita Boyer and Joe Pallister had June marked on their calendar for nearly a year. Both of them mused on an intimate wedding at what they considered the most idyllic venue: Disney World.
"I am so obsessed with Disney," Ms. Boyer, a dance and acting coach, and co-founder of Our Fabulous Variety Show, said in a phone interview. "Both of my grandparents worked there. I grew up visiting all the time. I have Disney in my blood."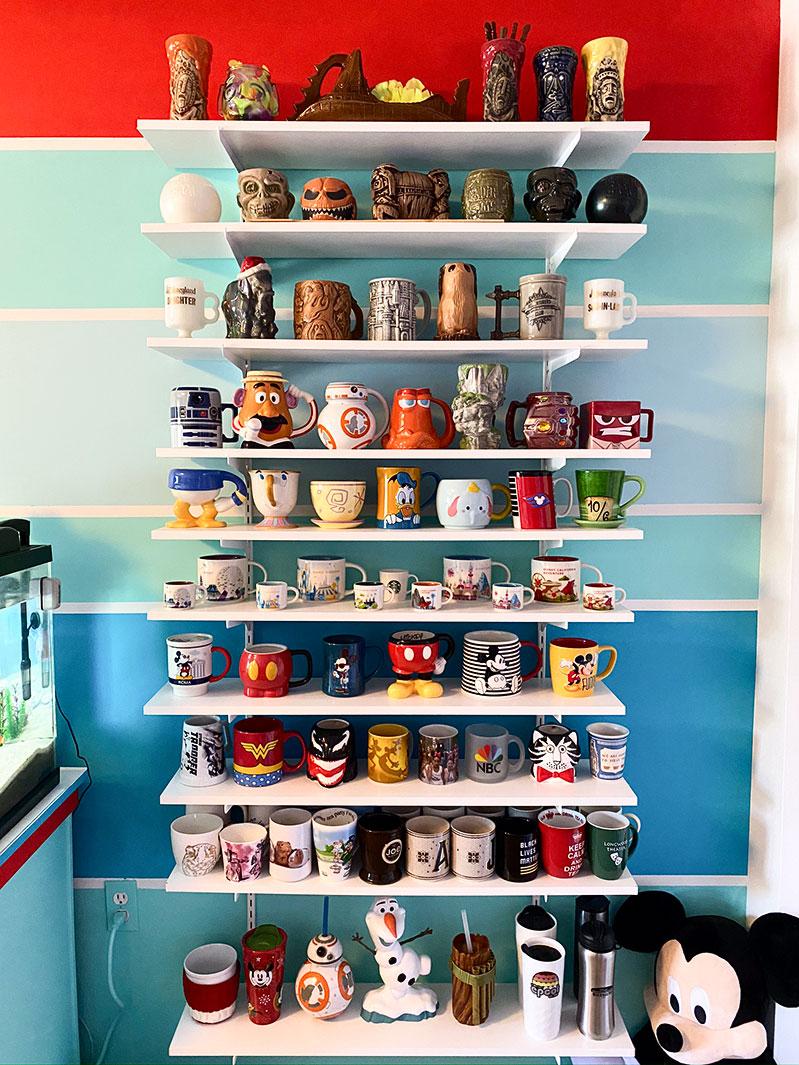 After months in lockdown, it became clear that the Florida wedding these would-be newlyweds fantasized about was not going to happen, not this year. Then one day Ms. Boyer, who has Mickey Mouse tattoos covering her left arm from wrist to shoulder, was scrolling through Instagram. She stopped and stared at one particular post: a Disney World-theme home. Inspiration!
"I decided to make over our home into Disney World."
In between virtual dance classes, Ms. Boyer darted to the paint store. She wasted no time. Weeks later, their entire Hampton Bays apartment was transformed into a Disney World playland.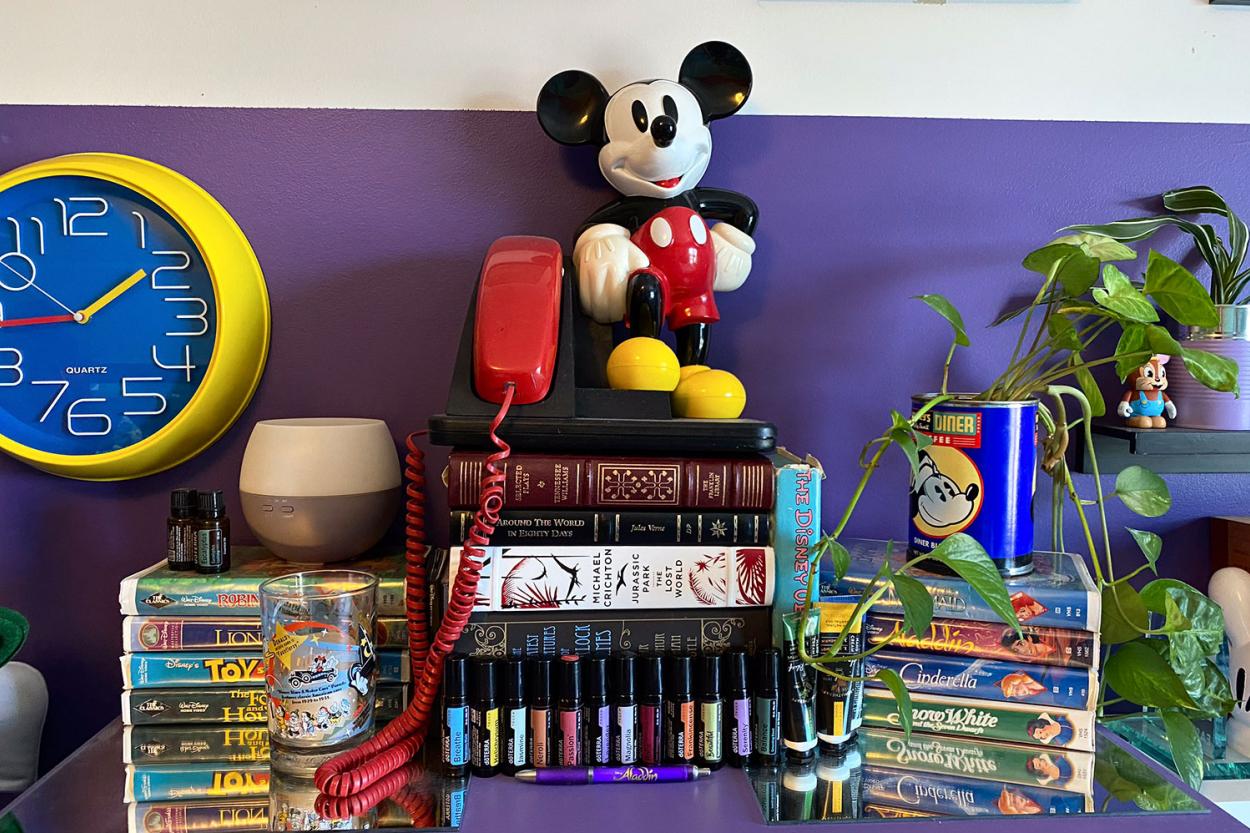 The apartment, she says, has taken on an entirely new feel. Rooms are divided in different themes, featuring an Animal Kingdom-inspired kitchen, a Magic Kingdom purple wall, and Hollywood Studios-inspired striped walls, shelves full of Hollywood Studios memorabilia, and a multitude of VHS tapes, to name a few details.
Dance classes are much more visually pleasing now, Ms. Boyer said. The backgrounds take the kids away from the computer and into a more engaging world. 
"Everyone hated virtual dance classes," she said. "We missed all of our recitals, competitions, and had to cancel three shows. But now when people go onto Zoom, the quality of my class is that much better. Now that it's done, it brings me and my students so much joy."
After three weeks and $400 worth of paint, the couple finally have their dream home. As far as their engagement, the wedding bells will surely ring.
Then there's Nancy Hallock, who spent far too many years staring at her brown bedroom walls. She and her husband raised their three kids in his childhood home in Sag Harbor. During lockdown, she and the children, the eldest a freshman at Duke, the younger ones both at Pierson High School, each claimed corners of the house while their father, Bob, worked construction.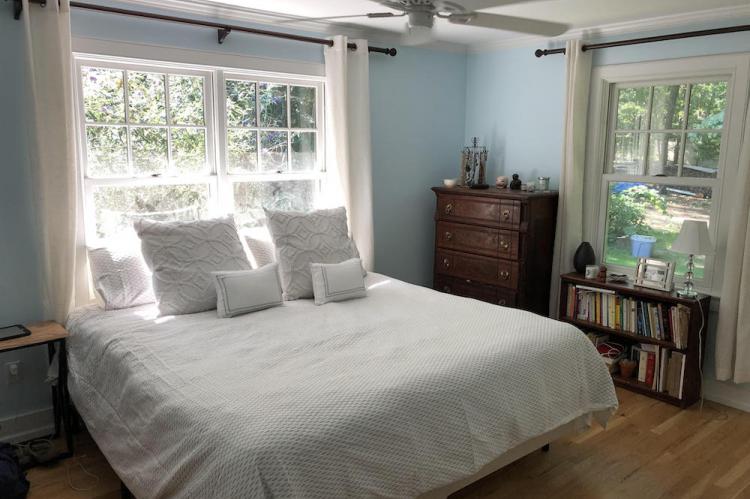 After months in lockdown, the hazelnut color in the Hallocks' bedroom started looking pale. Ms. Hallock decided it was out with the old. 
"We lived with the first awful color that I chose for 14 years," she wrote in an email. "I was afraid to try again."
When her husband went off to fish one morning, Ms. Hallock and their 15-year-old daughter, Lizzie, went to buy some paint.
In total, Ms. Hallock, who is a fourth-grade teacher, spent $300 at Home Goods, including curtains, paint, and new bedding. While Mr. Hallock cast his net and matched his hooks to bait, the two spent an entire day peeling away the dull paint and coating the four bedroom walls with a warm shade of blue. Ms. Hallock had never painted a wall by herself before.
When her husband came home later that day, she said, he was awe-struck. 
"He normally takes on all the home improvement projects, but I wanted to surprise him," Ms. Hallock said. "We joked that it feels like we're on vacation in a hotel room -- right in our own house!"