I traveled to Sicily in April. I took the Jitney from Amagansett, got off on 39th Street, walked down to Greenwich Village, and there I was.
A five-hour Sicilian food tour in New York City with Allison Scola, a sort of Rain Man of cannoli and all things Sicilian, is quite honestly the next best thing to visiting the famed Italian island in person. Although, be warned: Her signature Cannoli Crawl is bound to work up your appetite for experiencing the real thing -- it's all I can think about now.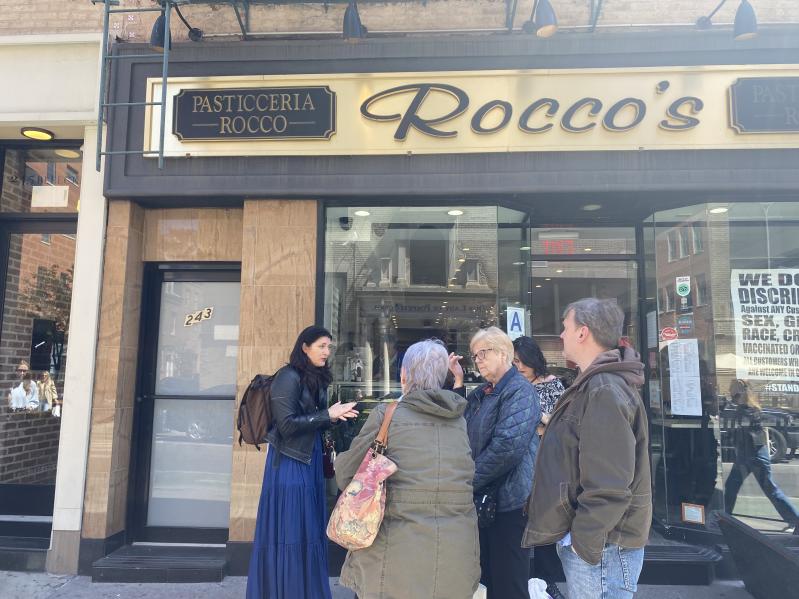 As it happens, Ms. Scola can help with that, too. Her tour company, Experience Sicily, arranges small group tours, drawn from her immense insider knowledge of the island. She lives in Sicily for about six months of the year, having recently been granted Italian citizenship.
For now, I had to settle for a taste of Sicily in the Big Apple. Our group of six met Ms. Scola at Rocco's pasticceria on Bleecker Street, across from Our Lady of Pompeii Church, a reminder of New York City's Italian heritage. Ms. Scola explained that this now-upscale neighborhood at the southern tip of the West Village was once full of impoverished Italian immigrants. One of those was 17-year-old Rocco Generoso, who, in 1956, stepped off the boat on Ellis Island with nothing to his name except his family's cannoli recipe -- that quintessential Sicilian confection of fried dough filled with sweetened ricotta. Luckily, he bought the building in 1974, thus avoiding the fate of so many other business owners who were priced out of rentals during the '90s gentrification. Today, his nephew runs Rocco's, still using the same recipe. 
Ms. Scola knows a lot about cannoli. Like the fact that sheep's milk is used for the ricotta filling in Sicily, but here in America, cow's milk ricotta is more common. Then, there's the dash of vinegar that's added to the dough to produce bubbles in the crispy encasing. And, there's rich history, too: Cannoli actually evolved during Sicily's Arab occupation, when women made the tubular pastry with phallic implications for their orgiastic carnivals.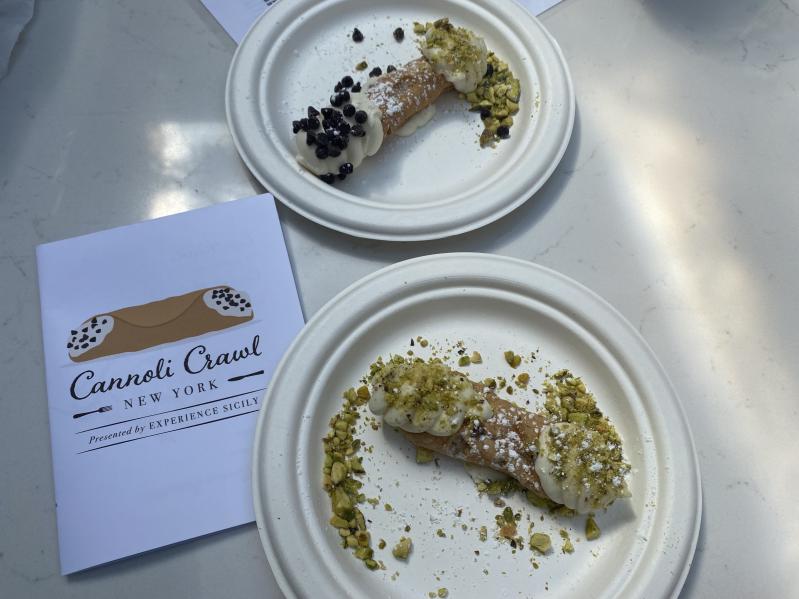 But it's not all about cannoli. Onward we went to Greenwich Village for some delicious arancini -- giant, deep-fried spheres of rice surrounding a heart of butter and cheese, or ragù, ham, or béchamel. In Palermo, northern Sicily, they're known as arancina (feminine, because they look like giant breasts), while on the western side of the island it's an arancino (masculine, long and conical, inspired by . . . well, you get the idea). We tried masculine and feminine arancini (plural for both), and they were delicious. 
Next: SoHo for some caponata, best described as a Sicilian sweet and tart ratatouille made from eggplants and tomatoes, and followed by my favorite cannoli of the tour -- stuffed with the more authentic sheep's milk ricotta.
Loosening our belts a notch, Ms. Scola guided us to Famous Ben's Pizza on the corner of Spring and Thompson, where the pizza chef kissed her and told us, "She drives me crazy, this one, she's so boodiful!" in his heavy Sicilian accent. No kisses for us, just a giant tray of Sicilian pizza, which is more focaccia bread-like topped with a sauce of tomatoes, onions, a lot of garlic, and finished with breadcrumbs. Boodiful, indeed.
It all ended with us waddling into Little Italy, to Cafe Palermo, serving up the "Best Cannoli in New York," as voted by The Daily News in 2012. Run by Baby John, the Cannoli King (he's trademarked that moniker, so don't even think about using it), Cafe Palermo has been in that spot since 1973. Baby John stopped by our table to share a few stories before bringing us a tray of Limoncello liqueur.
Basta! I had reached my limit. Any more and rather than getting on the Jitney to come back, I'd have to be hoisted onto a flatbed truck.
Want Details?: Check cannolicrawl.com for available dates. Tours are $85 per person, and generally run for five hours. We covered about 2.5 miles on foot, so wear comfortable shoes. (And elasticated pants.)