Romain Glouphile is a storyteller who understands the effect of a powerful narrative. Glouphile supplies Michelin star restaurants with local wine, meats, cheese, bread. In order words, exactly the things the Provençe-Alpes-Côte region of France is known for. He also runs his eponymous restaurant Glouphile on Stalingrad Avenue on the eastern side of the port of Nice. Glouphile begins by telling you that his restaurant is essentially a wine shop and so first you must see the wines. Then he turns and walks off. You follow him through the kitchen, ducking under hanging pots, and find him in a room stacked floor to ceiling with wine bottles standing with their noses sticking up. 
After a quick discourse on terroir, time in bottle, and varietals, we walk to our table. Now that wine has been established as the main theme, we are introduced to a variety of characters in cheese, charcuterie, and olive oils. Does he serve olives? No. Romain shakes his head like a gentle schoolmaster. 
Instead, Glouphile tells us tales of cattle grazing on Alpine hills producing a meat finer than Kobe beef. Sweetbreads that are made without boiling off the skin because the boiling loses precious flavor. "It's harder work but it's worth it," smirks Romain Glouphile. Lemons from Menton. Glouphile drives four-and-a-half-hours to fetch a Gorgonzola bought from one of the only four families remaining who can conjure such artisan-made cheese. Wild mackerel. Prime rib aged 60 days. Acorn-fed Iberian pork. The salt is from a special town where the wind blows with such ferocity that you can sense its madness in the salt flakes. The fresh pepper is from Madagascar and, truthfully, actually tastes brighter, sharper, more distinctive. The yeast that helps the bread is 50 years old. Lines to the restaurant Glouphile are out the door and around the block.
It's hard to be a foodie if you're in France when half the restaurants are closed. But it's fun to try. Imagine you're in Nice for two weeks with a free place to stay. Our apartment hosts have given us a long list of "must eat heres" before running off to another part of the world. But out on the street my wife Jane and I face the true meaning of "off-season." The highly recommended BabelBabel is closed. Epiro shuttered. Chez Tonton David? Vacated. We are enlightened when someone reveals that November is when restaurateurs and their families take a break. No matter. The purpose of travel is not to follow someone else's adventures, but to make your own.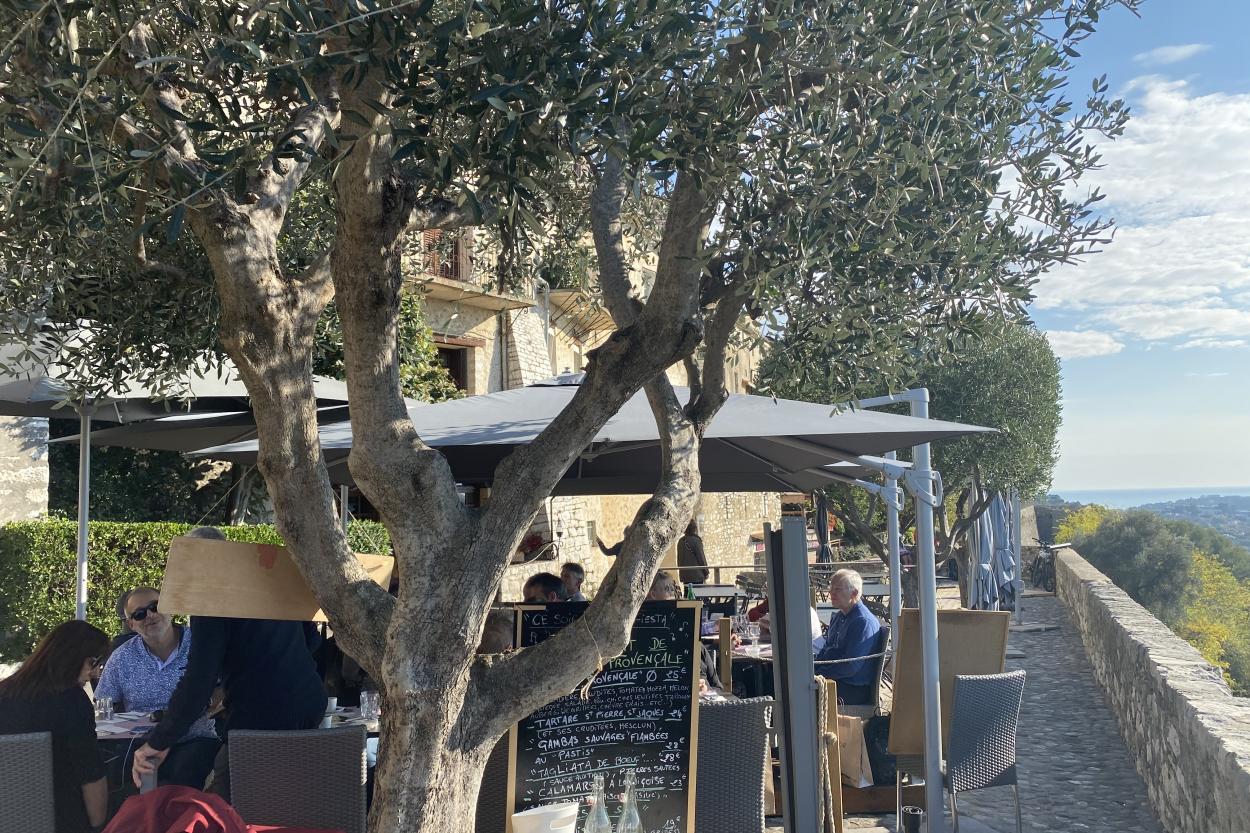 Bags unpacked and securely nested, we visit the cobblestone Place du Pin and Le Comptoir Central Electrique. A plate of steak frites. Juicy, crispy. The Risotto au foie gras wafts French savior. We order a Sancerre which is our theme in Paris but now, wholly in the southernmost point of Provence, a friendly staff steers us to a fine Chablis. (Smartened up, we order Chablis at a cafe the next day and are patiently informed they do not serve Chablis. Instead, a wonderful Domaine de Barbossi is recommended. After that, we just ask for "Blanc.")
The famous five-star Hotel Negresco (it's the one with the onion tower) is open. We sit behind plastic screens that shield us from the stern blasts of cold wind off the Mediterranean. We plunge into salty oysters and a crisp chicken salad at Hotel Negresco's Le Chantecler with heavy silverware and equal appetites.
Next day, we take an Uber to nearby Eze which has a medieval castle overlooking a pirate sea. After storming the ramparts and killing it at a Fragonard shop (perfumes), we lunch at La Villa d'Eze. Our jet-lagged senses are given new life thanks to a thrilling fish bouillabaisse, homemade ravioli, and guess what? A Chablis. Success in Eze emboldens us thereafter to zigzag in and out of Nice by foot, train, or Uber. 
Restaurant Obatik in the medieval walled town of St Paul de Vence serves up a magnificent view of Provencal hills. Local wine. Porcelet Confit. Frites. Salad. On the southern edge of the fortress, artist Marc Chagall is buried with an unhampered view of the Mediterranean.
Mornings are amplified by coffee shots found along Rue Bonaparte and pastries from Patisserie Le Peche Mignon. Walking along the Nice Promenade, trees are filled with starlings. There is culture enough beyond the beach: Museums filled with works by Picasso, Matisse, Chagall. The Nice Museum of Contemporary Art touts local boy Yves Klein and his patented International Klein Blue. 
A walk-in brasserie near the flea market in Antibes (a ring that holds up even on the fashionable streets of the Meatpacking area of New York City) serves up a salmon tartar and their "STEACK AND EGG" (sic) with French fries.
In the summer of 1543, Catherine Segurane bared her bottom to invading Turks, signaling French resistance. Following the cobbled street in her name leads you to Old Town Nice, a maze of markets, boutiques, restaurants. Fun food facts: the Nicoise salad originates from Nice. Can a pizza be a taco? Yes. Nougat is a lost art. Save the nougat. We ask the street for the best gelato in town and are pointed in two different directions (head for the Place du Palais de Justice).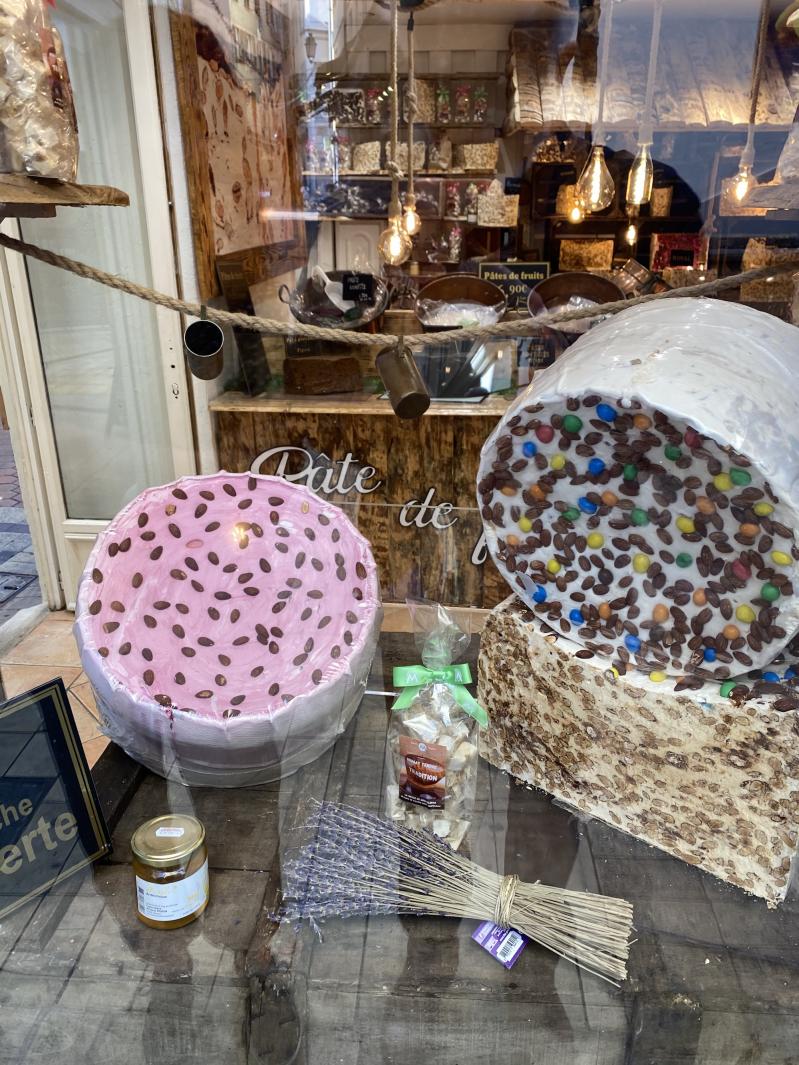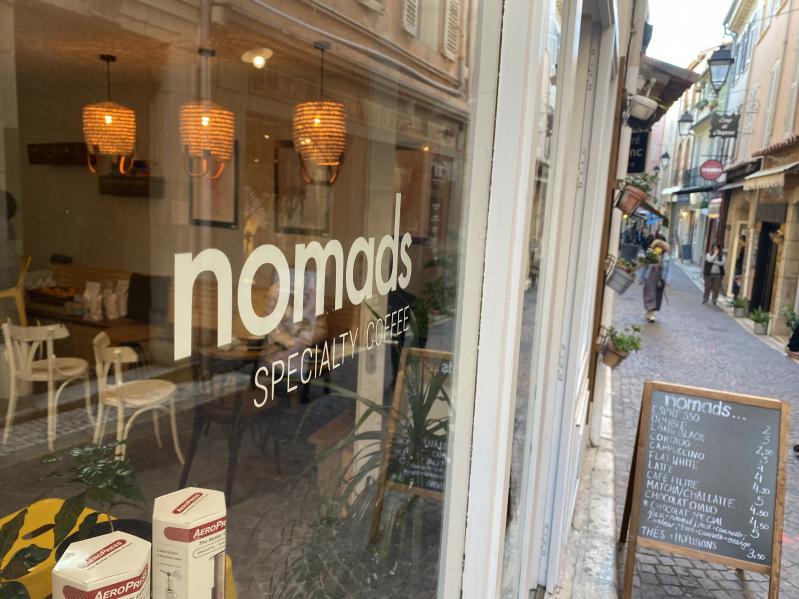 Lavomatique is operated by the two Loubert brothers, Hugo and Grégoire (one cooks while the other gentles customers). This former laundromat has the most exciting food around. Simple and thought out, the brothers demand you wait a week for reservations. The pent-up desire for their entrees of chicken, beef, and seafoods make you want to stay for seconds and thirds. Sitting at our table, we watch people being turned away. Others stand outside the plate glass windows staring wistfully at those inside. The inconsolable frenzy is understandable, for the food at Lavomatique defies adjectives. Following entrees of saucy chicken and another of beef, the tarte au citron dessert fills the mouth with an entire orchard of tarty sea-fragrant finesse. Give me more. 
But we have to go.