Adam Nagler, a 56-year-old resident of Santa Barbara, Calif., who has raised $175,000 to support mental health by logging 3,500 offshore stand-up paddling miles over the past four summers, looked none the worse for wear when, on a recent Saturday afternoon, he ended his latest solo ocean-borne trek, the Wicked 1000, at Vanderveer Marina's launching ramp at the head of Three Mile Harbor. 
There to greet him were the couple with whom he was to stay that week, Gina Bradley, the Paddle Diva, and her husband, Scott, whom Nagler credits with having introduced him to stand-up paddleboarding at Napeague in 2006, and thus with changing his life.
"I had grown up around the water in Quogue, fishing, clamming, sailing, surfing, and lifeguarding, but I had lost my ocean soul to 17 years of desk-jockeying," the well-traveled stand-up paddler said during a conversation at The Star three days later. "I hadn't been to the ocean for years, and I live half a mile from it. I didn't even go to the beach. I was fat, mean, and — I'm not saying selfish — but imbalanced."
A fellow alum of Gina Bradley's at the University of Vermont, Nagler has lived in Switzerland, New York City, and, for seven years in the 1990s, on the north shore of Maui, where, in the company of "some of the greatest watersport athletes on the planet," he pushed himself to the limit while surfing, windsurfing, and plying windsurfing's spin-offs.
"Windsurfing, kiteboarding, and tow surfing were created and evolved during the years I was there," he said. "It was a time . . . like what happened with the Abstract Expressionists . . . when everything came together — the talent, the passion, the vision. . . . The great designers, the great minds, athletes, photographers. The global brain trust for all these sports was there, and is still there, on the north shore of Maui. They came up with stand-up paddling, and now foilboarding . . . anything with a foil . . . in all of its incarnations. It's where all the energy is." 
Those heady years were followed, Nagler said, by 17 desk-jockeying ones during which he threw his prodigious energy initially into building a successful snowboard and skateboard company, and, later, into "alternative sports television and a lot of other things." 
"When your passions become your business, two things can happen. One, it can be magical in terms of how it invigorates you; two, you get to see how the sausage is made, which can kill the joy. I was sitting at my desk doing the business instead of doing the passion. Work took over my life."
"Back to Scott. He was one of the earliest adopters here of all things water. The first time I saw him stand-up paddling, in 2006, was on the ocean off Napeague Lane. He paddled out a half-mile to where there were 10 or so fishing boats and says to them, 'Is this Coney Island. . . !?' "
"The next day he put me on a board at Lazy Point. I paddled once a year, when I came out to visit the Bradleys, one hour a year. I did that for three years, and then there were a whole bunch of years when I didn't come out, during which the economy crashed in 2008 and I had an aortic valve replacement. Then, on Jan. 15, 2014, I looked at myself in the mirror and said, 'You're going to die young if you don't do something about this.' "
Having put the question to himself, Nagler said he "dropped everything and started training like a wild animal," with the same level of intensity and desire for mastery that he'd applied to his former athletic life and business life. It was his "renaissance," Nagler said. "I vowed to push my limits as far as they could be pushed."
The series of herculean 1,000-mile fund-raising expeditions, the fifth of which, the Myrtle Beach to Martha's Vineyard to Newport to Three Mile Harbor solo ocean paddle he just completed, began in 2018 when he "ran from City Hall in New York to Montauk Point, took a train back to the city with my bike and rode it out to Montauk Point, went back to the city, then back to the Point, after which I got a ride, with all my gear, to the New York side of the Brooklyn Bridge from a Sag Harbor kid Gina knew, and launched my paddleboard from the beach there that just shows at low tide, and paddled to Nantucket and back through southern New England to Three Mile Harbor."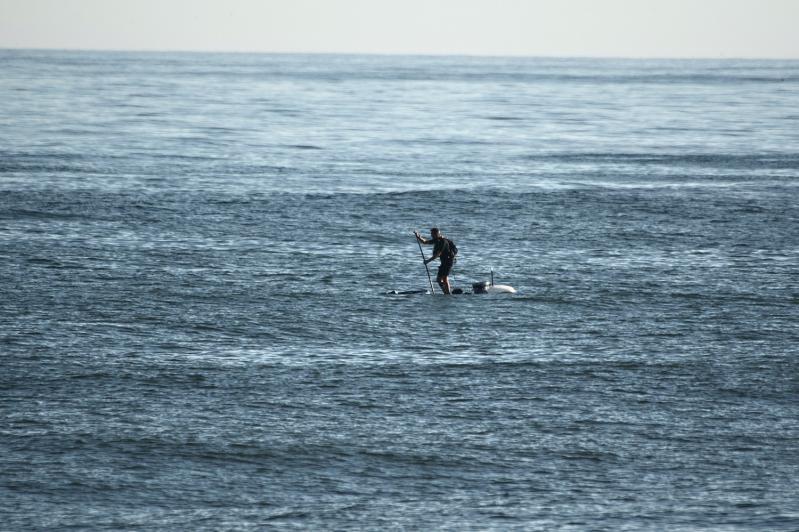 His most recent 1,000-mile paddle on a 14-foot stock board was Nagler's third agon in the Atlantic. Each year, he said, he adds "complexity to these expeditions. The overall course gets a good bit longer, there are many more days of 'living' on the board, with stages farther offshore, more shipping lane crossings, that kind of stuff. I've given it everything I've got. I've done the last three paddles to raise money for community mental health services and for veterans' mental health services. The 2021 and '22 paddles were for the Fairwinds Counseling Center on Nantucket Island. This year's was for Martha's Vineyard's Community Services."
Seventy-nine of the four ocean paddles' 214 days were spent "on the board overnight . . . living, sleeping, paddling . . . well offshore, out of sight of land. . . . So many things happen out there. This year, a 144-foot Coast Guard cutter with a big gun on the bow, plus some smaller ones, told me I was entering restricted waters when I was a mile offshore of President Biden's vacation home in Rehoboth, Del. I was told to move a quarter-mile farther out, or else. . . . Seven miles south of Block Island, in the middle of the night, a Coast Guard helicopter did a grid search to track me down. Apparently, I had been called in by a commercial dragger. I had Coast Guard visits in six of the nine states I went through."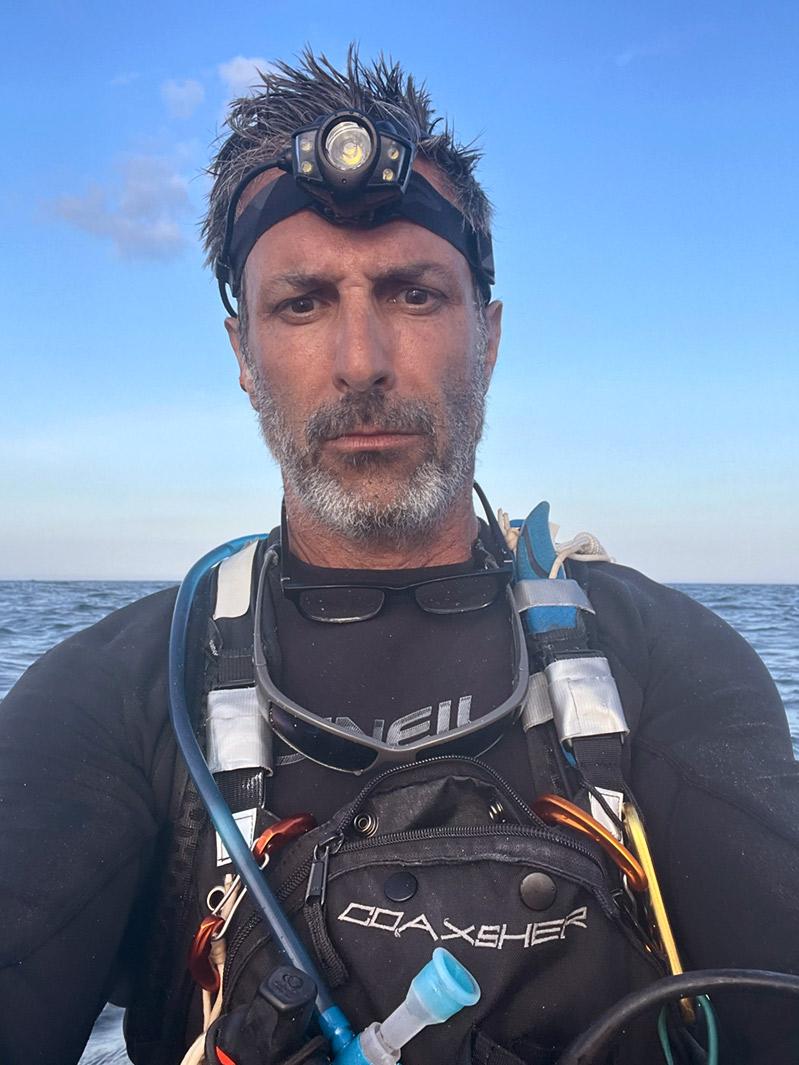 He had also spent three nights in a rural hospital in North Carolina on the way up, owing to cellulitis, a bacterial infection that took hold when he stepped on an oyster shell. "My feet and shins blew up 20 miles off of Cape Fear. I spent a day paddling to shore, landed on a beach, made sure all my gear was well above the high tideline and called a cab. The guy who came, his name was J.W., was awesome. It's amazing how kind and giving people are. You land on a beach or somewhere unexpected and you connect. You talk about your mission and people connect with that." 
"People can be cruel too, of course," he continued, "but when you're on a journey like I was, preconceived notions don't come into play. The same cabby came and picked me up and took me back to my board after my hospital stay. He said, 'God bless.' Some of the people you encounter might tell you their kids would be inspired by your sense of mission and perseverance. Some might talk to you about their military service. A lot of people, I've found, are eager to talk about mental health issues in their families, about how they've been impacted by suicide. . . . It's very personal."
"It's different with people I know. A third want you to have great success in all that you do. A third don't have the bandwidth to think much about it one way or the other, and a third want me to fail miserably! As my dad would say, 'a friend is someone who accepts your failures and tolerates your successes.' It's very different with the people you meet on the journey, who are open to the connection, to giving and learning and exchanging ideas. It's all beautifully positive and wonderful. It moves the world forward."