The first of five athletic events that took place here last weekend began with the Hampton Lifeguard Association's run-swim-run at Amagansett's Atlantic Avenue Beach, a fund-raiser for the association's junior and senior guard team's trip to the national tournament in Virginia Beach in mid-August.
Bella Tarbet, the national team's coordinator, said in an emailed report Monday morning that choppy water, big waves, and impending rain almost resulted in the competition's being postponed, but, "with the help of 30 to 40 lifeguards on Jet Skis and paddleboards, in the break and everywhere in between, and thanks to the fact that the rain didn't come until after the race, we pulled it off."
Liam Knight won the main event, made up of a half-mile beach run, a quarter-mile swim in the ocean, and a quarter-mile run. Miles Menu was second, and Nicky Chavez third. The winning "full race" relay team comprised Brodie Schneider, Patty O'Donnell, and Colin Schaefer. The individual "mini race" (quarter-mile run, one-eighth-mile swim, and an eighth-mile run) was won by Mason Curry, with Cybelle Curry second and Lily Brown third.
"It was amazing to see many of the main race competitors come back after finishing to help the younger competitors complete the mini race," Tarbet said. Fund-raising for the H.L.A. team's trip will continue, she added.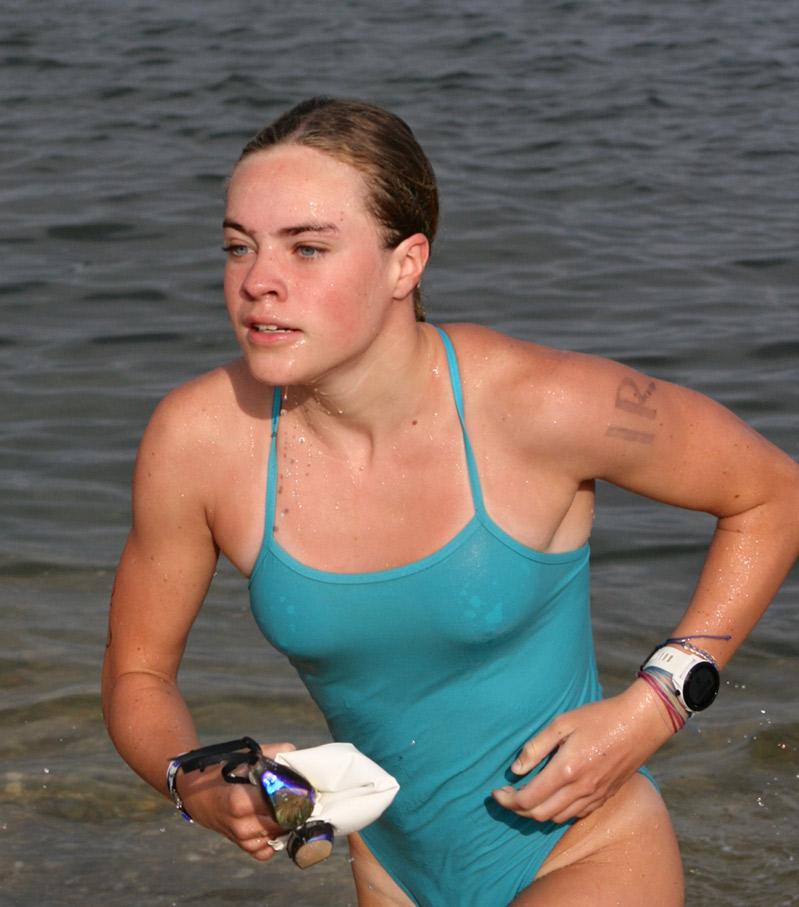 A Sag Harbor 15-year-old, Edmar Gonzalez-Nateras, who will enter his junior year at Pierson High School in the fall, won I-Tri's youth triathlon at Noyac's Long Beach Saturday morning, topping a field of 168. His time was 35 minutes and 17.89 seconds. Artur Ferreira, 14, of Englewood, N.J., was second in 36:03.23. Myla Kelly, 12, of Port Jefferson, a member of the Long Island Youth Triathlon team, was the female winner — and fourth over all — in 37:19.47. Vanessa Rizzo, 13, of Sag Harbor, a Hampton Lifeguard Association junior lifeguard, a member of the East Hampton Y.M.C.A.'s youth swim team, the Hurricanes, and an about-to-be eighth grader, was fifth over all, in 37:36.95. The top I-Tri girls, both Sag Harborites, were Sophia Perri, 12, who was 12th over all in 43:08.72, and Leanora Gangemi, 12, who was 17th in 44:08.07.
Gonzalez-Nateras plays soccer on Pierson's team, and plans, he said, to run winter and spring track for East Hampton in the next school year, "the 200 and 400 probably." He was, he thought, 11th out of the 300-yard Noyac Bay swim, but took over the lead on the 6-mile bike leg.
Rizzo expects to swim for East Hampton High's girls swimming team in the fall. She also likes to long-jump and run the 800 and 1,500.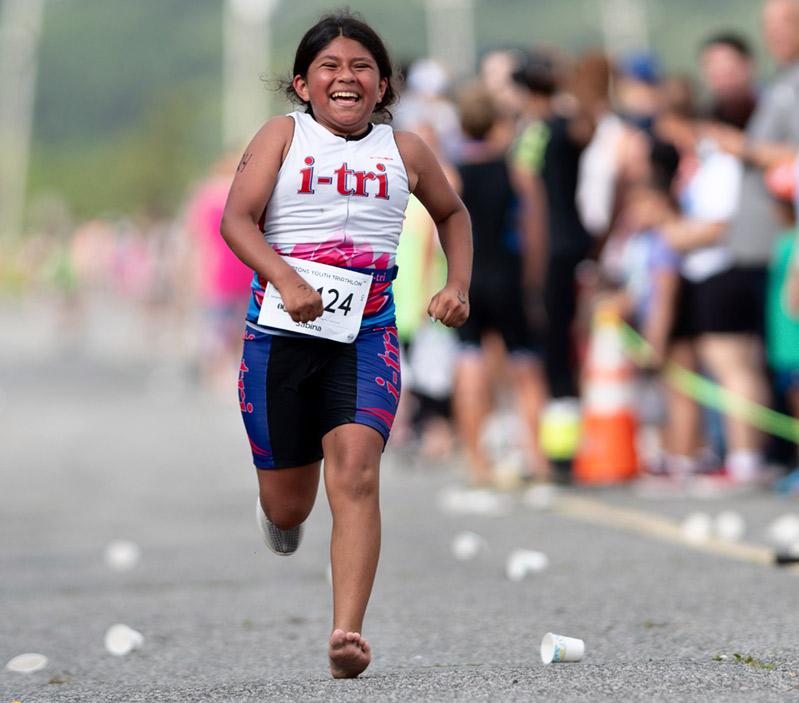 Before the race began, the 125 I-Tri entrants, who had been training for the triathlon since March, gathered in a circle on the beach around the empowerment program's founder, Theresa Roden, who led them in self-affirming chants. Sharon McCobb, the race director, said that "it was the best turnout we've ever had — we got lucky with the weather."
One of the race's volunteers, Samantha Elias, a Springs School eighth grader, when asked how I-Tri, whose motto is "Transformation Through Triathlon," had influenced her, said, "I know now I can do anything."