Two natives of Ethiopia, Yenew Alamirew Getahun, 33, and Fantu Zewude Jifar, 26, who live in the Bronx, were the male and female winners of Saturday's 44th Shelter Island 10K, and, earlier that day, Sergey Avramenko, 38, a native of Belarus who lives in Southampton, and Lara Jacobs, 23, of New York City, topped a field of 243 in the Beacon of Hope 5K at the Montauk Point Lighthouse.
Asked before the 10K what he thought the winning time would be, Zaccheus Widner, one of a dozen elite athletes brought out from the city, said, "under 30."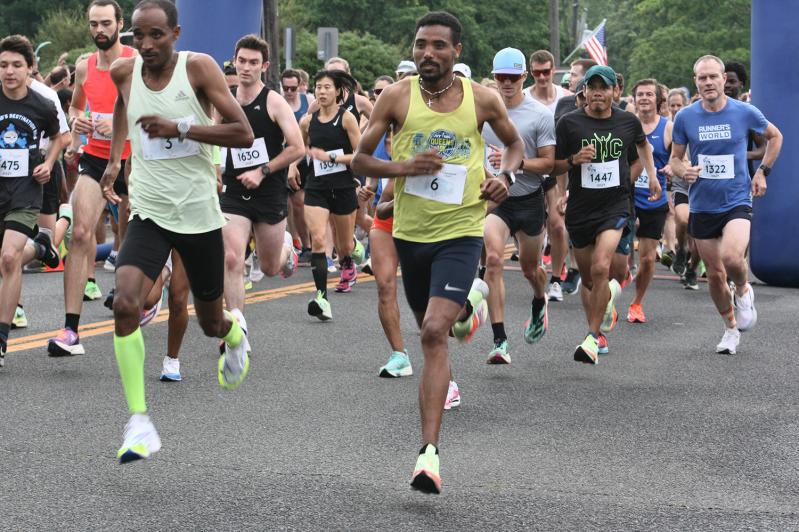 It was not to be. Getahun, who had won the New York Road Runners' Queens 10K that morning in 30 minutes and 13 seconds, outsprinting Harbert Okuti to the tape, crossed the finish line at Fiske Field in 31:02.03, trailed closely behind by Max Norris, 28, of Narberth, Pa., a Philadelphia suburb, in 31:07.03. Shelter Island's winner of the past two years, Jordan Daniel, 28, of Westhampton, was third this time, in 31:18.82, a bit faster than the 31:21.40 he ran on the island last year.
The Green brothers, Joshua, 23, and Jason, 20, of Shelter Island, finished sixth and seventh — in 32:46.81 in Joshua's case, and in 33:02.41 in Jason's. Joshua said it was the first time that he had gone all out on the course. Both were pleased with their performances, though when told the winner's time, Joshua said, with a smile, "We've got some training to do." Jifar, who had been the top female at the Queens 10K, in 33:36, was 10th over all on Shelter Island, in 33:51.70.
A group of four or five had stayed with one another over the course of the first mile, Norris said, adding that Getahun ran alone for the last four of the "beautiful" course's 6.2 miles.
The final mile, in honor of the late First Lt. Joseph Theinert, a Shelter Islander who was killed in Afghanistan in the summer of 2010, was flanked by 7,504 flags, the number of Americans killed in Iraq and Afghanistan, according to Dr. Frank Adipietro, who oversees the race with his wife, MaryEllen.
Everyone agreed it was a good day for running — it rained before the race and afterward, though not during. Shelter Island's weather on race days is usually hot and humid.
Joan Benoit Samuelson, for the first time in five years, and Bill Rodgers, two of the most prominent long-distance runners in U.S. history, were there, urging on their fellow runners. Benoit Samuelson, 66, finished 120th in the 10K's field of 701, in 46:43.64, which translates into a 7:31 per-mile pace. Needless to say, she topped the female 65-to-69 age group. Rodgers, 68, ran in the 5K, which numbered 575 finishers.
Besides the Green brothers, among those participants with local connections were Craig Berkoski of Sag Harbor, Matt Zappoli of East Hampton, Juan Torres of East Hampton, Alyssa Bahel of Wainscott, Bob Reich of Montauk, Craig Brierley of East Hampton, Cara Nelson of Sag Harbor, Britton Bistrian of Amagansett, Jackson Bahel, 9, of East Hampton, Brady Yusko of Wainscott, and Mike Bottini of East Hampton.
Fabian Daza, 41, won the Shelter Island 5K in 16:25.00. Dominga Rivera, 19, was the women's winner, and seventh over all, in 19:22.86.
The 10K's wheelchair winner, Peter Hawkins, 59, of Malverne said afterward that he thought his life was over when, in his senior year at Valley Stream High School — where he'd captained the football team, wrestled, and played lacrosse — a car accident left him paralyzed from the waist down at the age of 17. But Bill Lehr, a 65-year-old Shelter Islander, who customarily is the runner-up to Hawkins in the Shelter Island 10K, had contributed greatly to his recovery, Hawkins said, by helping him get a racing wheelchair, an act that launched him on a notable athletic wheelchair career that has included participation in marathons throughout the world.
"Biggest mistake I ever made," Lehr said with a smile as he passed by.
In the Beacon of Hope 5K, Claudio Telles, 45, of Astoria, who won the inaugural race last year, was its runner-up this time, in 16:18.3, 17 seconds behind Avramenko.