There were repeats in last weekend's Montauk races, with William Huffman of New York City's powerful Full Throttle triathlon team winning Saturday's Robert J. Aaron memorial triathlon, and with Ryan Fowkes, coming off a great cross-country and track season at George Washington University, winning Sunday's Montauk Mile.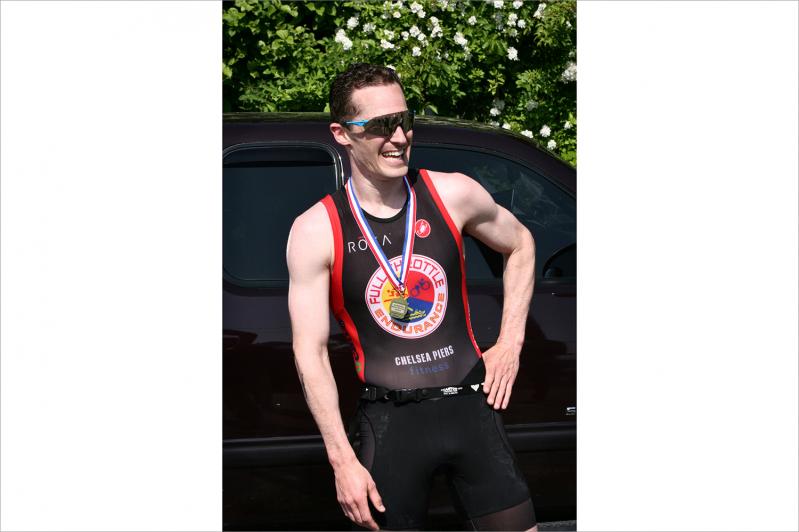 Jillian Jacinth of Babylon also repeated as the triathlon's women's winner, placing 25th over all in 2 hours, 14 minutes, and 19.1 seconds. Huffman, 30, whose 1:46.00.3 set a course record last year, was a trifle slower this time. He broke the tape near the West Lake Drive-Star Island Causeway intersection at 1:49.35.5., 10 minutes ahead of the runner-up, Tim Steiskal, 33, of Patchogue, who recently was the runner-up at the Mighty North Fork Triathlon in Southold.
Huffman was first out of the mile-long Lake Montauk swim in 22:15 and went on from there, coming in from the 20-mile bike in 50:09.60 minutes, after which he sped over the triathlon's final leg, a hilly 10K, in 34:47.
"I'll take it — he's world-class," Steiskal, Montauk's winner in 2018, said of his second-place finish to Huffman, who was eighth in last year's Olympic-distance nationals and plans to compete in them again soon in Milwaukee. There were 206 finishers in the full triathlon field.
Merle McDonald-Aaron added a sprint-distance triathlon (half-mile swim, 14-mile bike, and 3.8-mile run) this year (the triathlon's 42nd), which was won by another Full Throttler, Stefan Prendergast, 33, of Brooklyn, in 1:17.21.6. Prendergast said he's to compete this weekend at a half-Ironman in Luxembourg whose contestants will swim in Germany, bike in France, and run in Luxembourg.
Caitlin Kappel of Springs was the women's winner, and third over all among the 56 finishers, in 1:27:04.5. Kappel, 40, was greeted with bouquets by her children, Dean, 6, and Sylvie, 4, at the finish line, and by her husband, Dan. She is to compete for the United States in the world sprint triathlon championships in Hamburg, Germany, in July.
When it came to others with local connections, Doug Milano, 39, an East Hampton Middle School teacher, placed 14th in the full triathlon in 2:08.32.1; Neil Falkenhan, 40, was 16th in 2:09.27.8; Erik Engstrom, 25, was 28th in 2:16:29.0; Thomas Brierley, 27, was 36th in 2:22.00.8; Thomas's father, Craig Brierley, 58, was 62nd in 2:33.28.6; Heather Caputo-Fabiszak, 46, was 65th, the fourth woman over all, in 2:34:37.8; Bob Bottini, 66, was 74th in 2:36:35.3, and Mike Bottini, 69, was 128th in 2:46:19.4.
"Three things — home, work, and church," William Kelly, the 12th-place finisher (and Huffman's boss), said when told by a spectator that he didn't look 60. It was Kelly's 33rd Mighty Montauk.
Back to Ryan Fowkes, the 22-year-old repeated as the winner of the Old Montauk Athletic Club's Montauk Mile, whose slightly uphill Edgemere Road course spans the railroad station and Lions Field. Fowkes, who in the first half of it was challenged by the Green brothers, Joshua and Jason of Shelter Island, wound up winning handily in 4:22.80, breaking the record-setting 4:26.77 that he ran last year.
Toby Green, Joshua and Jason's father, said that Fowkes, who holds George Washington University records in the 800 and 1,500, had run a 4:07 mile at Icahn Stadium on Randalls Island Friday night. The 3:44 the tall, slim East Hamptoner ran in the recent E.C.A.C./IC4A championships 1,500 works out to a 4:01.92 mile. "He's ready to break 4," the elder Green said.
Joshua Green, 23, in 4:31.10, Jason Green, 20, in 4:41.50, Max Goodman, 20, in 4:56.90, and Andrew West, 31, in 5:05.00 rounded out the men's top five.
The women's race was won by Hanna Jerome, who's 27 and lives in Sag Harbor, in 5:35.90. Caedryn Schrunk, 35, was second, in 5:38.80. Dylan Cashin, 16, an East Hampton High School junior and a U.S. Naval Academy aspirant, was third, in 5:50.20. Alyssa Bahel, 25, of Wainscott, in 5:53.40, Lauren Dara, 43, in 6:00.40, and Ryleigh O'Donnell, 17, Cashin's cross-country and track teammate, in 6:16.70, followed. Dara had been the winner of Cashin and O'Donnell's May Day 5K in East Hampton Village. There were 60 in the men's mile, 71 in the women's.
O'Donnell (800) and her sprint medley relay teammates — Leslie Samuel (200), Sam Ruano (200), and Meredith Spolarich (400) — are to compete soon in the Nike nationals at the University of Oregon, a trip that OMAC is helping to underwrite. O'Donnell will also run in the 400, and Samuel, who recently set an East Hampton High School record in the event, at 17 feet 8 and one-half inches, will vie in the long jump. Spolarich's second-place finish in the recent state qualifier pentathlon earned her an all-county designation.
Falkenhan, with his 8-year-old daughter, Zoey, and Caputo-Fabiszak, with her 9-year-old daughter, Annabelle, were double-dippers Sunday inasmuch as each of them had swum, biked, and run in the Robert J. Aaron triathlon the day before. Caputo-Fabiszak, who also has, with her husband, Dennis, a 2-year-old daughter, Lucy, is training for a half-Ironman at Quebec's Mont Tremblant.