The roads near Liam Knight's house don't have shoulders, and so he hasn't been cycling lately. That fact cost the soon-to-be East Hampton High School freshman in Saturday's youth triathlon at Noyac's Long Beach, as Matteo Somma of Malverne, 15, with whom Knight had emerged from the 300-yard swim, took a commanding lead on the six-mile bike leg and cruised to the win in the one-and-a-half-mile run.
Dylan Cashin, 15, a rising junior at East Hampton High, who recently finished 13th in a national scholastic steeplechase race at the University of Oregon's Hayward Field, placed second Saturday, in 35 minutes and 20.51 seconds, a little more than four minutes behind Somma, whose winning time was 31:07.70.
Just being at Hayward Field was enough, Cashin said. "It's every runner's dream."
Knight, a very good swimmer and runner who had won the Hampton Lifeguard Association's half-mile run, half-mile swim, and half-mile run at Amagansett's Atlantic Avenue Beach the day before, finished third — it was his first triathlon — in 36:19.60.
Liam's father, Sean, said his son is to run cross-country and track and swim for the high school and for the Y.M.C.A. East Hampton RECenter's Hurricane youth swim team — in the coming school year. Sean Knight was among several hundred spectators at Long Beach that morning, most of them parents of teenage girls who are members of Theresa Roden's I-Tri empowerment program that spans Mastic to Montauk.
Somma came out with two other members of the Long Island Youth
Triathlon Team, Isabela Reda, 12, and
Elijah Lam, 17, and the team's coach, Noah Lam, Elijah's father. The team trains at the Nassau County Aquatic Center, at Tobay Beach, and at Stony Brook University. All three — Somma, Reda, the second female finisher and sixth over all, and Lam, who was eighth — are to compete at the end of the month in the junior national triathlon championships in West Chester, Ohio, 18 miles north of Cincinnati.
Asked about the course, Matteo said the water was warm and calm, and that the bike leg was paved and flat. It was nice too, he added, that a cop was leading the way. Swimming is his forte, he said. "I've been swimming since I was 2 and competing since I was 8." He swims for the high-powered Long Island Aquatic Club of Garden City. In high school, he said, he'll run cross-country, and compete in winter and spring track, all at the varsity level.
Of the scores of I-Tri girls who competed Saturday, Mia Luna, 12, a Sag Harbor seventh grader, was the first finisher among them, and 12th over all, in 43:06.08. There were 119 finishers.
Sharon McCobb, the race director and I-Tri's athletic director, said she thought Mia, who swims with the Hurricanes, would do well. It was nice to oversee a youth triathlon again, McCobb added. The last one was three years ago, before the pandemic.  
Saturday's wasn't the only triathlon last weekend. The Montauk Sprint triathlon to the Lighthouse was contested the next day. There were 313 finishers. Tom Eickelberg, 33, of Newburgh, N.Y., won it — for the eighth time — in one hour and 54 seconds. A pro triathlete, Eickelberg did the half-mile Gin Beach swim in 10:41, the 14-mile bike in 30:17, and the 5K trail run in 18:32.Olivia Ebenstein was the women's winner, and seventh over all, in 1:10:44.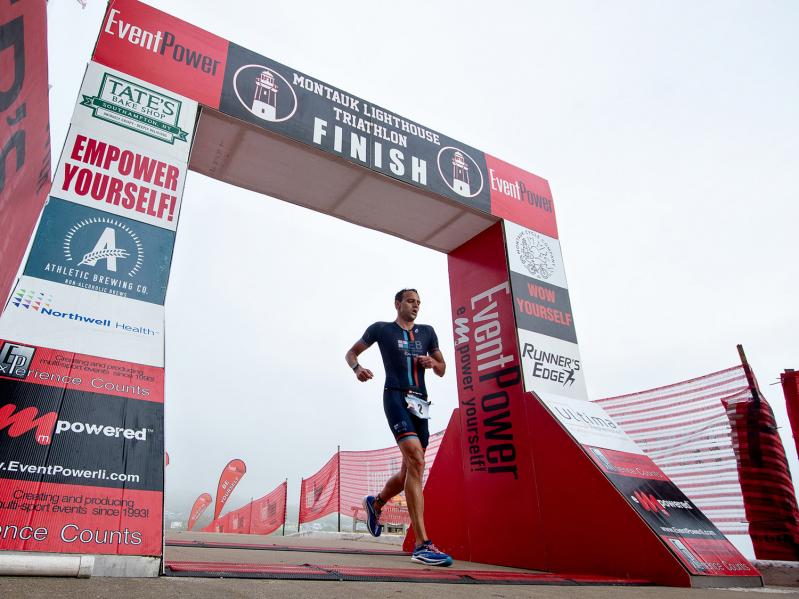 Neil Falkenhan, an East Hamptoner, finished third, in 1:09:22. Another East Hamptoner, Thomas Brierley, was ninth, four seconds behind the male 25-to-29 winner, Cole Higgins, who crossed the Montauk Lighthouse finish line in 1:12:45. Brierley edged out another age-group competitor, Spencer Mannion, by one second.
Other local finishers included Doug Milano (1:14:37), Kira Garry (1:14:44), Katrina Garry (1:16:00), Erik Engstrom (1:17:17), Dylan Cashin (1:19:35), Heather Caputo-Fabiszak (1:23:07), Craig Brierley (1:23:29), Vaughan Cutillo (1:25:53), Mike Bottini (1:28:12), Joe Gaviola (1:30:10), Aidan McCormac (1:31:45), Ava Engstrom (1:33:25), Julia Brierley (1:37:12), Jeremy Grosvenor (1:47:39), and John Andrews (2:13:00). Andrews, by the way, is 80.
Cashin (14-18), Katrina Garry (25-29), and Caputo-Fabiszak (45-49) were female age-group winners.
The next I-Tri program fund-raiser is to be held Aug. 13 in Sag Harbor, an event that is to include a craft fair, music, and entertainment at the John Steinbeck Waterfront Park, from 10 a.m. to 3 p.m., the Antigua and Barbuda Hamptons Challenge regatta, from 11 to 4, and an awards cocktail party from 5 to 7:30.
I-Tri, which Roden started in 2005 and is now in a dozen middle schools on the South Fork, has been internationally recognized. It was featured on Friday's "Today" show. Roden said the main idea is to imbue her 11-through-13-year-old charges with the confidence that they can do anything.