Last weekend was a sportive one for all ages, as it marked the end of the East Hampton Town Little League's best-of-three "World Series" and the running of two road races, the Beacon of Hope 5K Saturday morning at the Montauk Lighthouse and the 43rd Shelter Island 10K later that day.
The East Hampton Town Police Benevolent Association team coached by Ken Dodge and Vinny Alversa won the Little League's 11-12-year-old championship. The team, with Alversa's son, Finn, on the mound, edged the Amagansett Fire Department 2-0 at the Pantigo fields Friday evening. All three games were close, the P.B.A. winning game one 9-8 in the seventh inning and the Fire Department winning the second 13-12.
Friday's deciding game was a pitchers' duel, with Alversa getting the best of Parker Burns, though not by much. Alversa gave up six hits, Burns gave up five. Alversa struck out 11, and Burns K'd six. Neither pitcher gave up a walk. A two-out double by Ethan Dodge scored Alversa from second base to break the ice in the bottom of the third inning, and in the bottom of the fourth Ryan Balnis's sacrifice fly plated Colton Everett, who, in leading off, had made it all the way around to third after his fly to right field was dropped.
It was the first championship for Dodge, who has had teams go deep in local and in District 36 tournaments in the past. "The greatest thing this season," he said, "was seeing these kids, who didn't know each other, come together as a team. They're a great group, they're all friends now."
Jason Biondo, with Dodge and Ray Wojtusiak assisting him, is to coach the 11-12-year-old all-star traveling team in District 36 tournament play. Chris Carney, assisted by Chris Diamond and Scott Abran, is coaching the 9-10s.
In addition, there are four East Hampton entries in the Brookhaven summer baseball league — a 10-and-under team coached by Colin Ruddy, an 11-and-under team coached by James Foster, a 12-and-under team coached by Alversa, a 14-and-under team coached by Andrew Rodriguez, and a varsity team coached by Henry Meyer.
On Saturday morning, also at Pantigo, Bostwick's, with Ella Field pitching, defeated Round Swamp Farm in the third game of their series to win the Little League 9-10 softball championship.
As for Saturday's road races, Claudio Telles, 44, won the inaugural Beacon of Hope 5K in 16 minutes and 31.3 seconds. Justin Kulchinsky, 48, of East Hampton, was the runner-up in 17:01.2. Rebecca Deitch, 25, was the women's winner, and fourth over all, in 19:27.8. The race was a benefit for the Coalition for Women's Cancers and Lucia's Angels.
Cara Nelson, East Hampton High's girls soccer coach, was 13th (and topped the women's 35-39 group) in 22:21.3. The field of 254 included the following locals: Will Collins, Rob Rivera, Vaughn Cutillo, Dan Kulchinsky, Dr. James Brady, a Southampton reconstructive breast surgeon who was the day's honoree, Riley Miles, Lyla Wilson, David Pitches, Debbie Donohue, Julia Stavola, Jaime Stavola, Diane Carillo, Wendy Scheerer, Jane Bimson, Lilah Gosman, who sang the National Anthem, Stacy Quarty, president of Lucia's Angels, and Susie Roden, who is the Coalition for Women's Cancers president.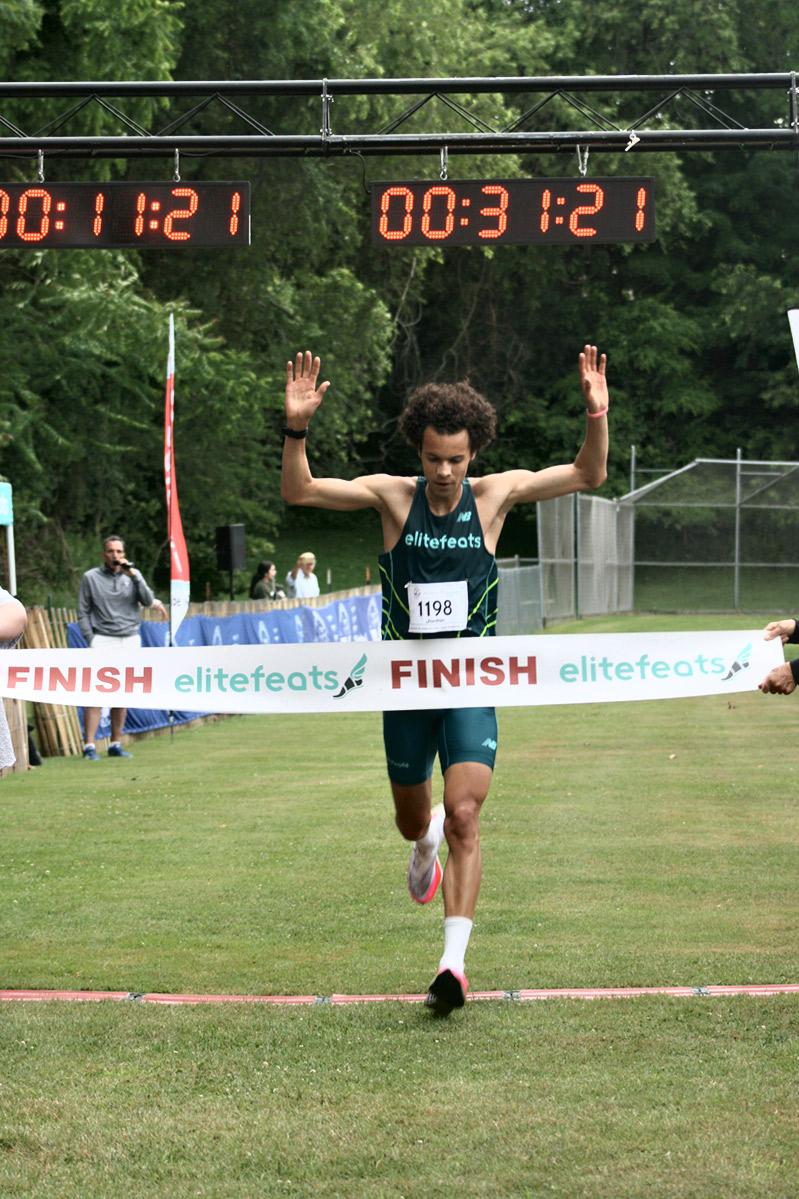 There were 684 finishers on Shelter Island, whose field has been far greater in the past. Jordan Daniel, a 27-year-old former Westhampton Beach High School soccer player who lives in Lake Grove now, repeated as the winner in 31:21.40, bettering last year's time by 48 seconds. Urgesa Kedir (31:57.92), Guillermo Pineda Morales (33:12.20), Audie McRae (33:26.23), and Sean Luzzi (33:49.30) rounded out the top five. Hirut Guangul, 30, was the women's winner, and seventh over all, in 34:29.14.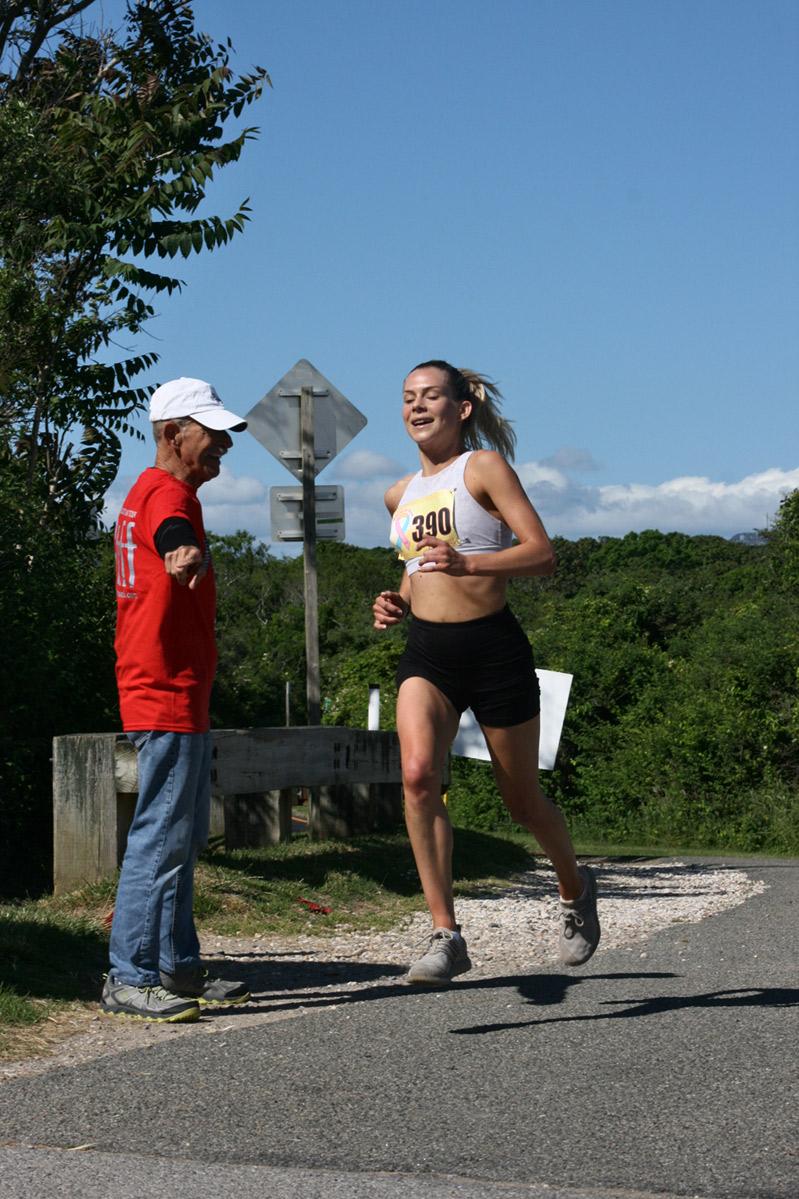 Kal Lewis, a 20-year-old Shelter Islander, who for the past two years has run with the University of Iowa's track and cross-country teams, was eighth in 35:00.18. "A little out of shape" at the moment, Lewis said he intends to break 4 minutes in the mile next season. His best thus far has been a 4:04. He's run the 1,500-meter race in 3:43, the 5K in 14:33, and the 800 in 1:51. Jason Green, 19, a fellow Shelter Islander, who's hoping to run cross-country with North Arizona University's team, the best in the nation, was sixth, in 33:58.00.
Among others running that day were Mike Bahel, 43rd in 42:19.65; Anthony Daunt, 47th in 42:40.71; Bobby Reich, 69th in 44:53.22; Craig Brierley, 84th in 45:37.32; Cara Nelson, 214th in 50:59.79, and Bob Bottini, 221st in 51:12.09.