More than 600 runners and walkers turned out at East Hampton's Main Beach Sunday for the May Day 5K, the brainchild of Dylan Cashin and Ryleigh O'Donnell, East Hampton High School sophomore long-distance runners who want to "stop the stigma" associated with mental health problems.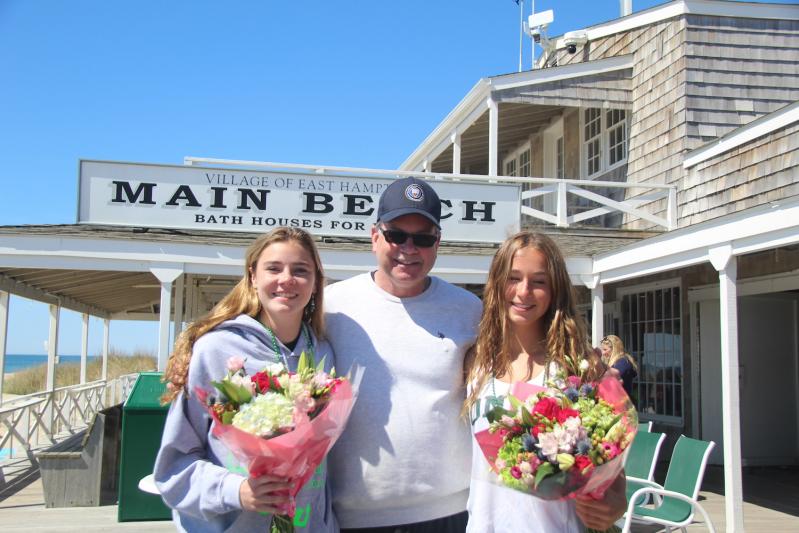 A combined East Hampton Village and Old Montauk Athletic Club effort, the race raised $18,000 for the Family Service League, a social service agency that provides mental health services to children, families, and individuals across Long Island. May is Mental Health Awareness Month.
Erik Engstrom, 23, a University of Massachusetts graduate and East Hampton High School's sole county cross-country champion to date, was the winner, in 16 minutes and 1.03 seconds. Jason Green was the runner-up, in 16:07.53. He plans to try out next spring with his older brother, Joshua, for Northern Arizona University's cross-country team -- the best, he said, in the United States.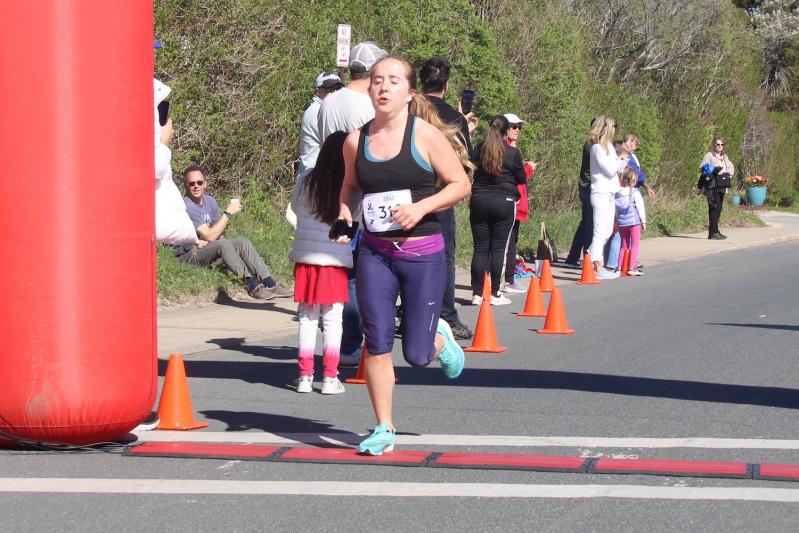 Alyssa Bahel, 24, who played field hockey and ran track at Denison University, from which she graduated in 2019, was the female winner, and 24th over all, in 20:43.70 -- 30 seconds behind her father, Mike, who was 20th. "My goal," she said afterward, with a smile, "is to beat him . . . one day. . . . "
As far as the weather went, it couldn't have been better. Jimmy Field, who, with his wife, Joan, was watching their 11-year-old great-granddaughter, Ella Field, run, said the buoyant camaraderie evident among the participants young and old had persuaded him to take up competitive racewalking again. "Joan and I did this race 25 years ago, I think it was, and got a trophy for last place."
"It's a beautiful course -- flat and fast, and it ends at the beach," said Cara Nelson, East Hampton High's girls soccer coach, who once ran seven marathons on seven continents in seven days. "It couldn't be better, right?"
Sharon McCobb, OMAC's president, said the race route, which took the field out to Georgica Beach and back, was "the old Georgica Jog course."
Cashin and O'Donnell, the young race directors -- as was the case with their East Hampton High School girls track teammates -- did not run that day, having competed the day before at an invitational meet at Westhampton Beach and preparing for a league meet Monday at East Islip. But many of their fellow student-athletes -- including track and cross-country runners, swimmers, and baseball, softball, and lacrosse players -- were there. 
"An event like this brings people together -- it makes you feel good," Joan Field said as the runners set forth.
Green, who had never gone head-to-head with Engstrom, stayed with him for the first mile, "but at about a mile-and-a-half, he made a move on a turn and broke away," said the second-place finisher, whose father, Toby, coaches Shelter Island High School's cross-country team. Engstrom's per-mile pace that day was 5:08.
The age-group winners were: Liam Knight and Greylynn Guyer, 14-and-under; Green and Rose Hayes, 15-to-19; Devon Baris and Nicole Miksinski, 20-29; Matthew Spelman and Marguerite Rogers, 30-39; Justin Kulchinsky and Lauren Wolf, 40-49; Bahel and Beth Feit, 50-59; Dermot Dolan and Jackie Minetree, 60-69, and Dan Kulchinsky and Diane O'Donnell, 70-plus.
O'Donnell, East Hampton High's girls cross-country coach, won the raffle prize, $250, which she donated to the Family Service League.
Next up for the Old Montauk Athletic Club is its annual awards party, to be held next Thursday at the Clubhouse in Wainscott from 6 to 9 p.m. The club will honor Anthony Daunt, an ultramarathoner, as its athlete-of-the-year, Sharon Bacon with its community service award, and Emma Hren, Amari Gordon, and Emily Dyner, East Hampton High School senior student-athletes, as recipients of $1,000 scholarships.
The club will also oversee 5 and 10-mile trail races at the Ed Ecker County Park in Montauk on May 15.
Coming up this weekend is the Hampton Lifeguard Association's kickoff fund-raising party with live music and Beach Hut takeout food at Main Beach on Saturday from 3 to 8 p.m. Silent auctions and a 50-50 raffle's proceeds are to benefit the H.L.A.'s Junior Lifeguard and Nipper programs.