High school sports — well, sports in general for that matter — made a stuttery recovery in the year past, a year in which Covid continued at times to constrict interscholastic play. The good news, for this writer, who had been furloughed from June to December in 2020, was that there were at the high school level two fall seasons in 2021, in which 11 mostly-playoff-caliber East Hampton High teams contended.
Still, by and large, things went along — swimmingly, in fact, for the boys swim team, which became the league champion at the end of January for the third straight year. Two members of that team, Ethan McCormac (Marist) and Colin Harrison (Florida Institute of Technology), and Caroline Brown (Skidmore) and Bella Tarbet (Washington and Lee) of the league runner-up girls swim team, participated in a mass signing at the high school in May — testimony, in part, to the strength of the Y.M.C.A. Hurricane-fed swimming program here that Craig Brierley, his son, Thomas, and Brian Cunningham, at the varsity level, and that Tom Cohill and Angelika Cruz, at the youth level, oversee. Not to forget the Hampton Lifeguard Association's junior lifeguarding and senior lifeguarding programs in which McCormac, Harrison, Brown, and Tarbet, impressive student-athletes and lifeguards all, grew up.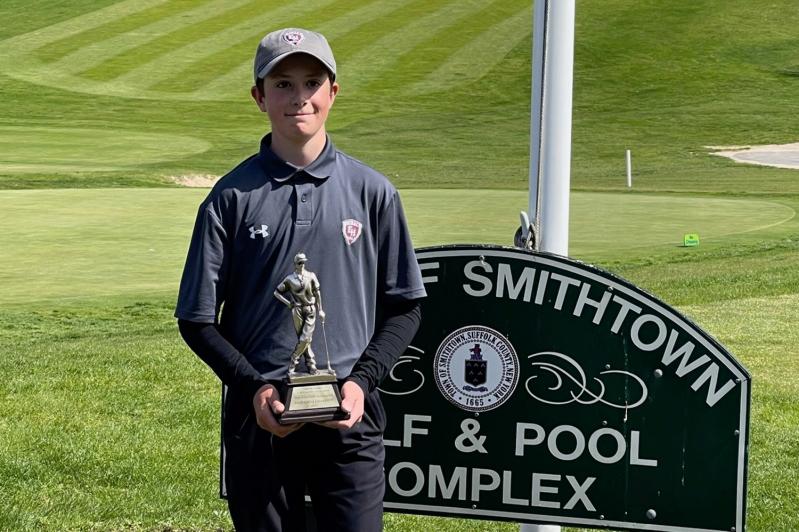 The golf team, coached by Rich King, was a two-time undefeated league champion in 2021, and James Bradley, then a freshman, became in April the third East Hamptoner to win a county individual title, Zach Grossman and Turner Foster being the others. Bradley placed third and East Hampton's team placed second in the county tournament in November. It was the highest finish for an East Hampton golf team since 2011. Bradley and Nico Horan-Puglia, who was ninth in individual play, are to compete in the state tournament in Elmira in June.
Boys soccer, which was especially strong last spring, led by the seniors Matt McGovern, Robert Rea, John Quizhpe, and Nico Cifuentes-Diaz and others who were to graduate in June, was nevertheless twice a playoff team, losing 1-0 in the county Class A final to Harborfields in April and losing a first-round playoff game to Wyandanch, by a score of 5-0, at the end of October. East Hampton boys soccer teams have played in county finals in five of the past dozen years, winning three times.
The boys and girls cross-country teams were also league and county contenders in the year past. The girls were third and the boys (without Evan Masi, the team's top runner) fourth in April's county Class B meet. Those teams were third and second in October's county meet. The girls team ought to have been the undefeated league champion in April, but because one of its top runners missed two meets because of quarantining, leaving the team with four runners on the line rather than the requisite five, two of its wins were disallowed.
The football team, the first varsity one to take the field here in almost five years, enjoyed a 30-0 win over Hampton Bays in its final game in April, its sole victory of that campaign, and, picking up where it left off, drubbed the Baymen 42-14 in its opener in September. The Bonackers were to win only one more game after that, on the way to a 2-6 record, though the bleachers, said to seat 1,500, were filled for October's homecoming with fans happy to be commingling for the first time in a long while.
Also in October, Kevin Barry's boys cross-country team, with Evan Masi back, clinched its second league championship in a row; the girls tennis team, coached by Kevin McConville, the head pro at Hampton Racquet, went 12-2 in east division play, despite the graduation losses of Sandrine Becht and Juliana Barahona, who had, in the spring, made the all-state team as a doubles pairing, and the girls swimming team was again the league runner-up to Sayville-Bayport.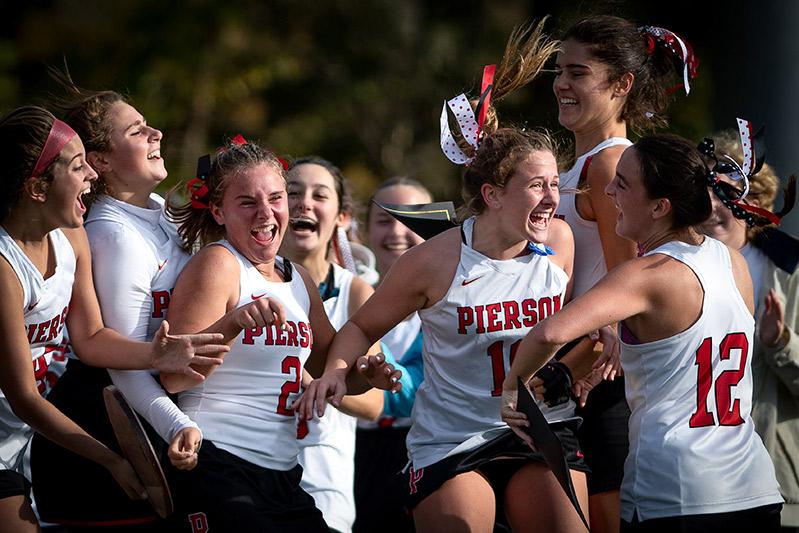 While East Hampton's field hockey team did not make the playoffs, Pierson (Sag Harbor) High School's did, winning county and Long Island championships, the latter thanks to a riveting 3-0 shutout of the Carle Place Frogs, and the Whalers' boys soccer team was a county champ as well.
Last spring, baseball, in the form of a junior varsity team coached by Lou Liberatore, made a reappearance at the Bridgehampton School, for the first time in 42 years, Penelope Greene, a Sag Harborite who's running at SUNY Geneseo now, broke the East Hampton girls 1,500 and 3,000 records, and Brayan Rivera broke Erik Engstrom's freshman record in the 1,600.
The Shelter Island 10K, Ellen's Run, the Montauk Mile, and triathlons in Sag Harbor and Montauk were revived during the course of the summer, as was the invitational lifeguard tournament at East Hampton's Main Beach, which, under Drew Smith's leadership and with the village board's blessing, became a hub of activity, prompting Chris Minardi, a board member and a certified lifeguard, to say in August, "This has been the best year ever at Main Beach — even the Ryans," John Sr. and John Jr., "will tell you that."
Speaking of lifeguards, the Hampton Lifeguard Association's senior team placed third, its highest finish ever, at the United States Lifesaving Association's national tournament at South Padre Island in Texas in August. (The juniors did extremely well too, though their scores weren't counted.)
Little League play for boys and girls returned as well in the summer, with the 9-and-10-year-old girls winning a District 36 championship, and with Kai Alversa, the son of East Hampton's baseball coach, pitching the first no-hitter in a Little League playoff game that anyone can remember.
Also during the summer, two parents, Mark Danieli and Ricky Smith, stepped forward to make sure that East Hampton's younger kids were kept up to date when it came to baseball and lacrosse. Danieli started a travel baseball team, the Stripers, for 7-through-9-year-old boys, and Smith and Chris Corwin began giving lacrosse clinics at the Neighborhood House for kindergartners through sixth graders, boys and girls.
When it comes to youth lacrosse, Joe Vas, East Hampton's athletic director, said he'd like to see "something similar to what Joey McKee has been doing at Herrick Park with flag football."
The last word when it comes to Covid-threatened seasons — past and present — ought to go to Jake Epstein, the 2021 class's president and indefatigable wader-wearing and flag-waving cheerleader.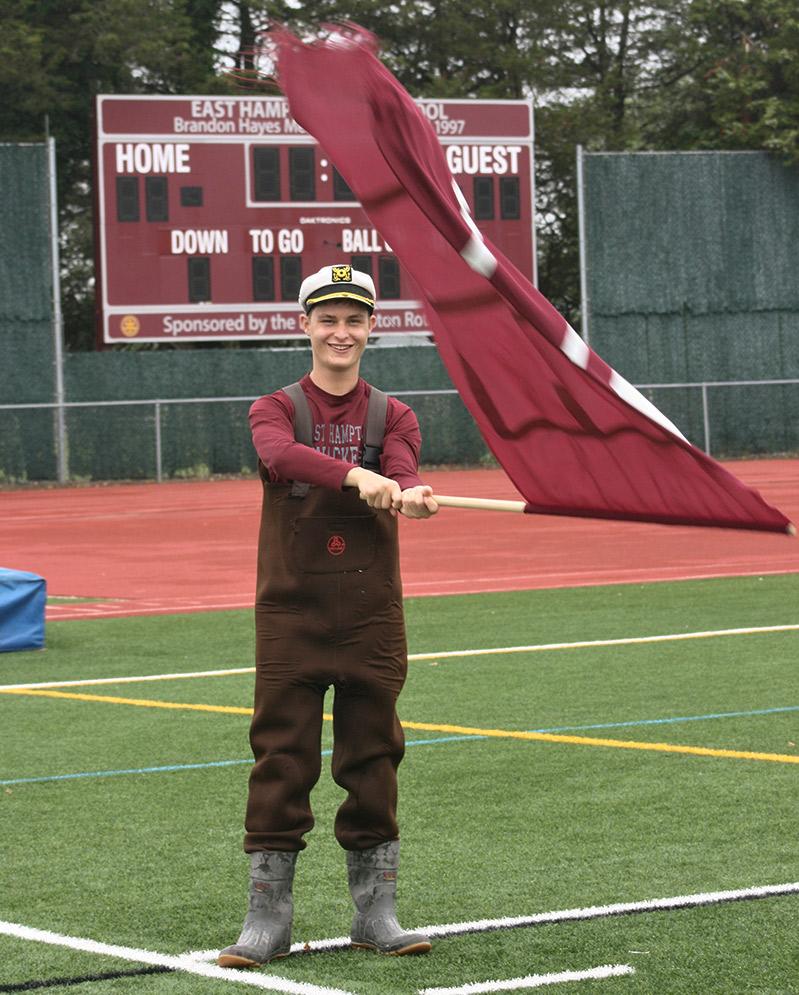 Cast back upon himself as the result of a severe head injury he'd suffered in his junior year, Epstein said during  an interview in June that he ultimately decided to turn his affliction into an opportunity. "I thought if I'm feeling like this, I don't want anyone else to feel that way. That's what led me to become the Bonac mascot. . . . I couldn't play sports, but there was nothing stopping me from waving a flag and screaming. . . . I had come to realize that it was all about caring for people and trying to make them as happy as you can during these stressful years of high school, and that it was a very good way of being."
At the high school's commencement ceremony, he said in part to his 230 fellow classmates and to a bleacher-packed crowd: "Without hardship, success would not be so sweet. Without sadness, we would not understand the true gift of joy. Without losing, we would not appreciate how sweet victory is. Give someone a smile. You might make their day. And as we learned, a smile can even be felt through a mask. Thank you, and congratulations to the class of 2021. I love you all. Brighter days are ahead."