Paloma Tavera ran indoor track one season when she was at East Hampton High School, but only briefly; a dust cloud wafting from the jump pit near one end of the track persuaded her to concentrate on soccer and lacrosse rather than running.
In the nine years since, she has worked as an East Hampton Town lifeguard and as an assistant in the Sports Therapy clinic in Amagansett that Randi Cherill, the high school's former trainer, oversees. And, last January, the 27-year-old decided to run again — in the New York City Marathon.
It wasn't that she had gotten off a couch and done it — her planning, she told an inquirer, had been deliberate. She had put in the requisite miles, on the roads and cross-training in the water, during the nine or so months that led up to race day.
Then, of course, there was the difficult problem of being accepted into the field of some 55,000 participants — a problem that one of Sports Therapy's patients, she said, helped solve by recommending that the Ronald McDonald House Charities, with which she'd been associated, take Tavera on as a fund-raiser.
By early November, she had raised more than the requisite $3,200 for the organization, whose Ronald McDonald Houses accommodate families of hospitalized children.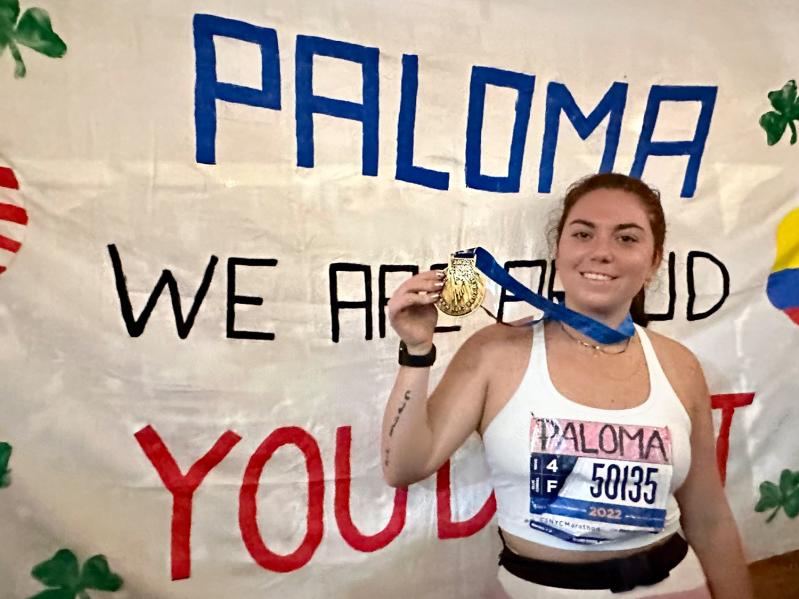 "I thought, I'll really have to run now! The donations were a great motivator. I did my first half-marathon at the end of August, not in a race, but on my own — from Indian Wells Beach to Louse Point and back, a distance of 13.5 miles. I did 15 miles in September, actually 16 miles, from the clinic to the Montauk Lighthouse, where the Tom Dess family, who run the state park there, were waiting for me. Then, in October, I ran 18 miles in Central Park, three laps around and three extra miles. Twenty was the most I did — you're not supposed to go farther than 22."
Another Sports Therapy patient, Tavera said, a woman who had run 20 marathons, coached her in the days leading up to the Nov. 6 event, "making sure that I was ready."
Tavera's plan was "to go under 5," but race day was hot and humid — people were dropping like flies. She "kept hydrating and ran a little slower than I'd planned. I finished in 5 hours, 11 minutes, and 56 seconds."
"Only 47,000 of the 55,000 finished, there were 8,000 D.N.F.s — she was incredibly well trained and hydrated," said Cherill, who, with Nick Jarboe, one of the clinic's sports therapists, "and a handful of her friends saw her coming off the 59th Street Bridge, and we also saw her at mile 24, where a good chunk of people were walking by that time, but Paloma still looked great. It was very admirable what she did."
"I'm going to run another one!" Tavera told herself after crossing the finish line, vowing the next time to break 5.
"I'm going to keep it up," she said. "Maybe I'll do the Southampton Marathon in the future, and the Montauk Triathlon . . . the one that ends at the Lighthouse. I'll have to get a road bike. . . ."
Alan Patricof, a fit 88-year-old venture capitalist who lives in New York City and East Hampton Village, walked the 26.2 miles with his son, Jamie, who had come out from California, crossing the finish line in 8 hours and 50 minutes — no mean feat when you consider he pretty much matched the Roman Army's marching pace of three miles an hour.
"I would have done it in 7:50 if an old hamstring injury didn't bother me at around the 20th mile. I got it about 15 or 20 years ago when I was trying to learn how to rollerblade. From the 20th to the 22nd mile I hopped, stopping at three medic tents to ice it up and calm the muscles down along the way."
Like Tavera, Patricof trained seriously for New York, "with a coach, Jonathan Kline. I walked all over the city three days a week, and did strength training two days a week. He said the main thing was the discipline, getting up and getting out there — even if it's dark, as it was in the mornings this past month."
He had walked the Bridgehampton Half-Marathon last May, he said, finishing last, in 3 hours and 18.06 minutes, at a creditable 15-something pace. "There was one person there, the announcer, when I finished. Everyone else had gone home. That's the only race I did."
His training walks out here had enabled him to see "a lot of East Hampton. I had no specific route. I'd walk to Springs, to Wainscott, to Montauk. . . ."
He had run the New York Marathon four times in the past, Patricof said, the last time in 1983. His best time, he said, had been 3:31. "They told me I was the oldest person to finish this year," he added.
He is still working and still walking to work — from 76th Street to his Primetime Partners office on 41st — a distance of about two miles, a walk in the park for him.