Daniel Bluman, an Israeli professional equestrian, won the $300,000 Longines Hampton Classic Grand Prix show-jumping class Sunday by going all-out in a seven-obstacle jump-off that just about everyone had thought his immediate predecessor, McLain Ward, the five-time Olympian and seven-time Grand Prix champion here, had won.
Afterward, Ward, who was a team silver medalist in the Tokyo Olympics, and who had his Olympic mount, Contagious, under him, said he knew that in going a bit wide into the penultimate jump, a red-and-white fence, he had "left the door open," but was hoping his quick trip of 36.79 seconds, well under the allowed 47, might put sufficient pressure on Bluman and Gemma W that they'd make a mistake.
When asked what he was thinking as he and his 10-year-old mare ripped through the course, Bluman, who was the Grand Prix champion here in 2017, and who had paid close attention to Ward and Contagious's trip, said he wasn't. "I was just going for it," he said. "I gave it everything -- I took all the risks, and it worked out."
Bluman, who was flanked at the press conference by the runner-up and the third-place finisher, Schuyler Riley, said with a smiling nod toward his worthy rival that beating Ward on his "home turf" would be one of his great memories. Ward could take solace in the fact that during the course of the week he had accumulated more points by far than any other rider, thus winning the $30,000 Longines Rider Challenge prize.
Peter Leone, an Olympic silver medalist who is WWVH-TV's commentator, said it was the best jump-off he'd ever seen at the Classic.
"We all thought McLain couldn't be beaten when he put down that fast jump-off round," Leone said. "Daniel Bluman took every risk, and won by two seconds!"
"He turned and went, turned and went, turned and went," said Shanette Barth Cohen, the show's executive director.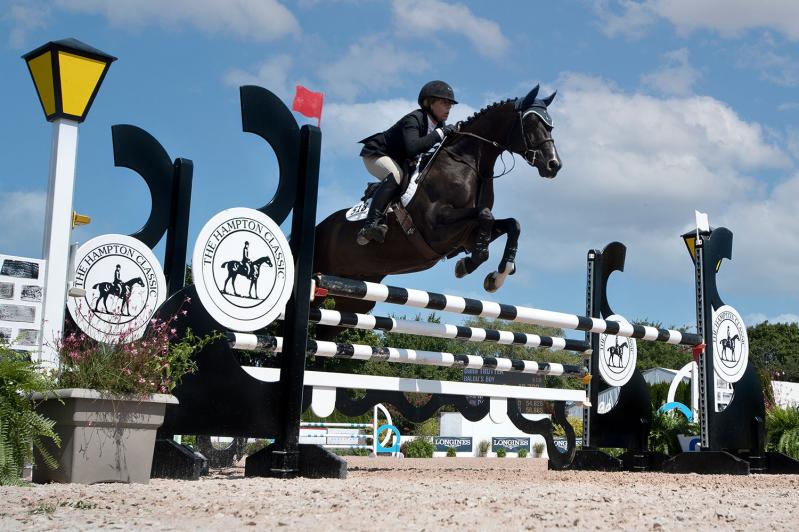 Speaking of Barth Cohen, she was hailed by Ward and the other place-winners, and by the show's communications director, Marty Bauman, for having quickly resurfaced most of the two-acre Grand Prix ring with sand early in the week after it became clear on opening day that the turf field's footing was treacherous.
There were 23 horse-and-rider entries in the Grand Prix, which was contested in relatively cool weather under a cloudy sky. It rained a bit during a 10-minute break midway through, during which the 16-effort Alan Wade-designed course was re-rolled, but the rain soon abated.
Daniel Bluman's brother, Steven, seventh in the jumping order, on Biblou De Perron, was the first to go clean, and by the opening round's finish, six others -- Paul O'Shea on Skara Glen's Machu Picchu, Matthew Boddy on Balotelli 5, Mario Deslauriers, the 2019 champion, on Uris De La Roque, Ward, Daniel Bluman, and Riley -- had followed suit.
Nicky Galligan on Javas Miss Jordan, who, because of their win in Friday's Grand Prix Qualifier, went last, came to grief early, and retired after having been tripped up at the Longines triple combination, as was the case with a half-dozen other competitors.
Alex Matz, 24, who, on Erdento Van De Leeuwerk, had won Saturday's $73,000 Longines Cup, could have made some local history had he won Sunday's class, given that his father, Michael Matz, a Show Jumping Hall of Famer, was the Grand Prix champion here in 1989. But he and Cashew CR finished with 12 jumping faults.
Jaguar Land Rover of Long Island, the Classic's longest-lasting sponsor, turned over a $10,000 check to JustWorld International, the amount having been based on the number of times the Classic's Jaguar fence was cleared, so that, according to JustWorld's executive director, Mei Mei Newsome, 10,000 children in Cambodia, Guatemala, Honduras, and the United States will be able to be schooled for a year.