Things went swimmingly for a number of East Hampton High School teams this past week.
Craig Brierley's girls swim team won 10 of the 12 events in a season-opening meet here with Connetquot; the boys and girls cross-country teams, likewise, began their campaigns with wins, and even girls soccer won, the first time in a long time presumably, shutting out Wyandanch 6-0.
The football team, after having taken a 20-14 lead into the half, lost 35-28 at Center Moriches, but the good news was that its sophomore quarterback, Charlie Corwin, in 10 carries gained a game-high 242 yards, an eye-popping total that included touchdown runs of 77, 45, and 63 yards.
Three fumbles, two on hand-offs in the backfield and one on a snap, and two interceptions hurt the Bonackers' cause.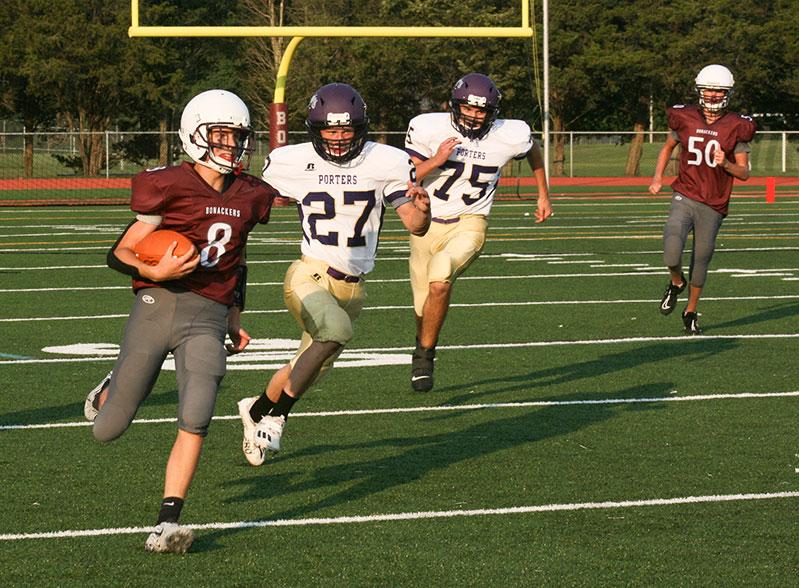 "We had a wide receiver wide open in our last possession, but the pass was overthrown," Joe McKee, East Hampton's head coach, said in a telephone conversation Sunday. Despite all, it had been, he said, "a good game. Three fumbles and two interceptions and we still had a chance to win."
The loss evened East Hampton's record at 1-1. The team is to play at Wyandanch Saturday.
Bonac's jayvee, coached by Andrew Daige and quarterbacked by Tyler Hansen, began the season with a 24-6 win over Hampton Bays. Besides Hansen, Jason Lester, Jack Cooper, Henry Butler, Eddie Cobb, and Will
McGuire rated favorable mentions by Daige in an email.
Dana Dragone's field hockey team suffered a disappointing 4-0 loss last week at Rocky Point, the team that had ousted it from the playoffs last season. Nerves played a part, Dragone said, as did defenders' failures to mark up in the circle. "We're going to work on that this week," she said.
"Our girls defeated themselves," the coach said. "We had more corner plays than Rocky Point did, and two fewer shots on goal, but the score didn't reflect that. Nevertheless, it was a good learning experience, and we hope to see them again in the playoffs."
The boys volleyball team, coached by Josh Brussell, was 2-1 going into this week, with wins over Center Moriches and East Islip, and a 3-0 loss to Smithtown West, the defending large-school champion.
Brussell cited the play of Alex Lombardo, the junior setter and co-captain, Mark Daniels, "our hardest hitter," Andrew Dimopoulos and Callum Anderson, the outside hitters, his middies Hunter Eberhart, Declan Bistrian, and Nick Scheafer, the libero, Colin Vilante, and two defenders, Allen Rodriguez and David Caprio.
"We're a small team in numbers, with nine, but it may be one of my tallest teams. Everyone, except for two, are taller than I am," Brussell said.
Among East Hampton's winners in the swim meet were Cami Hatch in the 200-yard individual medley and 100 backstroke, Emily Dyner in the 50
freestyle, Ava Castillo in the 100 butterfly, and Lily Griffin in the 100 free and 100 breaststroke.
All three relay teams won — Hatch, Griffin, Dyner, and Corrina Castillo in the 200 medley relay; Griffin, Alyssa Brabant, Ava Castillo, and Dyner in the 200 freestyle relay, and Ava Castillo, Corrina Castillo, Maddie Elflein, and Hatch in the 400 free relay.
Moreover, the relay teams posted county meet-qualifying times, as did Hatch in the 200 I.M. and 100 back, Ava Castillo in the 200 I.M. and 100 fly, and Griffin in the 100 free.
At Cathedral Pines County Park in Middle Island last week, East Hampton's boys and girls cross-country teams began the season with wins. Kevin Barry's boys, led by Evan Masi, who missed last season because of a foot injury, defeated Mount Sinai 23-36, and Diane O'Donnell's girls defeated their Mount Sinai peers 27-32, with Dylan Cashin, the runner-up, and Ryleigh O'Donnell (fourth), Emma Hren (fifth), Zion Osei (sixth), and Brianna Chavez (seventh) scoring.
Besides Masi, who won, Amari Gordon (fourth), Mikey Gilbert (fifth), Brayan Rivera (sixth), and Liam Fowkes (seventh) scored for the boys.
At a Sept. 11 invitational meet at Sunken Meadow State Park, Chavez, Osei, and Shilo McCarthy competed in the girls freshman race, Cashin took third in the sophomore race, and in the boys sophomore race Gilbert was seventh, Rivera was 11th, and Fowkes was 15th.
At an invitational at Bear Mountain State Park Saturday, East Hampton's girls were the runner-up to Goshen and the boys were sixth in their class.
And, finally, as of earlier this week, East Hampton's girls tennis and golf teams had yet to be beaten.