A 36-year-old native of Belarus, Sergey Avramenko, who came to this country when he was 19 and is now an American citizen, won Sunday's Ellen's 5K run in Southampton, leading a 500-plus field wire to wire in 16 minutes and 22 seconds.
His time probably would have been faster still had not the lead car led him to the finish line at Southampton's Intermediate School the wrong way around, which produced a momentarily confounding scene as Avramenko passed under the large orange inflated arch headed one way, while headed in the other, in close succession, were Billy Malone, a Southampton High School junior, and Gustavo Morastitla, a Gubbins Running Ahead employee, who followed the proper route into the school's driveway.
Auyer Timing awarded the victory to Avramenko, with Malone clocked in a second behind, at 16:23.
Complicating things further, Morastitla, who had run without a bib number, which he had forgotten to affix, was not listed by Auyer Timing in the final results, though his time was 16:25. His Gubbins co-worker and training partner, Brayan Rivera, 15, an East Hampton High School sophomore, who trailed Avramenko, Malone, and Morastitla by more than a minute, at 17:45, was listed as the third-place finisher. Kris Hedges, 41, of New York City was fourth in 18:38, and Lee Sossen, 47, also of New York City, was fifth in 18:40.
Rivera, who set an East Hampton High School freshman record in the 1,600-meter race in the spring, said he and Morastitla have been running around the high school and on its track this summer, their workouts lasting an hour or so. He has been running, he said, since fifth grade with Sean Knight as his coach initially. He loves working at Gubbins, he said. "They're all athletes there."
Cross-country practice is to begin on Aug. 26, with the first meet scheduled for early September. Asked if the team would be good, Rivera said, "We'll be great this year. We've got a chance to go to states."
Morastitla, a 2018 graduate of Southampton High, is in his sixth year as a Gubbins employee. He said he, Avramenko, and Malone "were pushing off each other in the last mile."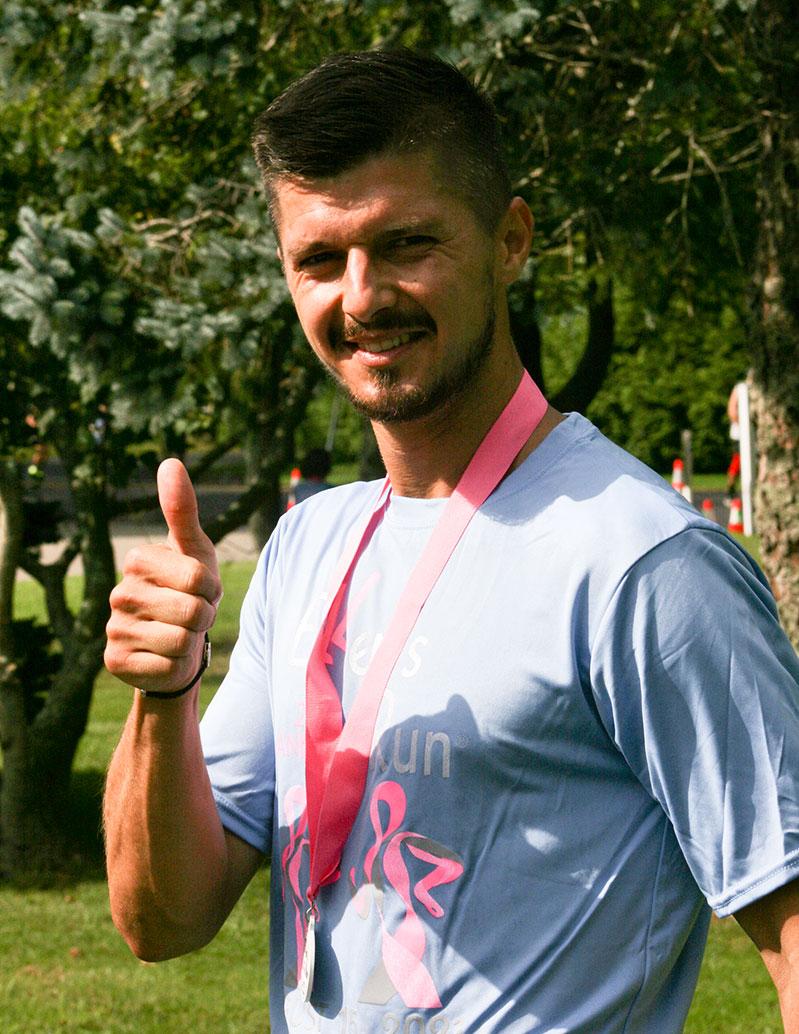 On the women's side, Dominga Rivera, 17, of New York City was the first female and sixth over all in 19:02; Dylan Cashin, 15, of Amagansett, who runs on East Hampton High's girls cross-country and track teams, was the runner-up in 19:30; Kimberly Clark, 59, of Sea Cliff was third in 20:18, and Ryleigh O'Donnell, 15, of East Hampton, a teammate of Cashin's, was fourth in 21:08.
"It was muggy, but not as bad as yesterday," said Dermot Dolan, 59, of Bridgehampton, the 31st-place finisher, who won a Western Athletic Conference indoor 3,000-meter championship when he was at Lamar University in Beaumont, Tex. "This is the second time I've raced in 33 years," he said, the first being at the recent Montauk Mile. He was running, he added, for his mother, who had died of cancer in 2005. 
In its 26th year, Ellen's Run, founded by Dr. Julie Ratner in memory of her late sister, Ellen, who died of breast cancer, has combated the disease through the Ellen P. Hermanson Foundation, the vast majority of its funds, for prevention, treatment, and counseling, having been put to work on the East End.
Among the age-group place winners Sunday, in addition to Brayan Rivera and O'Donnell, who topped the 13-to-19-year-old groups, were Rob Rivera, 28, of East Hampton, who was third among the male 20-29s; Robert Magnotta, 55, of Amagansett, who won among the 55-59 men; Dolan, who was the men's 50-59 runner-up; Bob Bottini, 63, of East Hampton, the runner-up among the 60-69 men, and Patricia Fall Salamy, 54, of Springs, who was second among the 50-59 females.
"It's nice to be back with everyone and running," Salamy said.
Among the 510 finishers were Southampton Village Mayor Jesse Warren, 39, in 21:35, and Southampton Town Supervisor Jay Schneiderman, 59, in 58:58. The youngest competitor was 4 years old, the eldest 91.
Twenty breast cancer survivors ran, including Marilyn Rutkoski, 57, of Mattituck, the top finisher in that group in 33:44, Moira Squires, 42, of Southampton, Melinda Thaler, 58, of New York City, Eugenia Guillen, 50, of Hampton Bays, and Stephanie Zayicek, 49, of East Quogue. 
Ratner has said that she's always thought of the 5K as a celebration of "these women who have survived the disease -- they're brave and bold and they should be celebrated."