In its highest finish ever, the Hampton Lifeguard Association, which comprises professional lifeguards and junior lifeguards from Southampton and East Hampton Towns, placed third at the United States Lifesaving Association's national tournament last week at South Padre Island in Texas.
The four-day tourney, in which pros and juniors competed in various races linked to lifesaving skills, attracted 27 teams from all the coasts. The Los Angeles County Surf Life Saving Association won it. Sussex County, N.J., was second. Rounding out the top five were Monmouth County, N.J., and the California State Lifeguard Association. The Mid-Atlantic teams topped the regional standings.
"It wasn't easy," East Hampton Town's chief, John Ryan Jr., said shortly after a recertification test that had drawn 34 participants to Indian Wells Beach had ended Monday. "The heat was unbearable. The water was refreshing, but it was so hot on the beach."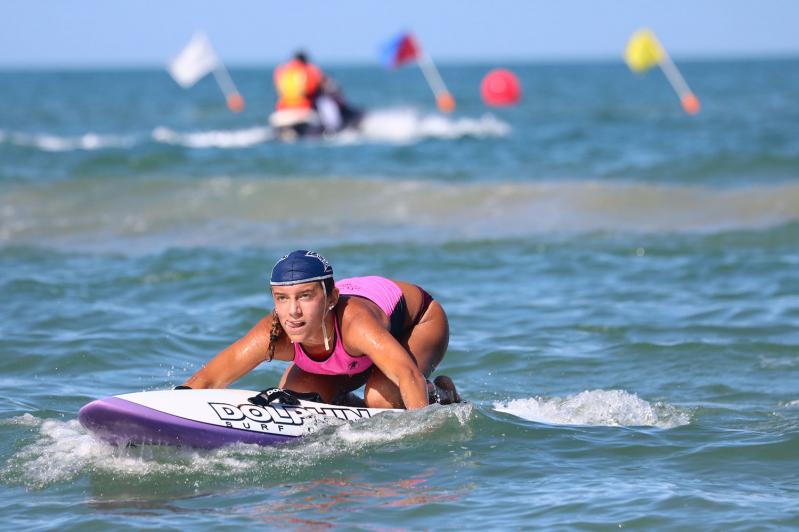 As for the H.L.A.'s squad, which included 50 junior and 35 senior guards, Ryan said, "Absolutely, I'm very proud of them -- a lot of training went into this. Make one little mistake and you're dq'd."
While East Hampton's juniors, who ranged in age from 9 to 15, did extremely well, their performances were not included in H.L.A.'s tally. Had they been, Ryan said, "we probably would have won."
Liam Knight and Daisy Pitches in the B (13-to-14-year-old) junior division were multiple winners -- Knight in the surf swim, the run-swim-run, the paddleboard race, and Ironguard, and Pitches in the surf swim, the run-swim-run, and paddleboard. Pitches was second in beach flags and second in Ironguard. Together, she and Liam won the torp rescue.
Dylan Cashin and Brodie Schneider won the A (14-to-15-year-old) division distance runs. Schneider won beach flags as well.
In other B division events, Luke Rossano won beach flags, with Evan Schaefer the runner-up; Myla Schneider won the distance run, and Lylah Metz was that division's surf swim runner-up. 
In the C (9-to-11-year-old) division, Nate Tarbet won Ironguard, Austin Schneider won beach flags and the distance run, and Schneider, Lucy Knight, Nate Tarbet, Ashlyn O'Donnell, and Tyler Metz won the swim relay.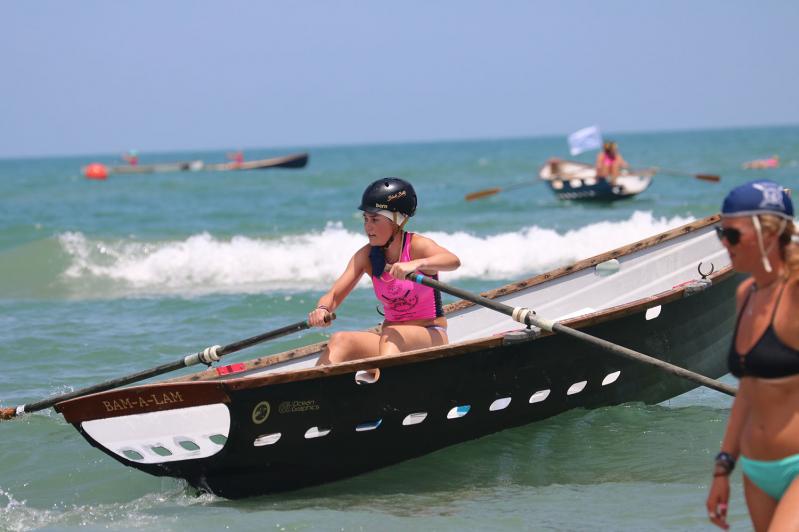 In U-19 competition, Owen McCormac won beach flags with Colin Schaefer third; Bella Tarbet was second in beach flags; Olivia Duca won the distance run with Peter Schaefer third; Sophia Swanson was third in Ironguard, third in the run-swim-run, and fourth in the distance swim and paddleboard race. 
Colin Schaefer won the beach sprint; Peter Schaefer and Joey Badilla were the runners-up in the paddleboard rescue, and Cameron Hatch, Brylinn Bushman, Corrina Castillo, and Alyssa Brabant were second in the rescue relay.
In open competition, Amanda Calabrese won beach flags with Bella Tarbet fourth; Ethan McCormac, Sophia Swanson, Connor Grauer, and Paige Schaefer were the runners-up in landline rescue; Bella Tarbet, Calabrese, Olivia Duca, and Quinn Banks were third in the 4-by-100 relay; Duca was third in the distance run, and Swanson, Tarbet, and Kiley Kaiser were third in the open board relay. 
Kaiser, Calabrese, Duca, and Swanson were third in the Taplin relay; Sean Knight won the men's 40-44 beach flags; Fintan McCormac won the men's 45-49 beach run and that division's Ironman event; Jon Tarbet won the men's 50-54 beach run; McCormac was second in the men's 45-49 beach flags and third in the surf race; Tarbet was second in the men's 50-54 board race; Tarbet and McCormac were second in the men's 45-49 surfboat race; Knight was third in the men's 40-44 run-swim-run, and Kathy Piacentine was third in the women's 55-59 surf race and run-swim-run, and fourth in beach flags.