The catcher's position, in baseball, is a particularly challenging one. Physically, it is the most demanding, what with repeated split-second leaps from squatting to standing position to throw out a runner, for example, and foul balls that can hit the catcher with stinging velocity. 
But in baseball's game within the game, every at-bat pits pitcher and batter in a battle of wits and skill, and behind every batter is the pitcher's essential partner. The catcher directs each of those contests, calling the next pitch based on myriad statistics and observation. 
The Hamptons Collegiate Baseball League's Sag Harbor Whalers are fortunate to have solid catchers on the roster of 27 this season. One of them, Marika Lyszczyk, has not only caught many innings thus far, but she has also pitched and served as designated hitter. As D.H. on Sunday, she went 1 for 3, driving in two runs in a 9-to-3 win over the South Shore Clippers. 
She is also the first woman to play collegiate baseball. But if last Thursday's morning practice at Mashashimuet Park in Sag Harbor is any indication, Lyszczyk, like her teammates and coaches, is taking it all in stride. 
The native of Tsawwassen, British Columbia, is all of 20 years old, but she has already played in a Major League Baseball stadium, been the subject of a feature on the Canadian sports channel Sportsnet, and notched a lengthening series of firsts in baseball. She is bright, poised, unfailingly polite, and clearly relishing the opportunities her abilities are presenting. 
As a child, she was a little better at baseball than softball, she told a spectator last week, and when she started missing practices because of overlapping commitments to both, she opted to play hardball. "I stuck to baseball," she said, "not knowing where it was going to take me today."
Where there is talent, luck seems to follow; put another way, the talented make their own luck. Lyszczyk excelled as a catcher on the British Columbia Premier Baseball League's Whalley Chiefs. "Marika as a catcher was terrific, as a matter of fact," Paul Hargreaves, the team's general manager, told Sportsnet. She "made herself to be the athlete that she is."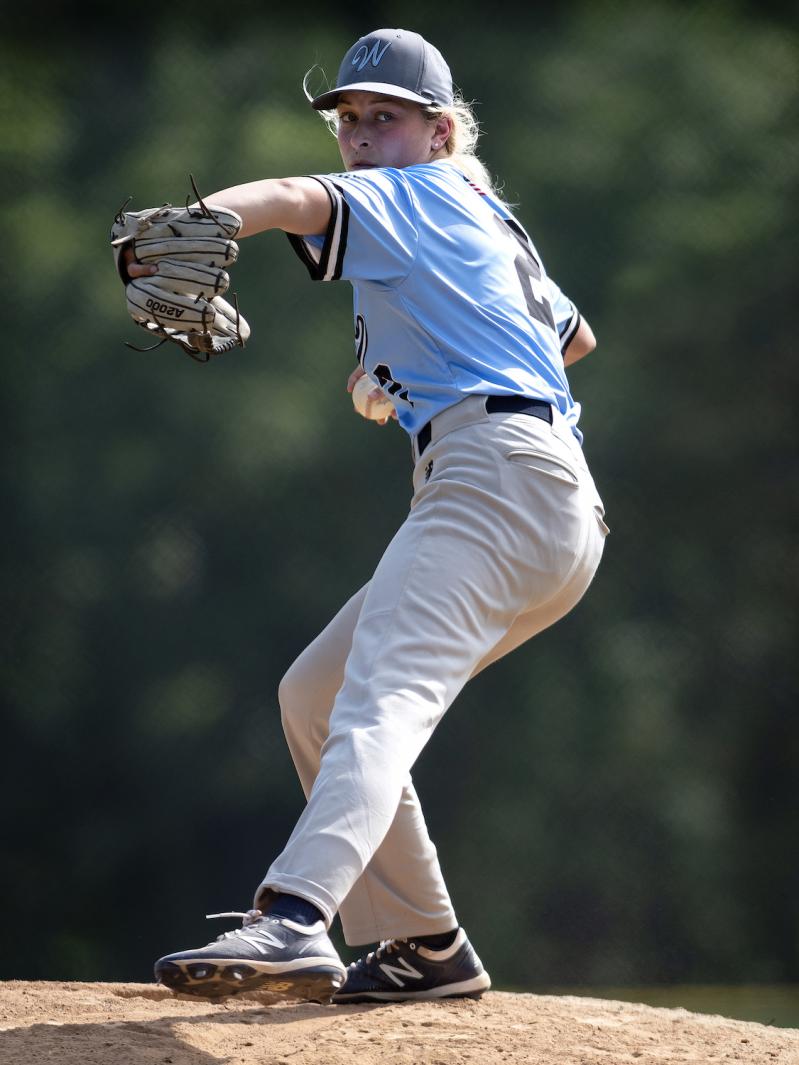 While in high school, she was one of six girls from Canada to be invited to the inaugural MLB Grit: Girls ID Tour, Major League Baseball's development initiative. "It was a big showcase," Lyszczyk recalled. "I never thought anything was going to come from it at all, because nobody had mentioned that you could get seen or anything. It was just, 'You're going to play with girls, you're going to have fun, we're going to compete.' "
The event was held at Globe Life Field in Arlington, Tex., home of Major League Baseball's Texas Rangers, "which was such an amazing experience," Lyszczyk said. "I never thought that I would be able to play on a Major League field. It was so big! Especially when you're standing behind home plate. I think I'll always remember that experience and take that forward. I'm forever grateful for them giving me that opportunity."
As MLB Grit was concluding, she was introduced to Jeremy Booth, the president of baseball operations for the New Balance Future Stars Series, an initiative to identify and develop amateur players. "They had told me that he wanted to talk to me," she said, "because he had been watching our games. I had no idea who he was at the time. I see this guy in a New Balance sweatshirt. He was like, 'Nice to meet you, I'm Jeremy Booth. Do you want to play college baseball?' " 
At that level of play, "I was always told that if I was going to go, it was going to be as a pitcher," she said. But Booth said that she would catch. "I was probably shellshocked from the whole situation because I never thought in a million years that I would be able to go as a catcher."
Booth recommended her to Anthony Perry, the head baseball coach at Rivier University in Nashua, N.H. Lyszczyk completed her first year there, but the baseball program was curtailed by the Covid-19 pandemic, and she plans to attend for four more years. "I'm trying to get as many years as I can playing baseball, trying to stretch it out," she said. Her teammates on the Rivier Raiders are like family, she said. "I knew it was the perfect fit for me. Every single guy accepted me, and over all it was an amazing experience."
She has repeated that experience with her teammates on the Whalers. "They're awesome," she said. "I've made a whole bunch of new friends, and have had such a good time so far."
Dutch Maranhas, the Whalers' pitching coach and first assistant coach, is equally enthusiastic about his multitalented player. "Coming here, I anticipated it would be different than coaching another team," he said. "The reality is, after meeting Marika the first day, she's a ballplayer. That's all it is, she's a ballplayer." This is no publicity stunt or marketing ploy, he said. "This is someone who absolutely loves the game of baseball and has the qualifications to compete at their level."
As a catcher, he said, "she does a really good job of understanding. Between every inning, I talk to my catcher before I talk to my pitcher. She gives me insightful response about where my pitcher's at. She's like any catcher I've ever coached and dealt with." 
"That's something I've been working on for quite a while now," Lyszczyk said. "Sequencing the way the guys set up, what did [the batter] miss on the curveball before, what were they swinging away at, what was their feet position? Learning from their first at-bat, and hopefully making the right call. It's always nerve-wracking -- I don't want my pitcher to get hit. So, it's a very responsible position, I would say, and sometimes I forget that it's such a heavy aspect" of the game. 
Pitching is both fun and useful to a catcher, she said. "It's nice to change it up and see it from a different perspective. I also know what it's like being a pitcher, which helps me relate to working with them" as a catcher.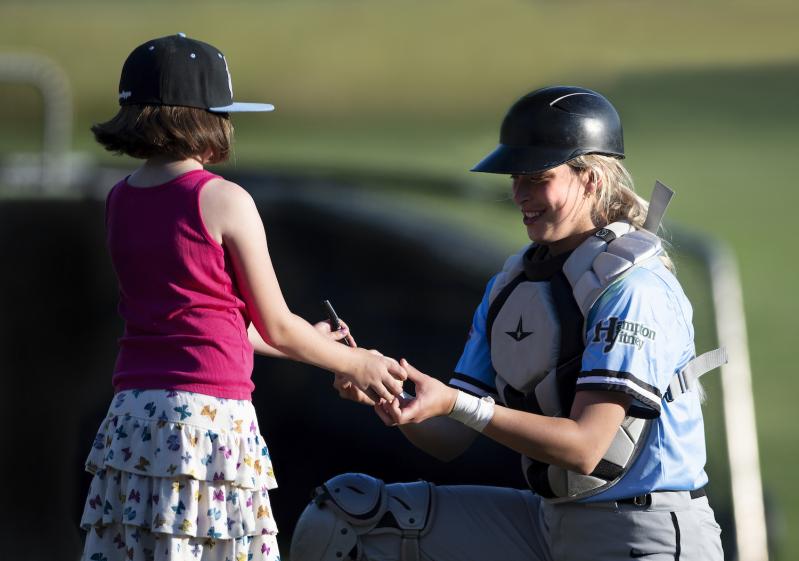 The league, Maranhas said, prepares players for the arduous demands and pace of a career in the majors. "When playing college ball, you'll play four or five days a week," he said. "But it's not as rigorous as this. This is the closest they'll get to pro ball. Six games in a seven-day week, you have two days off, you play doubleheaders on Saturday. Seven days a week, they're here. So, for the guys that are getting drafted out of this league, you're not just seeing their talent, you're seeing their ability to adjust to the pro game." 
Around 150 Hamptons Collegiate Baseball League alumni have been drafted by Major League Baseball teams, and of those several have made it to a big-league roster. 
Sponsored in part by Major League Baseball, the league is family-friendly, Maranhas said. There is no tobacco, alcohol, or drug use allowed, nor foreign substances some pitchers apply to the ball to gain an edge over batters. "Everything is done the right way in support of Major League Baseball," he said.
That, too, is a perfect fit for Lyszczyk. Being a role model "definitely comes with a lot of pressure," she said, "because I just want to give every single girl that wants to have the same opportunity as me the chance. If I don't perform well, nobody's going to take the chance for somebody else to do it. So, I hold a lot of pride in myself -- the way I carry myself, like on social media and everything -- in living in this world. I want to be a role model for little girls that are watching me and what I'm doing." 
And that, she hopes, will include a lot more baseball. After the Whalers' 30-game season wraps on July 20, she will attend a Team Canada camp, then spend two weeks at home, and then return to Rivier University. "All I know is, I want to try to play professionally," she said, whether in the majors or an independent league. "Anything to prolong my career and any opportunities, I would be open to taking. It's something I'm looking forward to. I'm not looking to give up the dream quite yet."