In the absence of Kenyans and Ethiopians, the Shelter Island 10K's field Saturday was wide open, and an East Ender, Jordan Daniel, a soccer player when he was at Westhampton Beach High School and Adelphi University, won it, in 32 minutes and 9.72 seconds.
Daniel, who began running competitively only several years ago, and who's at grad school studying to be a psychologist, said, when asked what psychological advice he'd give himself, "Do a good job and enjoy the moment."
It was a typical Shelter Island 10K race day, hot and humid, "and windy too," said Daniel, though the second-place woman, Cara Sherman, said the wind that came off the water felt good.
Not only did the wind feel good, but, in Barbara Gubbins's words -- and presumably she was speaking for everyone -- it felt good to be racing unrestrictedly again after the year-plus-long coronavirus-imposed hiatus.
M.E. Adipietro, Shelter Island's director for the past 20 or so years, said that this popular race -- there were 598 finishers in the 10K and 389 in the 5K -- could take credit for being the first large post-Covid race on Long Island. The field, which is generally much larger, was limited to 1,000 entrants this time.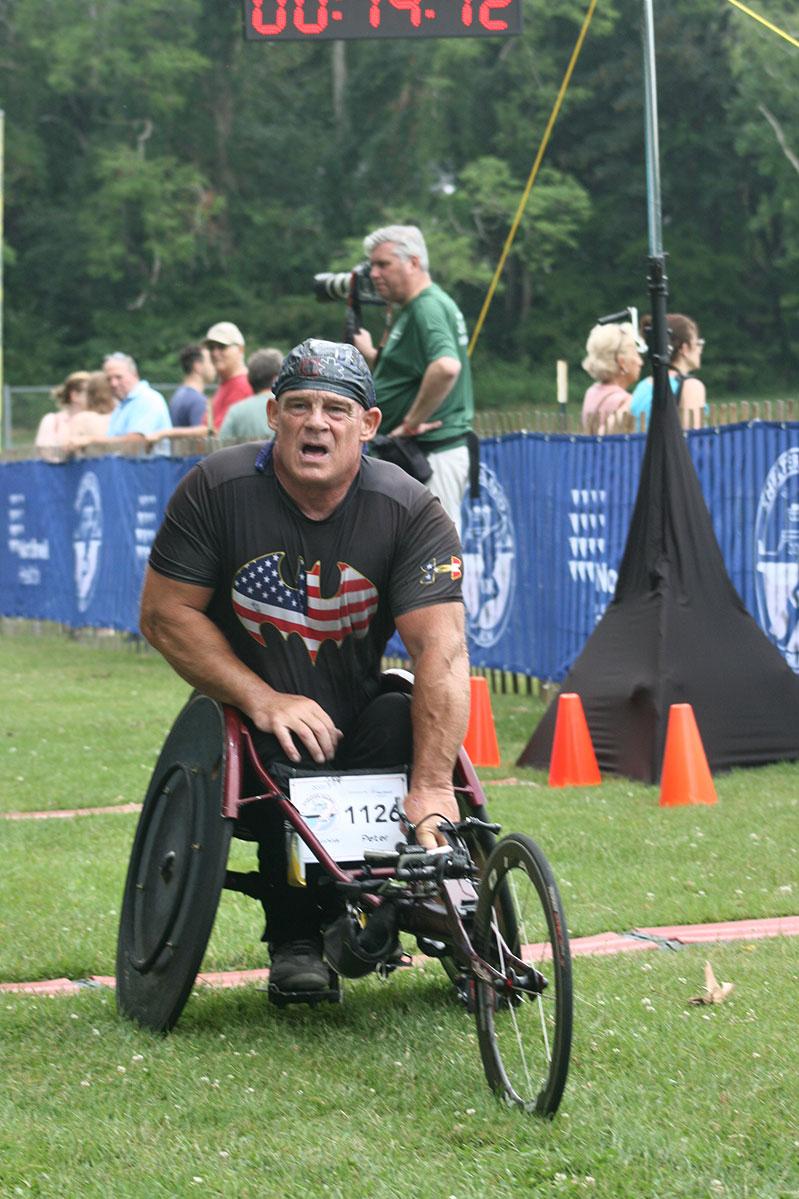 The runner-up, Patricio Castillo, a 29-year-old, as is Daniel, could well have won, an observer said, had he not become confused on entering Fiske Field around which the competitors were to run to the finish line at the far end, leaving a long loop of snow fencing to their left. Before Castillo found his bearings, Daniel, who followed the proper route, shot by him.
Castillo's time was 32:12.37. Rounding out the top five were Mitch Ammons, 31, in 32:15.49; John Flannery, 25, in 32:29.37, and Guillermo Pineda Morales, 48, in 33:47.68.
Needless to say, Simon Ndirangu's course record of 28:37, set in 2012, and Meb Keflezighi's 29:59 masters record, set in 2015, still stand.
Allie Kieffer, 33, was the women's winner in 34:25.07. She was 10th over all.
"She's fast," Sherman, who ran the 10,000-meter race at SUNY Albany, said of Kieffer, who beat her by about three minutes. 
Leading up to the race it had been said that Kal Lewis, a Shelter Islander who had a great freshman year at the University of Iowa (whose track teams were Big 10 champs indoors and out), was aiming to break 33. Had he done so, he would have finished in the top five.
But, given the conditions, Lewis was not inclined to be a world-beater that day. Running smoothly, he finished 27th, in 40:37.49.  
Lewis, who intends to run a sub-4-minute mile next season, and Jason Green, a Shelter Island High School senior, led the second pack, "at a good pace," said Green, who ran the first 5K in 17:34, a little faster than planned, after which he slowed down a bit, though he wound up as Shelter Island's top finisher, in 36:04.50, and was 12th over all.
Jason and his older brother, Joshua, who is transferring from Farmingdale State, are hoping to be teammates on Northern Arizona University's track and cross-country teams next year. They'll have to walk on. Northern Arizona, Green said, "is the top cross-country school in the country."
Joshua Green did not race on Saturday. Had he done so, Jason said, with a smile, "he would have kicked my butt." It should be added that Jason improved his 2019 Shelter Island time "by 10 minutes."
Penelope Greene, a Pierson High School senior who set East Hampton High School records in the 1,500 and 3,000-meter races this spring, and who last week placed third in the county 3,000, bettered her 2019 time by about 2 minutes, finishing 46th in 44:22.84. She topped the 19-and-under female division.
"It was so hot I thought I would die," said Gubbins, who is 61, and whose early-morning workouts have usually been run in 50-degree weather.
"It doesn't get easier," said the 77-year-old Dan Ingegno, as he passed this writer on a small rise that led to the school and the parked cars.
The 5K's top three were Katherine Jonas, 35, in 20:15.1, Brayden Clements, 17, in 20:16.9, and Molly Orlovich, 29, in 20:34.0.