Two East Hampton High School teams, field hockey and boys soccer, capped their regular seasons with wins this week, though while the boys' 3-0 shutout of Islip here on Oct. 18 was the more important, given that it assured Don McGovern's team a berth in the county playoffs, the field hockey finale with Pierson (Sag Harbor) High School, a longtime rival, on Oct. 20 was equally as exciting, though a playoff berth was not hanging in the balance.
Going into the final days of divisional play, Dana Dragone's girls had a chance to finish with a .500 or better record, but lost three in a row, to East Islip, Shoreham-Wading River, and Harborfields, thus eliminating them from playoff contention before their meeting with the Whalers.
And still, when the Bonacker-Whaler field hockey teams lock horns, it's like Michigan-Notre Dame, Amherst-Williams, or Princeton-Yale.
Before the game, Dragone said her team had not played well going down the stretch, but it was tenacious against the Whalers, coming back twice, on goals by Toby Allen and Katie Bruno, to even the score at 2-2 before Delilah Desmond's one-on-one breakaway with two minutes gone in the 7-on-7 overtime period clinched a hard-fought victory that, insofar as East Hampton's 6-8 season went, banished, at least for the moment, any shoulda-coulda-woulda thoughts.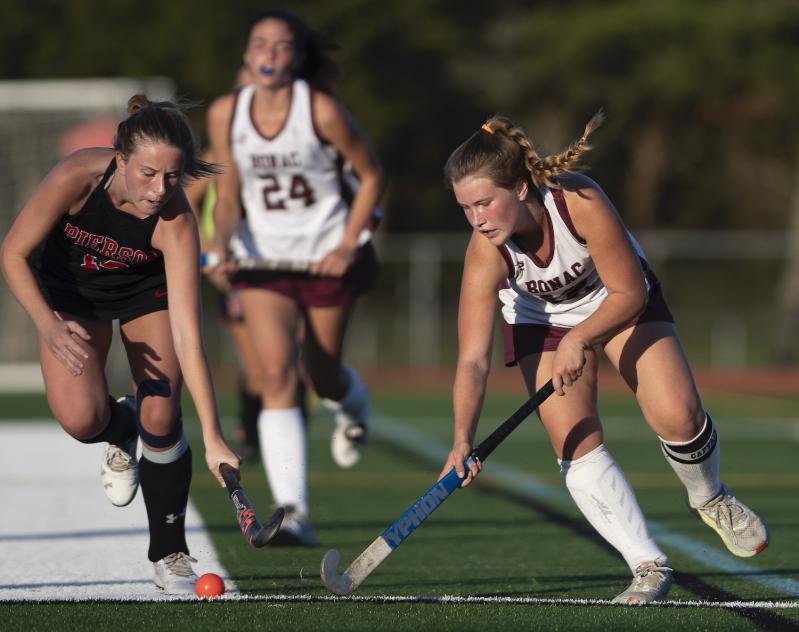 In brief, the season had ended on a triumphant note, and things can only get better for this young squad, anchored by an eighth-grade goalie, Caeleigh Schuster, who apparently set an East Hampton record with 29 saves at Eastport-South Manor on Oct. 7. Only three of its players -- Desmond, Arabelle Kuplins, and Emma Stein -- are to graduate, and the junior varsity's record this fall was 11-2.
As expected, Meredith Spolarich, an all-around athlete who runs track with East Hampton in the spring, was Pierson's chief threat, with her free hits and with her play in the circle.
With East Hampton having come up empty on four penalty corner plays in the early going, Spolarich swept a long shot past Schuster with 4 minutes and 41 seconds left in the second quarter -- a goal that Allen answered two minutes later -- and gave the Sag Harborites the lead again with a blast into the nets that capped a corner play with nine and a half minutes remaining in the third.
Bruno's equalizer, off a free hit, came with nine minutes left in regulation.
As for boys soccer, Don McGovern's team had to win out in home games with Harborfields on Oct. 16 and with Islip on Oct. 18, and did to finish the regular season at 9-5-1 over all.
The finale, with Islip -- a team that had defeated the Bonackers 1-0 the first time around -- was played partly in a light rain, and, despite the portable lights having been turned on, in penumbral shadows.
McGovern's squad, a 3-0 winner that night, was undeterred though, frequently winning one-on-one struggles for possession and -- with Eric Armijos and John Quizhpe leading the way -- attacking relentlessly from the get-go.
Still, the game was scoreless at the halftime break.
Danny Londono got East Hampton on the scoreboard early in the second half, the ball he kicked from about 10 yards out having spun off a defender into the left corner of the visitors' nets, tantalizingly out of the reach of the diving goalie.
In the 54th minute, Quizhpe, who had broken through the defense, made it 2-0, and, a little more than a minute later, Josh Villaplana, who began the season tending goal, buried a waist-high shot from the top of the penalty box.
Londono's and Villaplana's goals were the first they'd scored in their varsity careers, McGovern said later, adding that it had been "a great team effort," one that was wildly celebrated, by players and fans, when the final buzzer sounded.
__ 
Correction: An earlier version of this story incorrectly identified the field hockey player who scored on the breakaway in overtime. She was Delilah Desmond, not Chloe Coleman.