Sunday seemed a perfect day for being outside, and, indeed, that afternoon there were young skaters to be found at the Buckskill Winter Club, and, at East Hampton High School, two dozen soccer players engaged in a half-field pickup game, two runners, and two tennis players, one of whom, Aryan Chugh, was being taught an aggressive spin serve by his father, Punit.
It was a good day in particular for golf — this writer's brother-in-law that morning was headed out to Montauk Downs, which, he said, had been busy the day before — and for tennis, one of the sports that ought to be least affected by the three-week high school athletic shutdown that Section XI imposed Friday.
Claude Okin, who owns 13 sports clubs in the metropolitan area, including Sportime in Amagansett, said Sunday that the Arena was open for the time being for pickleball and for some open play and some skating. All adult futsal (indoor soccer) league play, including the playoffs, had been canceled, however, he said, adding that some restrictions might be imposed on roller hockey players. An alcohol-based shoe-washing station had been put at the entrance, he said, so that the tiled floor could be kept as clean as possible.
"We're taking it day by day — things are changing every day," said Sportime's owner. "Hopefully, if we're smart, we can all get through this together."
On Monday, however, he issued an emailed directive saying that all of his clubs would be closed as of 3 p.m. that day through March 31, at which time "we will evaluate our next steps."
The Sportime clubs, which span Westchester County, New York City, and Long Island, did not have as of Sunday a confirmed coronavirus case among its employees or among its members, he said. About 5 of his 1,000 employees throughout the metro area, he said, were self-quarantined as of that day.
Exercising safely was to be encouraged, Okin added in reply to a question. "Experts say exercise, in a safe way, helps boost the immune system and reduces stress. . . . You can get depressed when you're isolated."
He was bemused, however, to know that "the Jitney has been packed with people coming out here from the city, and they've been going out for drinks and dinner. . . . There's a false sense of security, I think. We'll see."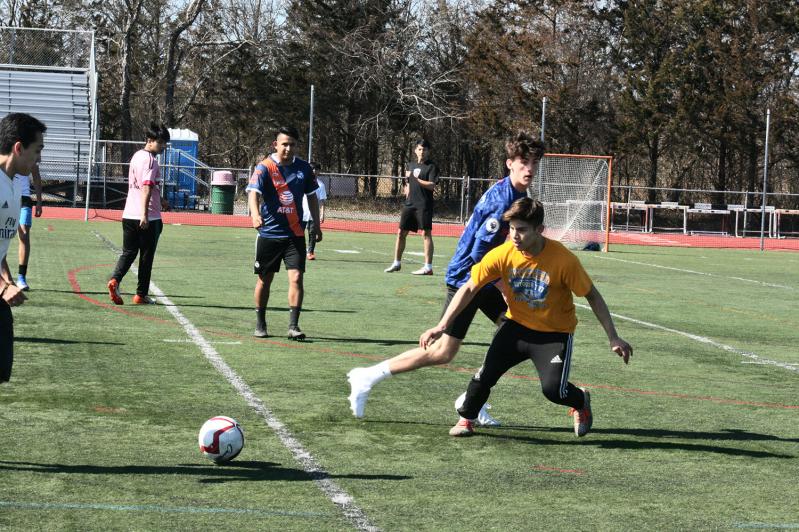 One wonders too how East Hampton High's coaches and players will deal with this period of enforced idleness insofar as team practices and competitions are concerned.
One of them, Yani Cuesta, who coaches East Hampton's girls track team, said she'd asked her charges to do stretching exercises and to run 15 to 30 minutes each day, and to do core and abdominal exercises every other day, so that when they get back following the ban, on April 4, "it won't be like we're starting at Day 1."
Unfortunately, the ban was imposed just before she'd been able to get all her competitors' contact information, Cuesta said. "I have some cellphone numbers, but half the team is new. . . . I'm hoping the captains can reach out. . . . It's hard."
Tom Cohill, who coaches the Y.M.C.A. East Hampton RECenter's youth swim team, the Hurricanes, said the Y state meet, which was to have been held this weekend, and the Y nationals, which were to have been contested in Greensboro, N.C., early next month, had been canceled. The Y and its pool are closed until further notice.
When asked how the hiatus might affect students hoping to win athletic scholarships, Cohill said he was quite sure they would not be adversely affected.
At Buckskill, Doug De Groot said that as the result of being petitioned by parents, he'd kept the skating rink open a week longer than he'd planned — Sunday was to have been the last day — and that he might even extend skating for another week, depending on the demand. Meanwhile, one Har-Tru tennis court, at the rink's far end, and a hardcourt, he said, are open for play.