It being a vacation day, Vinny Alversa, East Hampton High's baseball coach, and Annemarie Cangiolosi Brown, the softball coach, weren't sure if they'd have much of a turnout at their clinics for Little Leaguers in the high school's gym Saturday.
No to worry: Plenty — the age range was 5 through 12 — showed up, about two dozen in each of the four sessions.
"They're getting it," Alversa said when asked to what extent the clinic-takers were absorbing the fundamentals.
Alversa, from 10 a.m. to noon, and Brown, from noon to 2 p.m., had their charges rotate among stations that focused on hitting, fielding, pitching, catching, and on catching fly balls.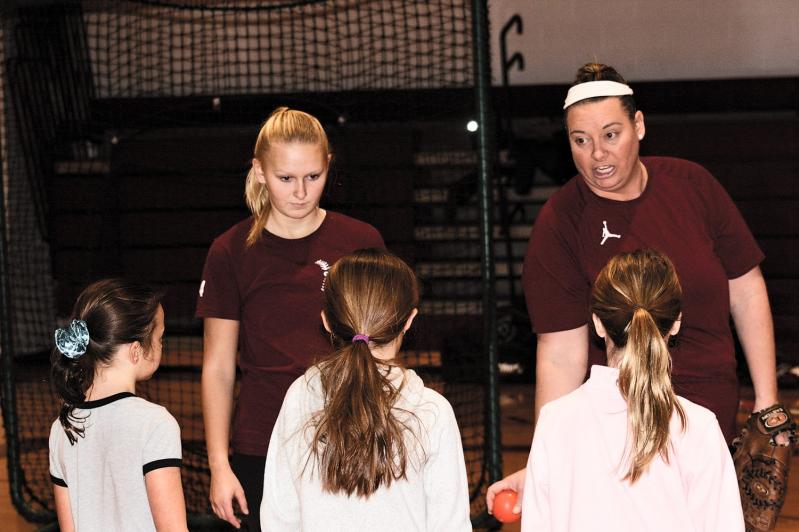 The next day, they were at it again, though outside with their varsity and junior varsity prospects.
Brown said Monday that 28 came out for Sunday's practice session on the varsity softball field. "I still work on the basic skills and drills, but since they're pretty much all playing the year round now, I don't have to take so much time," she said. "They know the fundamentals . . . we've been doing some mini scrimmages."
She's got three young pitchers in Alyssa Brabant, Caroline DiSunno, and Katie Kuneth, "and lots of catchers. . . . We've got a lot of ninth and 10th graders. It's going to be tough to sort them all out, but I'm looking forward to it."
Brown added that she was happy to see kids at the clinics from East Hampton, Springs, and Montauk.
Alversa too is looking forward to the season. "I can't wait," he said during Saturday's session for 10-through-12-year-olds. "I just hope the weather continues as it has been, and that we don't get any snow in March."
Alversa, one of whose clinic-takers was his son Kai, a sixth grader, was helped by fellow coaches Henry Meyer and Andrew Rodriguez, as well as by a number of players, including Tucker Genovesi, Miguel Mizquiri, Tyler Hansen, Hudson Meyer, Daniel Rossano, Hunter Eberhardt, and James Foster, who's at Canterbury Prep now.
For her part, Brown was helped by fellow coaches Melanie Anderson, Nicole Fierro, and John King, and by players in whose number were Emma Silvera, Brabant, DiSunno, Emily Kennedy, and Cameron Hatch. Brown's daughter, Lilah, a fifth grader, helped Silvera at the fly ball station in the early group, and participated in the older group's clinic.
"They're doing a great job," Erick Bock, East Hampton Little League's safety officer, said of Alversa and Brown. There was a time when he was still in the school, he said, when it seemed the enthusiasm for lacrosse, introduced here at the turn of the century, might spell doom for baseball, but now lacrosse was down and baseball was on the upswing, said Bock, whose sons, Tucker, 10, and Kix, 8, are in the Springs School.
In the hallway outside the gym, Lisa Carney and Bock were among those registering kids for Little League, whose opening day at the Pantigo fields is to be April 18. One hundred and nine boys had registered as of that morning, Carney said, and 77 girls.
Alversa, Brown, and their assistants are to evaluate all of Little League's players on March 7, "so that we can even out the teams," Bock said. 
Bock, Brown, Anderson, and Fierro, not to mention Lara DeSanti-Siska, East Hampton Little League's president, are all members of East Hampton's Hall of Fame. Bock, the first six-year varsity competitor here, was the first East Hampton High School student to bowl a perfect game. Brown still holds about a dozen pitching records at the State University at Cortland.
Anderson played in two college softball World Series when at Bloomsburg (Pa.) University. DeSanti-Siska was an all-American field hockey player at Smith College, and Fierro, the C.W. Post women's soccer team's goalie, was its most valuable player in 2012, and was the M.V.P. in all three sports — soccer, basketball, and softball — she played here as a senior.
"Each sport seems to have its time," said Bock. "Vinny and Annemarie have been working extra hard to make sure baseball and softball have their time again — they're definitely deserving."