The last game ever to be played on Bridgehampton High School's bandbox basketball court, where for the past three-quarters of a century the Killer Bees (formerly known as the Bridgies) have played before standing-room-only crowds, was contested by the Shelter Island and Bridgehampton teams on Feb. 5.
There was a certain irony in the matchup inasmuch as Bridgehampton, before the record was broken by Buffalo Traditional in 1982, with 179 points, had held the state's single-game scoring record, with the 155 it had dropped on Shelter Island in the Bee Hive during the 1969-70 season.
Carl Johnson, the recently retired varsity coach, who is to be inducted into the state's Basketball Hall of Fame in Glens Falls on March 22, considered mentioning that fact when called upon to speak by John Marino before the game began, but thought better of it, he said during a conversation at the school the next day.
The late Roger Golden, who nurtured the ball-hawking, fast-break style of play for which Bridgehampton became known, and feared, throughout the state, made no mention of the rout in his meticulous records other than to say that the team's record in league play was 14-0.
(The Golden years spanning 1968 and 1980 were indeed golden, with 150 wins vis-à-vis nine losses in league play and with 194 wins and 43 losses over all.)
Only Mount Vernon, with 11, has more state boys basketball championships than tiny Bridgehampton, which has nine.
Louis O'Neal, who played on Bridgehampton's first two state-championship teams, in 1978 and '79, said during a conversation Monday that he had "never lost in that little gym, never. Hampton Bays took us to three overtimes once, and, in my sophomore year, we played Longwood there, giving up at least six inches or more, and won in overtime. Roger Golden used to say, "If only you guys could grow a little more. . . ."
But the Bridgies would win wherever they played, O'Neal added. "A lot of times in Bridgehampton's gym the ball would go out of bounds, or you'd be stepping out of bounds. On a bigger court there was no problem, none. In fact, we needed more space. We were quicker, for one, and playing in a bigger gym helped us in getting the fast break going — the outlet pass would be like a quarterback to a wide receiver."
The evening, which ended with Shelter Island victorious, by a score of 70-40, had been bittersweet, said Johnson, whose record as a player and coach is unique inasmuch as he's won three state championships as a player (under Golden) and four as a coach, the last time in 2015 with a team led by Charles Manning Jr., a star guard now at Louisiana State University.
Besides Johnson, O'Neal, and Ron White, the Bees' present coach, and White's assistant, Max Spooner, other Bridgehampton basketball alums attending the pregame ceremony that night included Bobby Hopson, Bridgehampton's all-time scoring leader, Ron Gholson, Andre Johnson, Tim Jackson, B.J. Walker, Irving Fayman, C.J. Schenk, and J.P. Harding Jr. "Troy [Bowe] would have been there," said Johnson, "but he had the flu."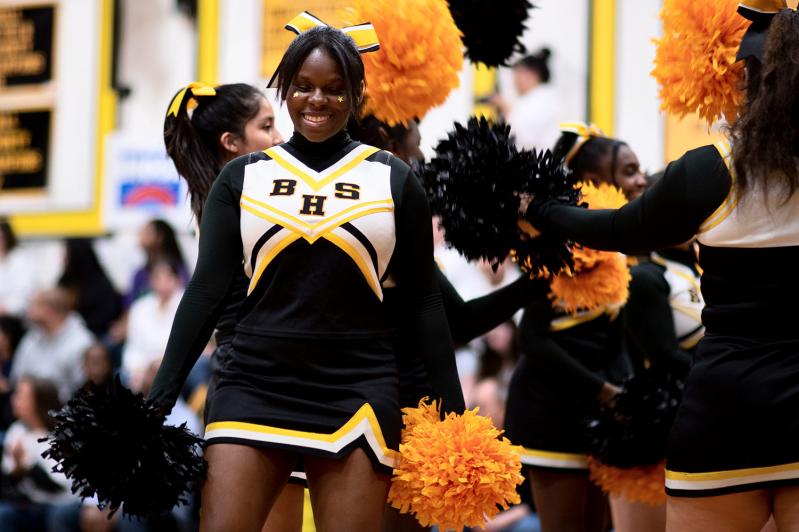 Jackson, who played on the late John Niles's powerhouse teams of the '80s, said he was sorry to see the old gym, which is to house a library and an auditorium in the future, essentially vanish. It ought be on the National Register of Historic Places, he agreed, for "when you think about Bridgehampton you think about that gym."
He had played basketball in it — in gym class with Golden, in recess pickup games, and in junior high and varsity games (having skipped the junior varsity) since he'd been a kindergartner, Jackson said, absent a three-year hiatus in his fourth, fifth, and sixth-grade years in East Hampton.
Like Johnson and O'Neal, Jackson said he grew up idolizing the early 1970s teams on which Gordon Johnson, Jerry Jones, Norman Hopson, and Keith Turner played.
"They were like the Knicks of '73," said Johnson. "They shared the ball . . . five guys would wind up in double figures. Gordon Johnson and Jerry Jones were the best shooters, but they'd finish games with 13 or 14. They played great defense too."
O'Neal agreed that the 1974 team had been the best, along with the '78 and '79 teams, "Carl's team in 1980 [the first public high school team to win a state Federation championship and the first Class D team ever to do so], and Troy's team in 1986."
The 1980 team had defeated previously undefeated Our Saviour Lutheran of New York City in the Federation game, and the '79 team had come close, said O'Neal, losing 65-62 in overtime. "What a lot of people don't know is that we were considered the B representative in that Super 16 tournament that included the Catholic schools, which were winning everything then, and the private schools and public schools. That tournament was for the top 16 schools in the state — they wanted to see how good we were. Roger Golden got a stack of letters afterward. . . . We shoulda won that game. . . ."
While the Killer Bees (so named by Ed Kirkman of The New York Daily News in the early '90s) loved playing in the Bee Hive, said Johnson, "for the opposing teams it wasn't so great. . . . By the time the other team had figured it out, it was long over."
"You couldn't get away with too many dribbles," his interviewer said.
"No more than five."
"Maybe no more than three."
And then there were the backcourt calls, worth, he said, about 10 points a game. "The fans would call them. We'd push their guards back over that white line [about eight feet either side of the midcourt line] after they'd brought the ball up, and you could hear our fans call it before the refs would. 'Backcourt!' And the ball would go over to us."
(On the occasion of the Bees' 1996 state championship in Glens Falls, Brandy Hemby, one of the Bees' cheerleaders, always a confident group, told this writer that the cheerleaders were "definitely worth 10 to 15 points," a claim with which Johnson did not disagree.)
Then there were the corners, where opponents would invariably be double-teamed, and around which, Johnson said, the fathers would mass, pressing up tight against the arced 3-point lines that overlap the court by about a foot at the baselines — a discouraging sight to any visitor hoping for a perimeter shot.
The Bees themselves, he added, pretty much eschewed long-range shooting in the Hive in favor of steals and fast-break layups.
"That little gym, boy — we used to pack it in," said O'Neal. "People would fill the doorways just trying to get a peek. If we had a 3-point line when Wayne Hopson [class of 1980] played, he would have averaged 30 points a game. Coach [Ed] Petrie figured out how to play it, though. I don't think the ball ever hit the floor."
And then, of course, there was the unmatchable din, produced by wall-to-wall spectators pretty much in full cry from the opening tip.
There definitely was a din on Feb. 5, Shelter Island, a good, deep D team of juniors and seniors, having brought along ferryloads of fans from The Rock, not to mention Bridgehampton's legions.
"I thought our kids [Bridgehampton suited up only five] played with a lot of heart," said Johnson. "There was a lot of pressure on them — they're very young, there were three freshmen out there — but they were up for the challenge. They knew it would be tough, but they never gave up, they didn't back down. That's what you want to see — I've been telling them when I see them in the halls to keep going . . . I've seen tremendous improvement since the beginning of the season. . . . A lot of the alumni told me they weren't as bad as they thought, that they saw a lot of potential."
To his credit, Shelter Island's coach, Jay Card Jr., had substituted freely, Johnson said, so as not to run up a score.
Scott Vinski, one of the Bees' freshmen, provided "the icing on the cake . . . we all wanted the last basket in that gym to be made by a Bridgehampton player. Scott's 3 ended the game."
In parting, the veteran coach said he hoped a piece of the old gym's floor could be saved. Perhaps a plaque could be made of the jump circle with its large "B" accompanying a record of the little school that could's outsize accomplishments. Something in the way of Notre Dame's "Play Like a Champion Today" sign that its football players touch on their way out onto the field, or the rock at Clemson — something that would "begin a new tradition."