No one was on the roads in East Hampton Village New Year's Day, perhaps because everyone was at Main Beach.
Crowd estimates for that afternoon's immersion in the chilly ocean — a ritual act that presumably invigorated souls in danger of growing used to the torpor of what seemed to be an overlong holiday break — varied a bit. Were there 400? Three hundred and fifty?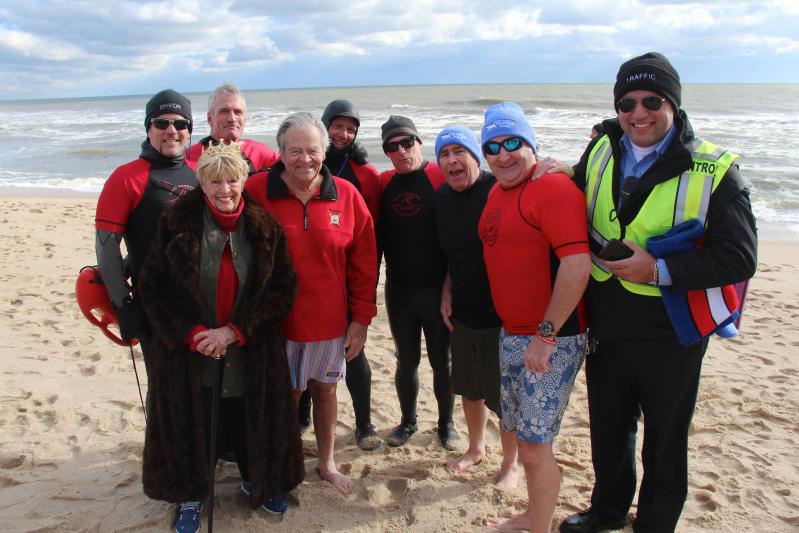 Vicki Littman, chairwoman of the East Hampton Food Pantry, the annual event's beneficiary, said there were 260-plus, a figure that would have come to around 300 had not 35 members of John Ryan's family been reuning in the Poconos. At any rate, there were as usual more spectators than plungers — say 1,000, more or less.
And the prevailing mood was gleeful, all the more so inasmuch as it was a sunny day and not too cold, in line with the relatively balmy string of days with which East Hamptoners had been blessed in December.
Asked what her wish for 2020 was, Sue de Lara, one of the plungers, who's to run in the Los Angeles Marathon in March, said, "Roaring!"
"Boring?"
"Roaring!" she repeated.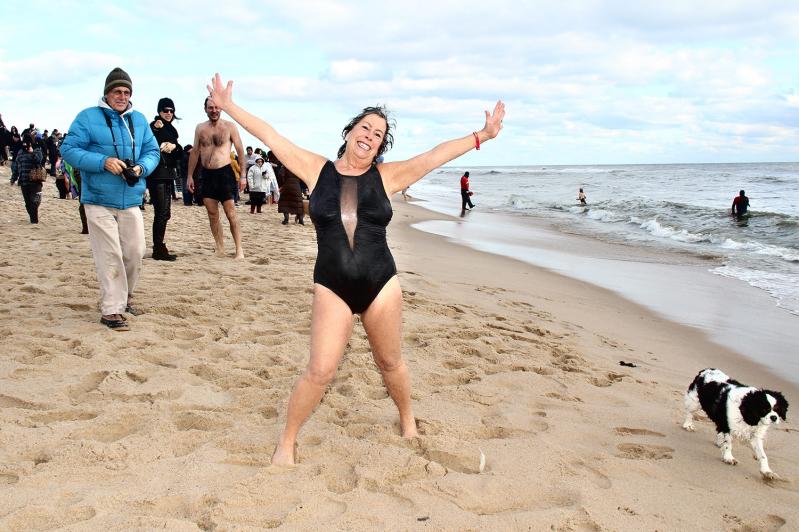 "Ah, as in the 1920s," said her hard-of-hearing inquirer, whose father was of that generation and had once assured him that the Roaring '20s had indeed been fun.
Eugene DePasquale, one of the numerous Ocean Rescue squad members who assured that the mad dash into and out of the surf would be safe, said, when asked the same question, "To love and be loved."
And Santa Claus — also known as Pat Sullivan — said, "Peace."
Sullivan's 5-year-old grandson, Henry, was the youngest of the plunging horde, and Joan Tulp, "just 90," was the eldest.
East Hampton Village's outgoing longtime mayor, Paul F. Rickenbach Jr., was given a congratulatory plaque by Russell Calemmo, the East Hampton Food Pantry's vice chairman, before he went in, thanking him for his generous support of the food pantry and of the plunge, which Littman said was now in its 19th year.
Because of the mayor, who retired recently after 27 years on the job, and his staff, the food pantry had been able to accomplish its mission of feeding the hungry, the plaque said, adding that the recipient, always ready to lend a helping hand, had served the community well.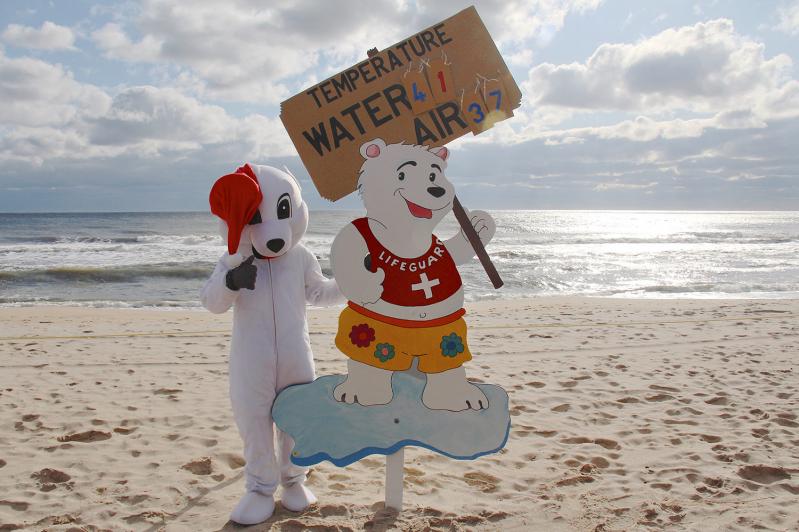 "The need is always great," Littman said, though to the casual observer, she agreed, it might not seem so.
"There are a lot of people out here who rely on us, people who work seasonally, or whose hours are cut back in the winter . . . the food pantries get them through. We help many seniors too who are on fixed incomes."
"We distribute food the year round every Tuesday," she said in answer to a question. "Fresh vegetables, canned vegetables, meat, milk, eggs . . . a full selection that will last for two to three days. Last year we fed over 14,000 individuals, over 300 families per week."
A satellite food pantry, under Aubrey Peterson's direction, had been set up at East Hampton High School, she added. "There are a lot of students in need during the day, kids who wouldn't have breakfast or lunch otherwise. We hope to expand into other schools in the town too."
Besides Littman, Calemmo, and Peterson, others on the East Hampton Food Pantry's board are Sharon Bacon, Darius Narizzano, Carole Brennan, Rob Aldrich, Claude Beudert, Eric Brown, the Rev. Connie Jones, John Kowalenko, Judy Samuelson, and Robert Wooding. Stacy Holmes is the administrative manager, and Maura Gledhill the recording secretary. Brian Lester of Tarbet & Lester is the legal adviser.
In addition to the plunge, which netted $21,000 last year and $13,000 this time, the Kowalenkos, John and Cheryl, of the Art of Eating catering company, have overseen, with Peter Honerkamp, a Ladles of Love fund-raiser, with soups, chili, stews, and bands at the Stephen Talkhouse night spot in Amagansett. Last year's benefit, in March, at which eight bands played, raised more than $15,000, John Kowalenko said.