The Sportime Arena in Amagansett was jumping Saturday, what with pickleball sessions and well-attended field hockey and girls soccer clinics taking place in the daytime and three intensely contested futsal (indoor soccer) finals played out before a large group of spectators that night.
A new team, Club Union Juvenil, contended in two of the finals — against La Tri in the men's 37-plus game, which led the evening off, and versus Napoli F.C. in the men's open nightcap, winning the former, in exciting fashion, and losing the latter. The women's final matched Liga San Bartolo with Scorpion, a team on which Cara Nelson, who coaches East Hampton High's girls soccer team, plays.
Liga S.B. (4-1-1) and Scorpion (3-3-0) were the third and fourth-place finishers among the eight teams in the women's regular season, behind Goonies Girls (5-0-1) and Los Andes (4-0-2). Club Union Juvenil topped the eight-team men's 37-plus league at 4-0-3, with La Tri second at 4-1-2. Napoli was the regular-season 16-team men's open league runner-up, at 4-1-1, but Club Union Juvenil, which finished in a fifth-place tie with East Hampton Market, Club Delta Jr., and Ecua, all at 4-2-0, pulled off some upsets in the playoffs to get to the final night.
Predictably, though, Juvenil's run came to a halt versus Napoli, a team that includes Eddie (Pichi) Juarez and Daniel Martinez in its lineup. These two led F.C. Tuxpan to its first 7-on-7 outdoor league championship in the fall of 2018 — the first time Antonio Chavez's team had won a title in 21 seasons, dating to 2007 — and to a final this fall with Maidstone Market (the victor in a penalty kick shootout).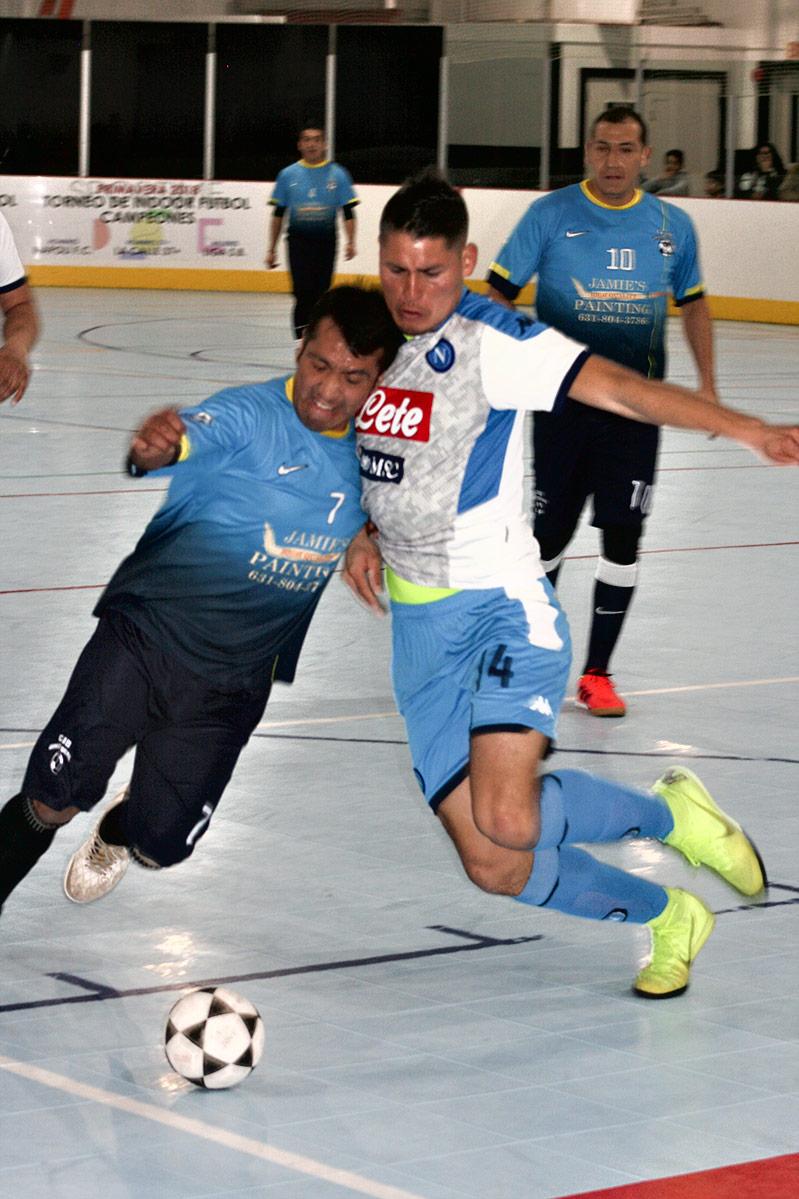 Juvenil couldn't be blamed for getting its hopes up early on, however, as Ismael Penafiel beat Napoli's goalkeeper, Manuel Loja, in close after Andres Mejia, his back to the goal, had
chested down a long pass onto the onrushing Penafiel's feet.
The insurgents had a few minutes to savor that lead, but only a few before Nervo Morales, from midcourt, launched a shot that zipped over the heads of a number of players, including the goalie Luis Bautista, into the upper left corner of Juvenil's cage.
Before the first half was over, Juarez, off a rebound with about three minutes until the break, put Napoli up 2-1, a lead that the fleet-footed forward and his teammates were not to relinquish. They went on to win 5-1.
When play resumed, Juarez scored his second goal of the night, on a breakaway, and Martinez, slipping in at the far post on his knees, pushed in a cross from Cristian Campuanzano for a 4-1 Napoli lead that, albeit with 19 minutes left to play, seemed insurmountable.
Three minutes later, it was Campuanzano's turn, a goal that was to cap the 5-1 victory.
Liga S.B., a team coached by Carlos Barros and Xavi Piedramartel (one of the best players in East Hampton's outdoor and indoor leagues), applied more pressure than Scorpion in the women's final. In the end, Liga S.B. was rewarded for it, even though Scorpion, following a scoreless first half, was the first to draw blood — with 19 minutes left to play — thanks to a crossing pass from Nelson onto the feet of Christiana Dutcher, who from about 10 yards out, beat Liga's goalie, Cyntya Romero, to the far post.
Within seconds, however, Liga S.B.'s Zully Escalante, who had been blasting away chiefly from long range in the first half and for the first six minutes of the second, found the nets, tying the score with 18:25 on the clock.
In the 35th minute (first halves in futsal finals are 20 minutes long, second halves 25), a shot by Jessica Barros beat Jhomayra Nivicela, Scorpion's goalie, into the upper left corner of the cage for a 2-1 lead that was to hold up in the final 10 minutes of play, during which Nivicela was to foil Escalante on at least three occasions.
It was the men's 37-plus final — the first to be played that night, at 8 — that proved to be the most exciting, thanks to an electrifying game-winning goal by Juvenil's Edwin Atariguanga in the final seconds.
Juvenil's players largely kept the ball on the floor rather than go over the top, as was La Tri's wont. With about two minutes left in the first half, Juvenil took a 1-0 lead on a blast in close by Paulo Chuya. And there the matter stood until La Tri's Ruben Murillo tied the count with one minute remaining in regulation, beating Gustavo Gonzales, Juvenil's keeper, in close.
The clock was ticking down when Juvenil was awarded a free kick off to the right of La Tri's goal, which drew the attention of several defenders, leaving Atariguanga free to sneak in at the left side unmarked. The ball quickly made its way to him and, from about 12 yards out, Atariguanga buried it.