East Hampton High School's varsity and junior varsity boys basketball teams were finalists in the Kendall Madison Tip-Off tournament here Saturday. The varsity won, defeating East Islip, a Class AA team, 55-49, and the jayvee lost 58-53, in overtime, to Southampton, despite a 38-point performance by Liam Fowkes, who hit as many 3-pointers, nine, as good 3-point shooting teams do.
Two hard-charging teams, each with strong players coming off the bench, battled in the varsity championship game, though the Bonackers, coached by Dan White, who led 26-21 at the half, proved to be the stronger one that night.
White was especially pleased with the fact that his charges, as might well have been the case last year, did not fritter away a lead in the late going, and that the team's rebounding, a big problem last year, had been strong in Friday and Saturday's games.
"I knew going in that we had strong guards, but I was a little nervous about our big men, Charlie [Condon] and Travis [Wallace], but they were great. They defended well, they moved well. . . . The biggest difference between last year and this is that we've got more size than last year."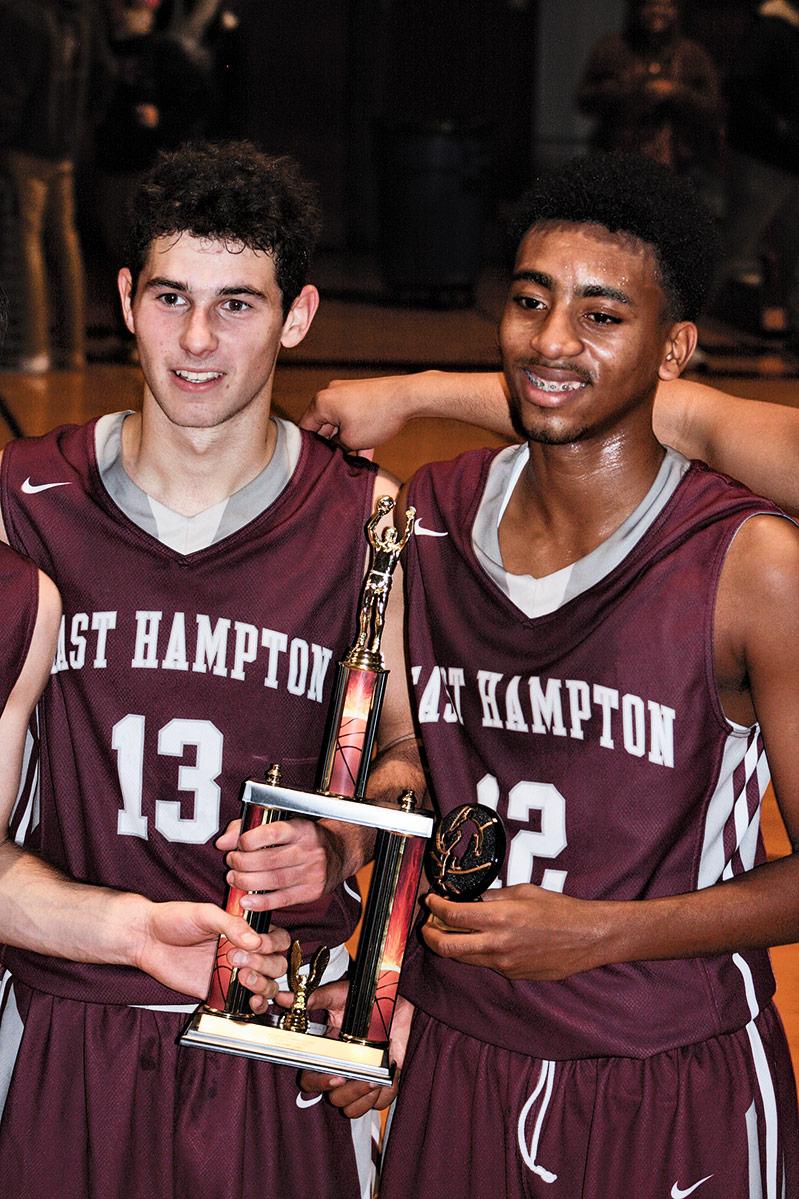 After Emma Hand, an engaging fifth grader, received a big hand for her full-throated rendition of the national anthem, the Redmen began the game with a 3-pointer off the opening tip, but Luke Reese, the freshman guard, replied in kind moments later, and the battle was joined.
A steal and a basket by Logan Gurney put Bonac up 10-5, and a 10-footer by Condon made it 12-5, though East Islip had the edge thereafter, thanks largely to 3-pointers by Joe Cassiano and Christian Harty (two), finishing the quarter up 16-15.
A 3-pointer by Thomas Boyd enabled the Redmen to go up 21-18 with three and a half minutes left until halftime, but East Hampton came right back with a 3 by Liam Leach and Jeremy Vizcaino, the senior point guard — the latter off an inbounds play — to recapture the lead, at 24-21.
Cassiano then stole the ball from Leach and took off down the court, but Leach caught up with him, stripping Cassiano of the ball as he went for a layup. With a minute remaining, Condon, who had been getting a breather, re-entered the fray, and Vizcaino fed him for a 2 that put the Bonackers up by 5 going into the break.
A 3-pointer by Leach when the third period began treated the Bonackers to an 8-point lead, but East Islip, which played with just as much energy at both ends of the court as East Hampton, hung in, narrowing the margin to 32-29 with just under two minutes left in the period. A baseline drive by Vizcaino made it 34-29, and, following a mad scramble, a 2 by Reese
extended the lead to 7. A fast-break layup by Cassiano pared it to 5 before Vizcaino, with the seconds ticking away, launched a Hail Mary from midcourt, a heave that, to everyone's amazement, banked in just as the buzzer sounded.
That, needless to say, was the shot of the night.
Play was feverish in the fourth. After Gurney and Leach each had hit from long range, successive 3s by Boyd kept pace. Following an East Hampton timeout with 4:27 remaining, Condon banked a shot in for 47-37, after which, following two misses at the other end, Joshua Santacroce converted, and Vizcaino was called for a charge as he dashed for the basket.
A subsequent 3-pointer by Santacroce made it a 5-point game again, but Gurney, fed behind the arc by Reese, knocked it back up to 8.
East Islip was pressing full-out now, and the foul calls were mounting. With the score 51-43, Reese turned the ball over. Steven Stassi, a solid East Islip forward, then drew a foul from Condon as he put a shot up inside. Wallace came in for Condon.
White shouted out, "Hit the boards, please," as Stassi stood at the foul line. Stassi's subsequent free throw capped the 3-point play, narrowing East Hampton's lead to 5 yet again with a minute left. Leach inbounded the ball, which made its way to Wallace for a 2 underneath.
East Hampton was still up by 5 when White, as Gurney was being smothered by several defenders, called a timeout with 30 seconds left.
When play resumed, Reese was knocked back 10 feet as the desperate Redmen, who'd come up with the ball on the inbounds play, tore down the court for a layup that didn't drop. With 10.8 seconds left, Wallace, who appeared to have cleanly blocked Stassi, was called for a foul.
Stassi made the first free throw, but missed the second. Gurney rebounded, and, with 5.3 seconds remaining, Vizcaino was fouled by Cassiano. East Hampton's senior guard, who was to finish with 14 points, and who was to
receive a tournament sportsmanship award soon after, made both foul shots for the 55-49 final.
"We battled. We withstood their pressure. We're a young team, but they didn't bully us," White said following the celebrating "Our kids were tough, they never let it get to a one-possession game. . . . East Islip beat Southampton to get here, and I'm sure they're aiming for the playoffs, so, yes, I'm happy with the way we played. Hopefully, we'll continue moving in the right direction."
Leach, with 15 points, led East Hampton in scoring. Cassiano had 15 for East Islip. Boyd, its sportsmanship winner, had 12.
Southampton trounced Greenport 108-40 in the tournament's consolation game.