The top two teams in the Wednesday evening 7-on-7 men's soccer league faced off in the league's playoff final at East Hampton's Herrick Park on Nov. 20, with Maidstone Market winning its 15th championship trophy since entering the league in 2008.
F.C. Tuxpan, which won that trophy last fall, played the Market toe-to-toe in regulation, which ended in a 1-1 tie, but Maidstone's shooters, Alex Mesa, Gehider Garcia, Jony Cortez, and Faustino Meza, proved to be far more adept than Tuxpan's in penalty kicks.
Only Donald Martinez put one by Maidstone's goalie, Mesa, in the deciding series, during which his teammates Eddy (Pichi) Juarez and Christian Neira banged shots off the left post, Juarez's hitting high and Camilo's zipping low, prompting Mesa to leap out of the cage and pump a fist each time.
All told, Tuxpan put more shots on goal that night than did Maidstone, though Mesa was fully up to the task.
The Market, with Gehider Garcia, the league's most valuable player, as its center forward, and with the alert Xavi Piedramartel often feeding him from the back row, drew first blood when with about five minutes left until the halftime break a free kick from midfield by Piedramartel alighted on the on-rushing Faustino Meza's foot at the right side of Tuxpan's cage. Pedro Agudelo, Tuxpan's goalie — the league's second-ranked one — dived toward Meza, but wound up empty-handed as Meza evaded him and deposited a soft shot into the nets.
Having pretty much blunted Tuxpan's attack, Maidstone went into the break up 1-0.
When the second half began, Juarez stole the ball from a Maidstone defender, John Romero Jr., who then took him down, a foul that resulted in a free kick from about 20 yards out. Juarez then sent a pass high toward the left of the goal, where Brandon Quivdero awaited, but it was a little too long, and though Quivdero headed it back into play, he had been out of bounds when he did so.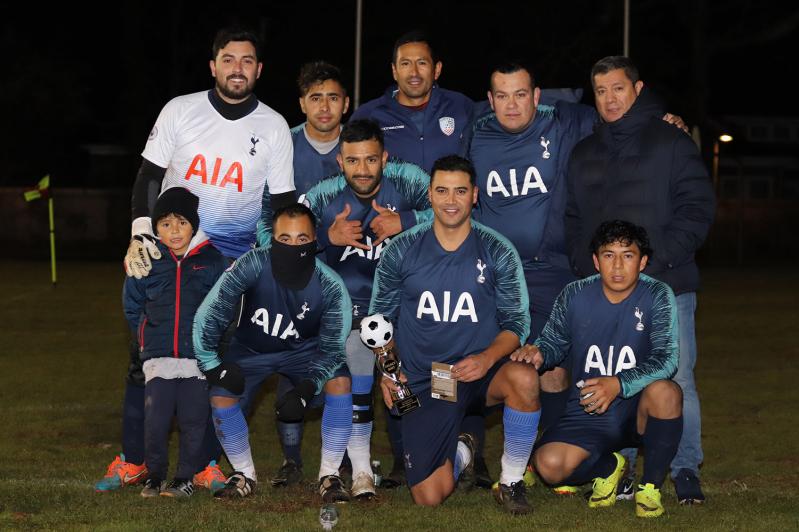 With Luis Barrera having been sidelined for two minutes after tripping Martinez outside the box, Juarez had a chance to even the score, but Mesa came up with the save, just before Barrera returned to action.
Again Tuxpan came up short when in the 46th minute a cross from Martinez found Neira unmarked close in at the right of Maidstone's cage, but just before the pass arrived, Neira, who'd pulled up short, fell back in a heap, the ball passing by unclaimed.
Finally, Tuxpan in the 48th minute got on the scoreboard as Martinez, who finished third, behind Garcia and Sag Harbor United's Jeremias Simon, in the league's "golden boot" competition, converted the rebound of a hard shot that had been taken by Quivdero, evening the count at 1-1.
The teams continued to quickly counter each other's attacks thereafter, but ultimately to no avail. Juarez had a good chance to put the game away in the last moments of regulation, but his bazooka of a shot zipped wide of the far post.
No overtime periods ensued, presumably because of the cold: The teams went right to penalty kicks, which were dominated, as aforesaid, by John Romero Sr.'s perennial playoff champions.
Only three teams (F.C. Tuxpan in 2018, Hampton F.C.-Bill Miller in 2015, and Tortorella Pools in 2014) other than Maidstone Market have won fall championships since 2008. Maidstone's spring record, with six championships since 2008, is slightly less superlative.
Garcia has been with Maidstone in all of them, as has Mesa.
The Market won its semifinal showdown with the East Hampton Soccer Club in similar fashion, prevailing 4-2 in penalty kicks following a 1-1 tie in regulation.