The numbers are good in all of East Hampton High School's winter sports, whose seasons were to have begun this week, with girls basketball and boys basketball being the first to go.
But first it should be noted that East Hampton's girls cross-country team placed seventh this past weekend in the state's Class B meet on frozen ground in Plattsburgh, and finished as the 26th-ranked among 40 in the state.
The course, because of seven inches of snow and ice, had to be shortened from 3.1 miles to 2.8, Kevin Barry, East Hampton's boys coach, said, adding that "all six of our girls ran awesome."
Ava Engstrom led the way in 18 minutes and 53 seconds, followed by Dylan Cashin (19:08), Bella Tarbet (19:20), Ryleigh O'Donnell (19:52), Emma Hren (20:01), and Mimi Fowkes (25:55).
The girls, who the week before won the school's first-ever county championship, "created the most memorable season for myself and them," the coach, Diane O'Donnell, said in reporting the good news. And further good news lies in the fact that Eng­strom, Tarbet, Hren, Cashin, and O'Donnell are to return next season.
As for the boys, Barry said Evan Masi, his sophomore number-one, made all-state by placing 23rd in the boys Class B race in 15:23.2. Barry added that Shelter Island's Kal Lewis three-peated as the state Class D champion, "coming from behind in dramatic fashion in the final few hundred meters to beat Colton Kempney of Beaver River 14:28.1 to 14:29.3. It was by far the most exciting race of the day."
Pierson's Penelope Greene, who is to run winter and spring track for East Hampton, placed seventh, in 18:09 — and thus earned a medal and a place on the podium — in the girls Class D race.
As for the winter season, the numbers, as aforesaid, are good, wrestling, which has wound up with skeleton crews in each of the past two seasons, being most notable in that regard. Jim Stewart, who returned to coaching last year when Anthony Piscitello took a job in the city, hasn't seen as many — there are 42, "with more to come" — turn out for the sport "in a very long while."
Aside from Santi Maya and Caleb Peralta, and Kevin Bunce Jr., who is rehabbing a broken collarbone, there weren't many with experience, Stewart said, but it would be fun teaching them — with Ethan Mitchell, Westhampton Beach's former junior high coach, who is here now — and watching them grow.
There would be no Sprig Gardner tournament this year, Stewart said. "It's just a one-year break," Joe Vas, East Hampton's athletic director, said during a conversation Tuesday morning. "The other coaches, who knew we were struggling, made other plans, so we didn't get the participation that we've had in former years. The Sprig will be back next year."
Dan White, who coaches East Hampton's boys basketball team, seems to have the ball-handlers, ball-hawkers, and big men required for a solid team. "Now it's up to me," he said during a telephone conversation over the weekend, "to put them in positions where they can succeed."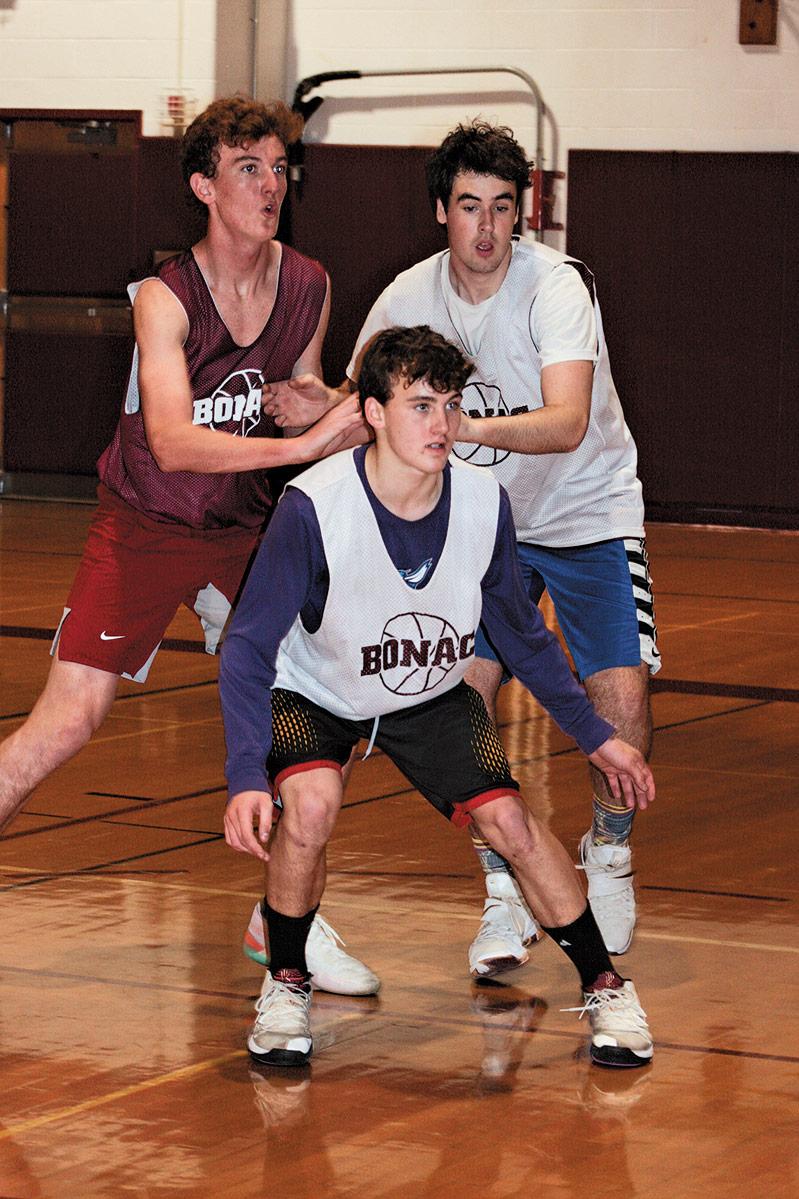 Jeremy Vizcaino, Luke Reese, seen in the foreground in the above photo, Charlie Condon (who is 6-foot-6), at left above, Logan Gurney, and Liam Leach came immediately to mind when White was asked for a tentative starting lineup, but he's got other promising players too, Owen Ruddy, Topher Cullen, Frank Bellucci, Nic Esquivel, and Jack Dickinson among them.
East Hampton is to play host to the Kendall Madison tournament the day after Thanksgiving. Southampton is to play East Islip in the first game on Friday, Nov. 29, at 4:30 p.m., with Greenport and East Hampton to follow at 6:30. The consolation game, at 4:30, and the championship game, at 6:30, are to be played Saturday, Nov. 30.
Junior varsity games, at 12:30 and 2:30, are to be played on Nov. 29, and a championship game the next day, at 2:30.
White's charges are to scrimmage at Hampton Bays this afternoon.
If greater numbers are an indication, girls basketball, whose coach is Krista Brooks, may finally be turning around, or may be about to turn around. The athletic director said there were 20 or so on the varsity and about the same number on the jayvee, which has a new coach in Nick Taylor. The Varsity was to have scrimmaged at Pierson Tuesday.
Ditto boys and girls winter track, which, according to one of the coaches, Mike Buquicchio, have been practicing this past week, outside and inside.