The Wednesday evening 7-on-7 men's soccer semifinals on Nov. 6 were played in frigid weather, though the games were hotly contested, with fourth-seeded Tortorella facing top-seeded F.C. Tuxpan and the third seed, East Hampton Soccer Club, playing second-seeded Maidstone Market.
Tuxpan, led by its tall attackmen, Eddy Juarez and Donald Martinez, had defeated Tortorella twice during the regular season, and did so again on Nov. 6, by a score of 4-0. Maidstone and the Soccer Club had split in the regular season, and, as expected, that game proved to be closer, with the Market winning out in penalty kicks that followed a 1-1 tie in regulation.
Tuxpan and Tortorella, whose lineup was minus David Rodriguez and Eddy Lopez, each of whom were sidelined by knee injuries early in the fall, went first. A cross by Martinez five minutes into the contest found Cristian Compuzano unmarked near the right post, and Compuzano, who was to score three goals that night, easily put it by the Tortorella's goalie, Chris Caiazza.
Tortorella's Cristian Gonzalez almost got his team even when, with nine minutes to go in the first half, his hard shot bounced off the crossbar of Tuxpan's goal. Less than a minute later, Compuzano, having broken free from his defender, Manuel Ramos, scored again from point-blank range, sending his team into halftime up 2-0.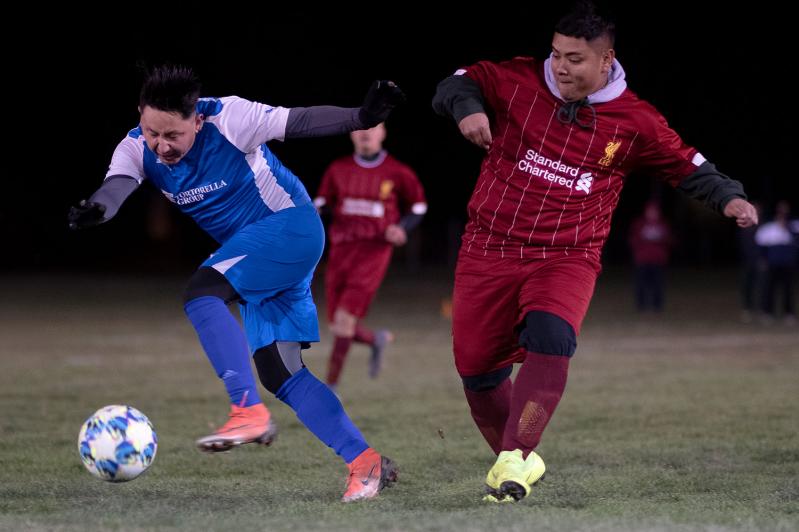 Gonzalez again had a chance to score when play began in the second half, but Tuxpan's goalie, Pedro Agudelo, made the save. Meanwhile, Compuzano came up big again when in the 38th minute he netted the rebound of a shot taken by Tuxpan defender Adrian Mora from the left side after one of his numerous steals. Antonio Chavez, the team's manager, readily agreed that it was Compuzano's best game — his three goals that night equaling the number he'd scored in the entire regular season.
With seven and a half minutes to play, Martinez capped a Tuxpan attack that saw the ball go from Juarez to Compuzano to him, at the right side of the cage.
The East Hampton Soccer Club-Maidstone nightcap was much closer. Each side had its chances in the first half, though it was to wind up scoreless.
Maidstone, according to one count, outshot the Soccer Club 7-2 in the first 30 minutes of play, but the latter team's goalie, Jorge Lopez, was fully up to the task. Donte Donegal, of E.H.S.C., actually came the closest to scoring in that frame, his ground hugger passing just wide of Maidstone's far post nine seconds before the break.
A "hands" call in the box on one of the Soccer Club's defenders presented the Market with a big chance early in the second half, but Lopez made a diving save of his opposite number Alex Mesa's shin-high blast. Mesa pounced on the rebound, but misfired wide right.
Two minutes later, Donegal broke the ice, one-touching into Maidstone's nets a hip-high cross from George Naula, who'd taken the free kick that was awarded after Antonio Padilla decked Justin Carpio, a speedy E.H.S.C. forward, near the right sideline.
Maidstone, with Gehider Garcia, Jony Cortez, Xavi Piedramartel, Padilla, and John Romero Jr. in its lineup, applied tons of pressure after that. Lopez held off the onslaught until Cortez, with about 14 minutes to play, converted a free kick taken by Padilla in pretty much the same manner as Donegal had done earlier.
Carpio could have put an end to it before the end of regulation, but his bid
with 12 seconds remaining sailed just over Maidstone's crossbar.
Presumably because of the cold, the game went right to a penalty kick shootout, which Maidstone won 4-2, with Mesa, Garcia, Cortez, and Piedramartel in turn converting their kicks, and with Naula and Donegal converting two of the four that the Soccer Club took.
The Tuxpan-Maidstone final was to have been played at Herrick last night. Maidstone is the defending champion, having routed the Soccer Club (formerly East Hampton Soccer Fever) 10-2 in July's playoff final. F.C. Tuxpan won last fall's final, defeating Tortorella Pools 7-2.