Grace Brosnan, one of two sophomore starters on Pierson High School's girls volleyball team — the other being the setter, Sofia Mancino — said following the Whalers' impressive Long Island Class C championship 3-1 win over Oyster Bay Saturday that she and her teammates often get off to slow starts before getting into the zone.
That's what happened at Hauppauge High School that night. Anything that could go wrong did in that night's first set, after Donna Fischer's charges, with Mancino leading off at the service line, had jumped out to a 5-1 lead.
Then things began to go south: Cox was called for a foot fault, Gylia Dryden, the 6-foot-1-inch middle blocker, who had not played in Pierson's county championship win over Mattituck because of concussion protocol, drove a kill attempt wide, Mancino was called for a double hit, Cox misfired on two successive kill attempts from midcourt, Dryden hit long, and Brosnan erred at the net before the Lady Baymen's Kaitlyn Kelly, finally, served one over the endline.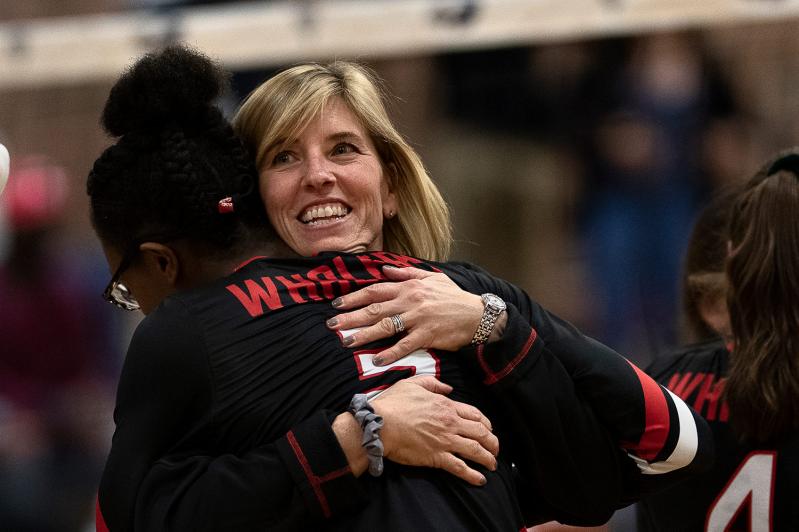 The Nassau County champs continued to pull away, upping their lead to 18-8 before the Whalers, with Dryden beginning to make her presence known at the middle of the net, began to wake up. At 19-14, Oyster Bay's coach, Jen Iles, called a timeout, an encouraging sign in the eyes of Pierson's many fans, who filled the bleacher section at the left of the court.
But it was too late as far as that set went: A long serve by Dryden treated Oyster Bay to a 23-16 lead, after which Mikayla Gardon served an ace to Brosnan, and Sam Cox, whose kill percentage is second in the state, netted a kill attempt.
"Yes, it was a little shaky in the beginning," Fischer acknowledged with a smile as giddy players and delighted Whaler fans of all ages celebrated on the court following the 16-25, 25-15, 25-11, 25-20 triumph.
And Dryden, who was to finish, according to one count, with seven blocks and 16 kills from her position at the middle of the net, had been a big part of it. "She was the tallest, strongest player out there," said Fischer, agreeing that Oyster Bay had no answer for her.
Nor did Oyster Bay have an answer for Cox, who, after a slow start, had six kills in the second set, 10 in the third, and 11 in the fourth to finish with 31.
Cox, who co-captains the team with Olivia Cassone, a fellow senior and the Whalers' libero, said afterward that she had told her teammates in the huddle preceding the second set that they'd have to pick it up, that nothing would be given to them, that they would have to take it.
Which they did. Dryden, with three blocks and three resounding kills to the floor, began looming ever larger at the net in the second set, one in which Cox, Dryden, and Lilith Bastek-Ochoa (two) served aces and in which Cox had six kills and Brosnan, who'd moved in recent days from the middle to outside hitter, three.
Cox, Dryden, and Brosnan continued to swing away with great success in the third and fourth sets, which, as aforesaid, Pierson won 25-11 and 25-20.
With Brosnan serving what proved to be the final point of the third, Mancino, the Whalers' third player to hit the ball, kept the point alive with a diving one-handed dig that floated over the net, after which a booming kill by Cox ended it.
It looked then as if the Whalers would simply sail through the fourth, but their Nassau peers put up a good fight, especially Bridget Zahradnik, their best player, Gardon, and Faith Cammarata, a sub whose hard serves treated the Lady Baymen to a 4-point run that put them up 9-5 in the early going.
A kill by Cox to the endline that Oyster Bay's libero, Kristen Aasheim, couldn't reach tied the score at 18-18, after which Dryden, with a block and three kills, one of them a nifty push to the endline, and Cox, who served out the final 4 points, took the Whalers home. When Brosnan's soft tip through two would-be blockers found the floor, for 25-20, the bleachers emptied of Pierson's fans, who'd been stomping and chanting, and the love fest began.
"We're hoping to go far . . . far . . . very far," Mancino said amidst all the hugging and congratulating when asked about this weekend's state tourney at Glens Falls, in which the Whalers are to be matched Saturday against Voorheesville, Millbrook, and Portville, the defending champion, in pool play, with the top two remaining for Sunday's final at noon.