With money riding on many of the shots, three of the South Fork Country Club's pros and the club's five-time champion and course record holder, Zach Grossman, paired off Friday in 10 holes of match play that swelled East Hampton's food pantry larders by more than $115,000.
Russell J. Calemmo, the East Hampton Food Pantry's vice chairman, said afterward that he was overwhelmed by the Amagansett club's generosity. The money raised by the live-streamed event was more than twice what the organization's fund-raisers have reaped annually, he said.
"I'm beyond pleased," said Calemmo. "You have no idea what the need has been here. The lines of cars have been stretching from our building in the back of Town Hall out to the highway. . . . I'd estimate our client base has grown during this pandemic 35 to 45 percent."
The donations, he added, would be duly divided among food pantries in East Hampton, Springs, and Amagansett.
The club's board, inspired by recent matches played by touring pros, had wanted to raise money for the food pantries, Alex Walter, its vice president, said, adding that "Tim Garvin, our head pro, put the concept together."
In an email after the match, which he and David Einstein lost to Grossman and Steve Luerssen -- Einstein and Luerssen being Garvin's assistants -- South Fork's head professional gave credit also to Tom DeLitto, "our treasurer, and Maddy Stoller, our house chair. We raised that money in two weeks, and George Stephanopoulos helped tremendously."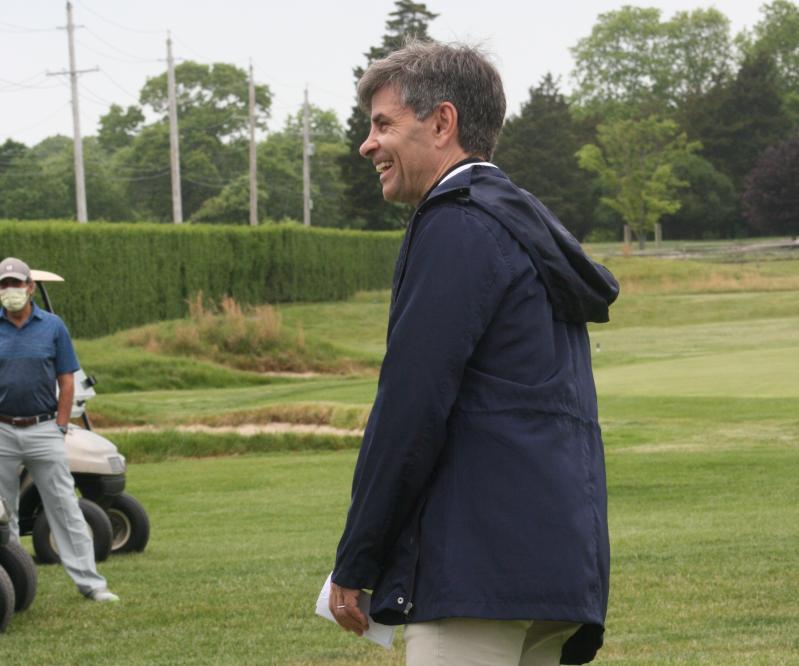 Stephanopoulos, the ABC News anchor and former President Bill Clinton's communications director and policy adviser, was the match's referee and its announcer. Spectators were few that day, though club members could follow it on Facebook.
Played on the back nine, the teams began the match at the 10th hole, a 527-yard par 5 to the east of the clubhouse, which has been closed during the pandemic. Of the three, only Garvin hit the fairway, but Grossman and Luerssen, each of whom landed in the first cut of the rough off to the right, recovered well -- despite the fact that this writer had to be told by his driver and golf expert, John Kernell, not to speak as they were swinging. Grossman two-putted for a birdie that put Luerssen and him up one.
The second hole was halved, and, on the third, Grossman, who'd hit a 295-yard drive into the wind, birdied again after hitting the flag with his second shot. 
Grossman fetched the backside of the green with his drive at the 286-yard, par-4 fourth hole, and two-putted again for yet another birdie, his third birdie in the first four holes.
That drive and those birdies had swelled the food pantry pot, said Kernell, noting that incentives were proffered that day for driving the green on par 4s, birdies, eagles, and hitting greens in regulation.   
Garvin and Einstein were to get back into contention two holes later by virtue of the shot of the day, a birdie chip out of the rough off the fringe of the sixth (15th) hole's green by Einstein that pared Grossman and Luerssen's lead to 2-up with four to play.
The leaders held on, however, halving the seventh, a 531-yard par 5, and the eighth, a 354-yard par 4, before a par putt by Luerssen at the ninth (18th) hole, a 223-yard par 3, clinched it.
"Everybody in the club knows that if you par that 18th hole you've done well," Grossman said Monday morning.
"You've got the horse farm on your right and ocean views -- it's a beautiful par 3, and, at 223 yards, it's long for a par 3. A par is like a birdie there."
Grossman led East Hampton High's team to a Long Island championship in 2011, after which he played four years at Skidmore before joining his father as a high-end home builder.
As for the event, he said, "I was so proud to be a part of that, and to have created something our membership could get behind."
There hadn't been just one Sugar Daddy, he said. "A lot of our members participated." South Fork has around 360 members, according to Walter. 
Grossman and Luerssen's good spirits remained undampened even after an ice water bucket bath administered by Tim Brenneman at the post-match ceremony, where Calemmo was presented with a blown-up version of the check that, as he said later, had blown him away. 
"Zach was definitely the star of the show," Walter said, adding that a foreshortened finishing hole was contested nevertheless because wagers were still in play. There had, he said, been fewer than a dozen carts in the entourage "because of the need for social distancing."
As for the event, South Fork's vice president said, "It was terrific. . . . The food pantries have been in dire need. Well, they're in need even in normal times, but now, with so many people losing their jobs, they're even more so. It was a perfect fit."