"Keep the tip up," I said in a higher-than-normal pitch to my fishing partner, about the lower-than-normal altitude of his fishing rod on Sunday morning. The fish, making quick, energetic bursts of speed to the left and right, did not want to give up. The fight was on.
We were drifting along at the northernmost tip of Jessup's Neck, by the entrance to Little Peconic Bay. The tide was going out on the southerly breeze. With the rip built up, and terns and sea gulls flying about, the waters looked "fishy," as some would say.
"Keep the line tight," I added. "Don't reel too fast." The commotion aboard the stern deck was caused by an over-feisty three-pound bluefish. The yellow-eyed blue was battling mightily on the monofilament line, which was adorned at its end with a shiny four-ounce diamond jig. 
The simple yet timeless lure perfectly mimicked the thousands of small silverside spearing that gathered near the surface of the turbulent rip that had now formed at buoy 17. It was the perfect foil to catch our quarry. And the fish were hungry.
"Lead him over to me," I said to my partner, who had been tussling with the blue for two minutes. "I will grab the leader and swing her in." With the fish finally on deck, the battle was over. It would now be quickly bled and iced down. We easily retained our daily limit of three fish per person.
A few hours later, my companion would brine the fillets in a recipe of water, salt, sugar, and other secret spices, before drying it for several hours and then gently smoking it in the sweet aroma of fruit wood that was started by hardwood charcoal. 
Such natural wood burns clean and pure, with nary a scent of foreign chemicals. For smoked fish connoisseurs, it amounts to the perfect combination to enjoy the Omega-3 oil-laden meat of the muscular bluefish.
A day later, its moist smoky flesh would be savored over a toasted bagel, or even better, an onion-laced bialy, adorned with a mere schmear of cream cheese. Few breakfast foods can rival such a treasured treat.
Bluefish are mightily maligned in many quarters, but not in my household. Though they're largely underappreciated, the tide seems to be turning, and prices at the market have also crept upward, reflecting their newfound popularity. They remain one of the more reasonably priced fish in our local markets. 
"Bluefish are a real treat to eat and are one of the toughest fighting fish around," said Harvey Bennett at the Tackle Shop in Amagansett, talking about the fish that can mature to over 20 pounds in weight. "My family has caught them forever."  
Bennett, now of the 13th generation of an East End fishing clan, knows what's delicious in our local waters.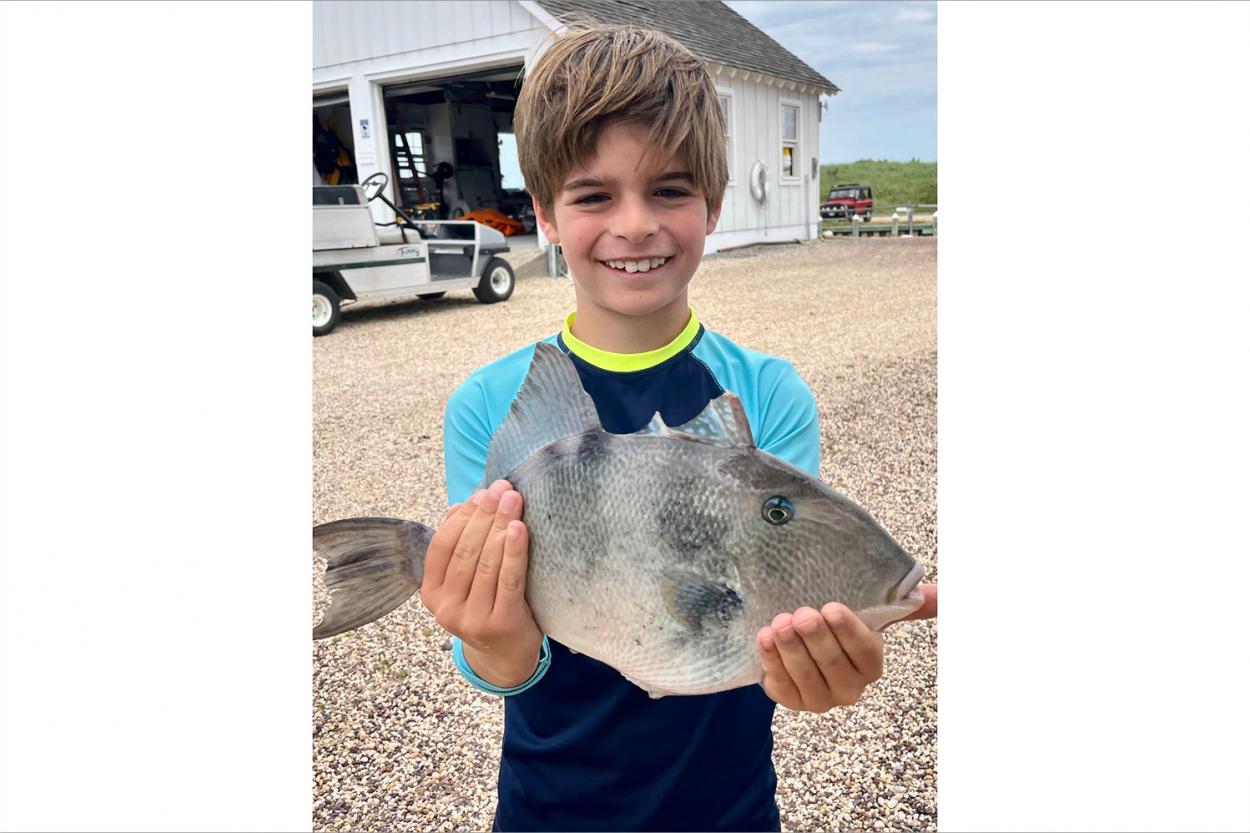 As for other species now found locally, the action has been good for many fish, including striped bass, fluke, porgy, sea bass, and blowfish, as well as tuna and several different species of shark. 
"Fluking is good at New Grounds, Frisbees, and Cartwright," said Bennett, speaking of deep-water locations south and west of the Montauk Lighthouse. "Tide does not matter, so long as it's moving." Plenty of four-to-eight-pound fluke are being landed, he said, and strips of squid, spearing, and live snappers have been the hot bait of late.
Closer to shore, Bennett added that sea bass and porgies remain thick at Montauk, as well as at the Navy Dock in Fort Pond Bay, where small snappers have begun to mix in. He also noted that one of his customers had success with fluke up to seven pounds near Cartwright Shoals at the southernmost tip of Gardiner's Island. "He did well over the weekend, and said he was the only boat fishing, too."
"Fluking has finally picked up nicely on the east side of Gardiner's Island and near the Ruins," confirmed Sebastian Gorgone at Mrs. Sam's Bait and Tackle in East Hampton. "Small blues have been caught along the ocean surf line, while porgies and blowfish remain thick in and around Three Mile Harbor and other nearby locales." 
Gorgone continued to be enthused by the bountiful catches of blue-claw crabs that are crawling about in just about every creek, cove, and harbor. "It's been a great summer for the crabs so far." 
Offshore anglers have found that the tuna bite southeast of Block Island continues to be good, with some wahoo and mahi-mahi in the mix. The area near the Coimbra wreck has seen a few tuna for those who stick it out, along with a sprinkling of mahi-mahi that enjoy residing under the lobster pot buoys. 
If it's sharks you're after, there is no shortage. Just look for some bunker, mackerel, or hickory shad schools, and you should have no problem hooking up.