It happens quite a bit. Rarely a week goes by when I don't receive a question from friends, and even some readers of this column, on what to look for when buying fish. It's really a rather basic question to answer. But there are a few catches (no pun intended).
When I traveled in my work to various countries around the world, as time allowed I made it a practice to check out the local retail fish markets (bait and tackle shops were also on my sightseeing list). No matter the city, I always found it interesting to see the different varieties of fish and shellfish iced down for sale, as it provided me with an inside look at the aquatic tastes of the local culture. Once a fish head, always a fish head. 
In purchasing fish, much comes down to common sense. It's always prudent to buy fish that are caught in local waters. Such items are much more likely to be fresher than those shipped in from other ports of call in the U.S., or from well beyond our borders. Freshness always comes first. 
However, in my travels I did notice a significant difference in the way fish were presented for sale outside the U.S. No matter the city, or continent for that matter, just about every fish on display was laid out in its whole form from head to tail. It was a rare day indeed to see fish fillets of any kind offered for purchase. For the most part, it's curiously a different story here in the U.S., where fillets rule.
"For sure, many customers that come into my store from Europe, Latin America, or Asia prefer to buy their fish whole," agreed Colin Mather, the longtime owner of the Seafood Shop in Wainscott. "It's just something that is more ingrained in those countries and cultures." To meet that demand, Mather dedicates one of his display cases to iced-down whole fish.
Overseas, people remain conditioned to the centuries-old way of visually inspecting the fish before their very own eyes to determine if it is in fact truly fresh. The basic checklist includes that the eyes of the fish are clear, its scales are solid and intact, its gills are bright red in color, and, most significantly, that the fish does not smell fishy. The old eye and smell test is still a pretty darn good judge of quality.
Note that there is nothing wrong with purchasing filleted fish. I do it all the time. It's convenient and there is never a concern about a stray bone or two. And the more local it is, the better too. 
But I do have a concern with fish fillets or steaks that are labeled fresh that have traveled an extensive distance for sale. The other day, I made a quick stop at a major unnamed wholesale club where I saw a display of tuna loins. Taking a closer inspection, the label on the package noted that the fish (there was no mention of what type of tuna it was -- yellowfin, albacore, bluefin, etc.) was landed in Samoa, an island nearly 8,000 miles away in the South Pacific. 
It was impossible to tell how fresh that chunk of tuna was. While the color of the fish was of a uniformed pinkish hue, the expiration date on the label claimed it was good to sell for another week. From its appearance, I could easily assume that the tuna was treated with carbon monoxide (basically tasteless smoke) to prevent oxidation, thereby altering the cosmetic appearance of the meat, as well as extending its shelf life. 
Normally, a fresh piece of locally caught tuna will lose its red color and eventually turn brown over a period of a few days when exposed to the air. The tuna I examined that day in the store would likely never turn brown.
I passed on purchasing it, but I did buy a dozen jumbo-sized croissants for five dollars. I didn't need that many, but it seemed like a good deal. Best to stay safe, too. Caveat emptor, as the saying goes.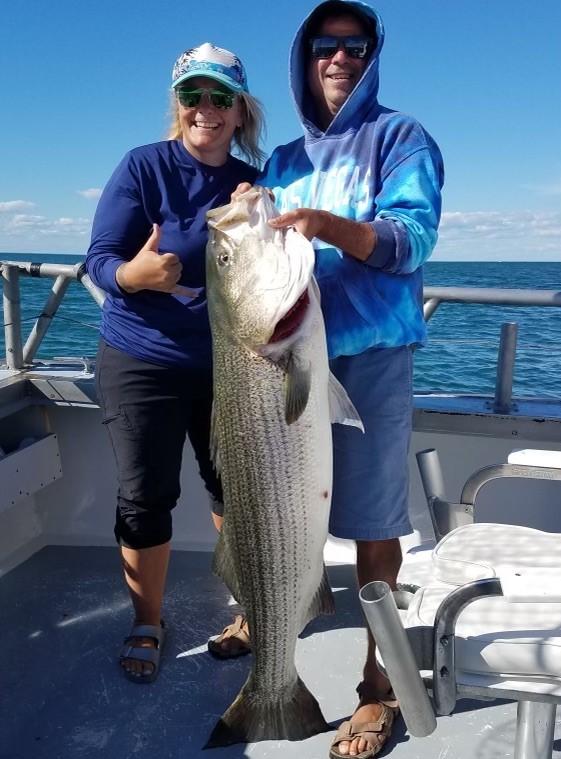 With July upon us, action on the fishing scene continues to heat up, as more warm-water species have entered into the local catches. Mako and thresher sharks have made their presence known, as a number of them were weighed in over the weekend at the 51st annual Montauk Marine Basin Shark Tournament. Coming in first was the crew of the Grand Finale with a 559-pound whip tail, followed by a 242-pound mako that was gaffed on the Wireless. 
Closer to home, Kim Nalepinski of East Hampton and her boyfriend, Tim Scott, enjoyed a banner day fishing for striped bass with Capt. Paul Bruno of the Elizabeth II in Montauk on June 23. It was only the second time fishing for Nalepinski, who caught and released the largest striper of the day, at 45 pounds, "and I was absolutely thrilled," she wrote. Fellow anglers aboard the Elizabeth II caught their limit of keepers between 25 and 35 pounds. She is eagerly looking forward to her next trip out. 
Over at Westlake Marina on West Lake Drive, Chris Miller confirmed that the action for big bass in the rips at Montauk remains red hot. "There are many bass being caught and released that are over 40 and 50 pounds," he said. "It's actually been a challenge to get a keeper slot fish." As a reminder, anglers are allowed to retain one bass per day between 28 and 35 inches.
Miller said that while fluke fishing remains rather slow, the action farther offshore has perked up significantly with the warming water. "There are plenty of bluefin, south, east, and west in 25 to 30 fathoms," he noted. "And there are also a good number of mako sharks around, as well as some threshers, plus all the blue sharks you want to catch." Miller added that the far-off canyons near the continental shelf have had some good action, with small yellowfin tuna, wahoo, and even some swordfish being landed on the night bite. 
"Still plenty of striped bass being landed in the bays," observed Harvey Bennett at the Tackle Shop in Amagansett. "Porgy fishing has been excellent from many areas, and the blowfish are still good in the harbors. And don't forget to get the crab traps out, as the blue claws are running large in size and quantity. It's been the best I've seen in many years."
"Pretty much the same story here," relayed Ken Morse at Tight Lines Tackle in Sag Harbor, where he reports that weakfish, while getting smaller in size, remain plentiful in Noyac Bay. "Fluke have actually improved a bit near Cedar Point and over at the Greenlawns, while small bluefish are in the rip at Jessup's Neck."
Commercial fishermen in Suffolk County take note. Your input is requested for an anonymous fishing survey that is being coordinated by Suffolk County Economic Development and Planning, New York Sea Grant, the Cornell Cooperative Extension Marine Program, and the Long Island Commercial Fishing Association. The information collected will be used to draft an annual fisheries report highlighting the needs of local fishermen and characterizing the harvesting and processing capacity of the industry, support businesses, and people engaged in this livelihood. Complete the survey at https://bit.ly/2QwqIEE.