In June, I picked up my yearly allotment of 1,000 oyster spat from the Cornell Cooperative Extension facility in Southold. The minuscule bivalves were no larger than the circumference of a pencil eraser; all of them could fit easily in the palm of my hand.
I returned to my dock back home and placed them gently into a vertical holding cage, hoping they would flourish in the plankton-rich summer water.
When I checked on their status for the first time on Friday, I was astounded by what I saw. Every one of them had survived, and most were already an inch or two long.
What was a mere handful over three months ago, had turned into enough to fill a two-gallon bucket. The oysters obviously enjoyed their summer in the Hamptons. I put them into a new holding cage, and by next year, they should be ready for consumption.
I checked on my other cage, which contained oysters that were hatched over a year ago. They too, had done well. While there was a bit of loss, I probably still have about 300 to enjoy through the winter months. It's been a pleasure to enjoy their briny flesh the past few years in many different preparations.
"Oysters are incredibly hardy," said Kim Tetrault, who oversees the Cornell Cooperative operations in Southold, when he gave me my cupful of spat back in June. "They can withstand a lot of what Mother Nature throws at them. They are thriving in most of our waters." He was right.
Unfortunately, the same cannot be said of our beloved bay scallop. Sadly, for the third summer in a row, the adult scallops, which would have been ready for harvest in November when the season opens, have suffered another huge die-off in the Peconic Bay estuary system.
Marine scientists and baymen alike continue to be puzzled by their demise. Warm water temperatures, the stress of spawning, and the discovery of a new parasite have all seemingly played a part in their struggle to survive.
The lone bright spot, once again, is that the young ones that were spawned in late spring are thriving. But will they too suffer the same fate next summer?
It's definitely been an interesting tale of two different bivalves.
On the fishing scene, when the winds are not blowing, the action remains decent.
"The winds have been problematic at times," said Sebastian Gorgone at Mrs. Sam's Bait and Tackle in East Hampton. "There are still plenty of bluefish, blowfish, porgies, snappers, and weakfish around, but the reports on false albacore have been very quiet so far this fall."
A sure sign of autumn, Gorgone received his first delivery of green crabs on Saturday in preparation for the upcoming blackfish season. Green crabs are the bait of choice to lure the toothy fish to a hook. The season in Long Island Sound waters starts on Oct. 11, while the rest of Long Island opens up four days later.
Over at the Tackle Shop in Amagansett, the owner, Harvey Bennett, also confirmed the tough bite on the albies. "It's been a real challenge for many anglers," he said. "Some stripers and bluefish though, have been taken from the ocean beaches, and the porgy fishing remains solid." Bennett continues to run his end-of-business sale on everything in his store.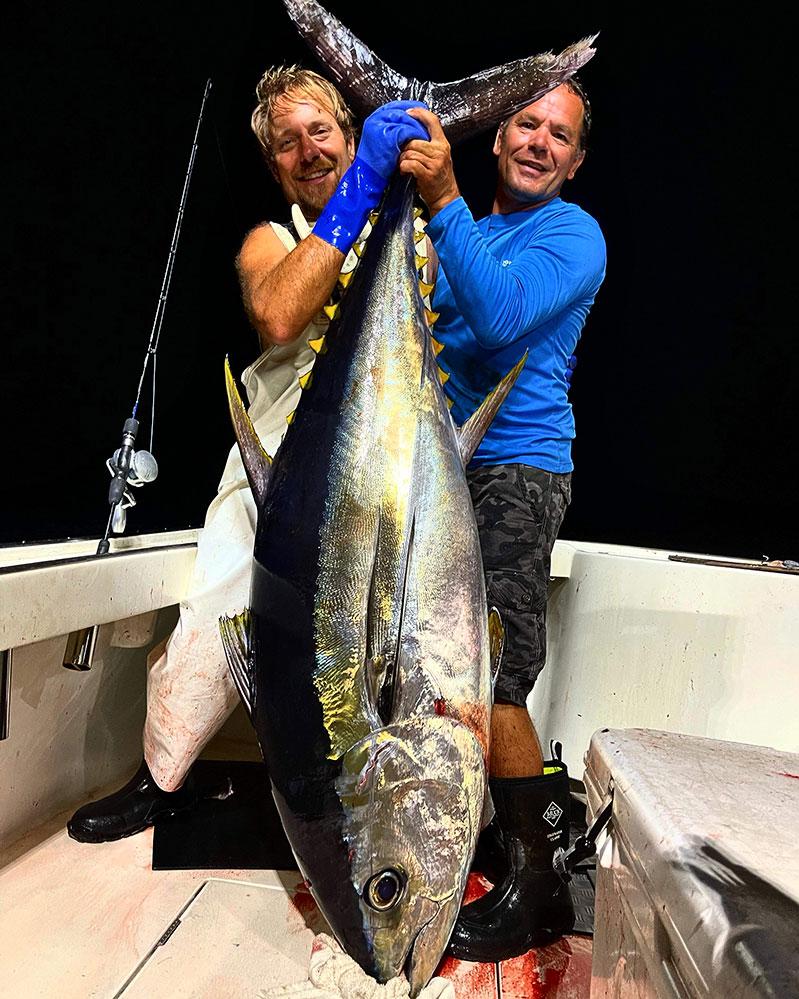 "Lots of bluefish and a few striped bass are taking diamond jigs at Jessup's Neck," noted Ken Morse at Tight Lines Tackle in Sag Harbor. Morse added that buoy 16 remains the hot spot for those looking to land a weakfish, and that large-size porgies are also in the mix there.
Have a penchant for a finely crafted fly-fishing rod? You are in luck, as Castoberfest may be to your liking. Sage Rods, in conjunction with Capt. Tim O'Rourke of Montauk Point Fly Fishing, will hold the event at the Montauk Lake Club on East Lake Drive on Sunday from 2 to 7 p.m. Castoberfest is an afternoon of demonstrations and hands-on lessons, featuring a lineup of high-performance fly-fishing tackle.
"It should be a great event," said O'Rourke. "We will also raffle off a number of prizes including a Sage rod and reel, a Fishpond gear bag, a box stocked with flies, and I'm giving a half-day charter on my boat."
Those in attendance will receive a free raffle ticket. Additional tickets will be sold at the event for $20 each or three for $50. The Montauk Brewing Company will supply the beer while North Fork Iron Works is coordinating the barbecue.
As for the action for light-tackle casters, O'Rourke has been disappointed with what he's seen of late. "The light-tackle and fly fishing have been slow," he said. "We need a couple of days of northwest winds to lower the water temperature and get things moving."
---
We welcome your fishing tips, observations, and photographs at [email protected].