As if we didn't have enough to be concerned about these days, Mother Nature has been in a rather ornery mood of late. I'm not sure what's ticked her off, but her unpredictable exploits have left a mark in many parts of the world, including our area.
First was the stinging news that giant murder hornets are about to unleash their fury in the United States. I watched a video the other day of a man who volunteered his left arm to be stung by a more than willing combatant. The end result looked pretty painful. I'm not sure why anyone would want to conduct such an experiment, on video no less.
Also in the headlines: Invasive lionfish have been spotted in Long Island waters. With no known predators, the scourge of the Caribbean bottomland for the past 20 years or so are packing up their belongings and have been heading northward at a steady clip. Hurricane season, too, is off to a very quick start as three tropical storms have already affected the U.S. mainland. Weather experts say the upcoming season will be a real doozy.
As if on cue, swarms of locusts have invaded India in biblical proportions. Locusts seem to make the news now and then, but apparently this outbreak is an epic one. The latest natural phenomena? Killer seaweed has been discovered in our waters.
Killer seaweed? Sounds more like the title of a campy horror movie. But this stuff is real, and it's pretty bad, according to marine biologists at Stony Brook University. The new species of seaweed, an alga to be more specific, is extremely toxic to fish and shellfish and has been found in great quantities in the Great South Bay for the past four years. It has now spread its wrath to Shinnecock Bay and likely the Peconics, according to the researchers. Not good.
When alive, the seaweed is an issue. But when it dies (it doesn't do well in hot summer water), the decaying process is highly toxic and lethal to both fish and shellfish. In lab studies, the scientists observed that 20 percent of minnows died after being exposed to the live algae for seven days. However, half of the minnows died in two days, and nearly all of them died in a week when they were exposed to the decaying seaweed. As for hard-shelled clams, the death rate was 80 percent when they were exposed.
The scientists have learned that the toxic algae thrive in a high-nitrogen environment, mainly from residential wastewater leaching out of obsolete residential septic systems. While new nitrogen-reducing systems are now mandated in the construction of new houses, the high density of housing combined with the lack of sewer systems and treatment plants on the East End does not foretell that the deadly algae will go away any time soon. With Mother Nature, the hits just keep on coming.
Speaking of hits, porgies are hitting on all cylinders in local waters.
"It's been a real porgy-palooza in many areas," laughed Harvey Bennett, the owner of the Tackle Shop in Amagansett on Monday morning, speaking of the sliver-slabbed fish. "From Sag Harbor all the way eastward to Gardiner's Island and beyond, the fishing has been excellent. Loads of people have been getting in on the action." I can certainly attest to Bennett's words as I passed several dozen anglers casting worms and clams from the beach at the Cedar Point lighthouse on Sunday morning as I made my way to check on my lobster traps (yes, lobster dinner was secured).
Bennett added that striped bass, bluefish, and weakfish continue to run well, and that blowfish catches remain strong in Three Mile Harbor and other bayside environs. "Even fluke fishing at Napeague has been pretty good," he added. "The good weather has really brought out the people and the fishing has been solid."
Over at Westlake Marina in Montauk, the proprietor Chris Miller was enthused about the local fishing scene. "Striped bass and bluefish have been really good of late," said Miller. "But there have been a lot of bass landed over the 35-inch limit that have to be thrown back." As of this year, anglers can retain only one fish between 28 and 35 inches. 
Miller said that fluke fishing has been decent on the south side with fish up to nine pounds hitting the scale. He also was encouraged by the strong run of porgies in the rips. "People have been catching huge ones on diamond jigs that are meant for stripers. And the cod fishing out at the Cartwright grounds has been really good for such a late time of the season."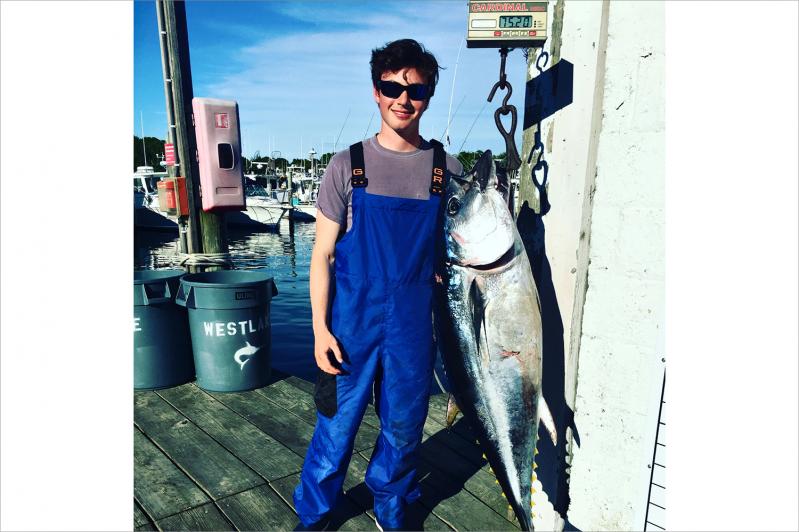 Miller also confirmed the run of bluefin tuna that have appeared en masse in waters southwest of Montauk. "The action has been very good at the Coimbra wreck and spots before it," he noted. "And there has been a good amount of bigeye tuna being taken near the Canyons." Note that retention limits for bluefin on permitted vessels are two fish between 27 and 47 inches per boat, as well as one fish between 47 and 73 inches. Bluefins over 73 inches cannot be kept.